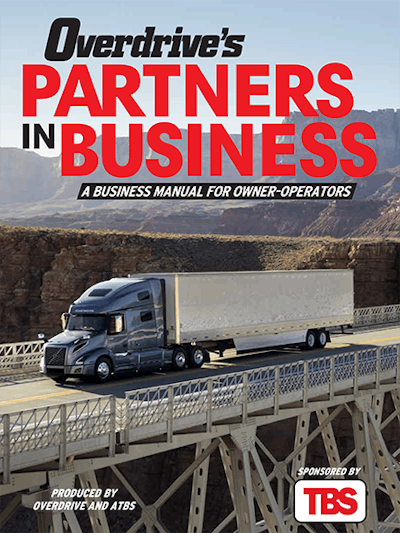 You can receive a free digital download of the Partners in Business manual by visiting this link. Here is the table of contents for the 2021 manual: 
Chapter 1: Becoming your own boss
Take time to prepare for this big step
Chapter 2: Bookkeeping and business analysis
Tracking progress, filing income taxes and maximizing your bottom line
Chapter 3: Understanding your revenue and costs
There's more to earnings than pay per mile
Chapter 4: Managing time
Follow these proven tips on planning your schedule to make more money
Chapter 5: Controlling fuel costs
Your survival depends on minimizing fuel consumption and getting a fair surcharge
Chapter 6: Controlling tire costs
Keep your no. 2 variable expense to a minimum with smart spec'ing
Chapter 7: Managing money
Best practices for healthy cash flow, debt avoidance and identity protection
Chapter 8: Income tax and other taxes
Good planning and record-keeping help keep those payments at a minimum
Chapter 9: Choosing a business structure
What legal form works best for your operation?
Chapter 10: Truck buying, leasing, financing
Determine your best method for acquiring a truck
Chapter 11: Choosing a trailer
Spec'ing smartly can increase your profits
Chapter 12: Maintaining your equipment
Routine PM will save money over time and help determine when to trade
Chapter 13: Choosing a carrier
It's expensive to switch carriers, so pick your partner carefully if running leased
Chapter 14: Computers, mobile devices and the internet
Online trucking resources combined with ever-cheaper digital tools can help you work faster, smarter and more profitably
Chapter 15: Staying compliant and safe
Protect your career by following regulations, practicing safe driving and using data to your advantage
Chapter 16: Trucking insurance
Understand the types of coverage and what your operation requires
Chapter 17: Health and income insurance
Paying for coverage of personal risks is a cost of doing business
Chapter 18: Going independent
Getting your own carrier authority comes with risks and rewards
Chapter 19: Saving for yourself
The habit of saving for personal goals will pay big dividends later
Appendix 1: Vehicle registration
Appendix 2: Resources
Appendix 3: Owner-operator glossary