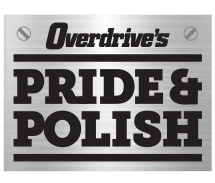 Pride & Polish Truckers' Choice National Championship
Below are all of the Overdrive's Pride & Polish competitors who have qualified to compete in the Pride & Polish National Championship, which will be held August 25-27 at the Great American Trucking Show in Dallas, where six champions will be picked by judges.
Overdrive readers, however, also have a say, as online voting held through August 19 will determine the fourth annual Truckers' Choice Pride & Polish National Champion, who will be recognized with a trophy at the Pride & Polish ceremony at GATS.
You'll be able to vote once per day per device for your favorite rig. You can click on each entry to see a larger photo of the truck and to share your vote on Facebook or Twitter. To vote, simply enter your email address and click the vote button.