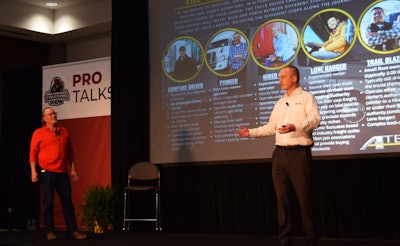 The current freight market is as good as it's ever been, and it's showing no signs of slowing down. A majority of large carriers that owner-operator business services provider ATBS recently spoke with expect the current rates environment will continue at least through the end of 2022, if not beyond.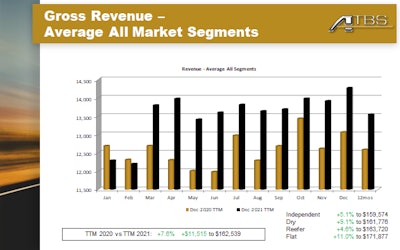 Download the slides from the PIB presentation via this link.
Times may be good for rates, but average owner-operator net income was only up 5.1%, or $3,476, in 2021 from 2020, according to ATBS numbers presented during the Overdrive/ATBS Partners in Business session at the Mid-America Trucking Show on Friday afternoon.
A number of factors go into why income largely stagnated, and it's not all bad. Because rates were so good through 2021, owner-operators were choosing to run fewer miles to bring in a comfortable level of income and take more time off the road.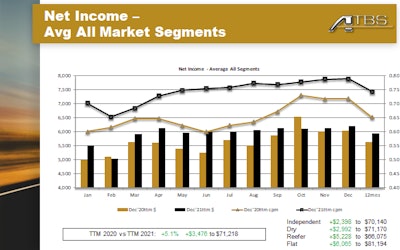 ATBS Vice President of Business Development Mike Hosted said owner-operators on average ran 8% fewer miles (about 8,000 fewer miles) in 2021 compared to 2020. Based on the estimated 400,000 owner-operators in the U.S., that translates to around 3.2 billion miles in lost capacity in 2021, yet another factor contributing to significantly good rate conditions for carriers. This also translated to about a 17% increase in revenue per mile for owner-operators last year.
"Not only do we not have enough trucks and drivers, but we also lost miles because [owner-operators] didn't have to run as many," Hosted said. "Those factors kept the market strong."
Hosted noted an explosion of brokers looking for trucks, with about 183 loads for every one truck on the spot market by the end of 2021 -- tight capacity is keeping rates elevated.
Yet other factors were driving costs up, cutting into net income last year. Hosted said that finding ways to reduce those variable costs, in addition to modest increases in fixed equipment costs, are "really where you can turn your profit up to new levels."
Fixed costs were up about 2% in 2021 from the previous year, but variable costs jumped an astonishing 17.3% year over year. On a cents-per-mile basis, that translates to an increase from 48 to 63 cpm for variable costs.
"For the average independent contractor, it costs $10,000 more to run a business in 2021 versus 2020," when you combine the increases in fixed and variable costs. "It costs 20 cents per mile more to operate a truck. Things are great, but it is difficult. You have to be a good business owner to be successful."
Managing fuel costs
Fuel costs alone accounted for much of the variable costs increase, jumping 33% year over year in 2021, and that's not considering the increases seen just this month.
Looking at gross revenue compared to fuel costs, revenue went up roughly $11,500 last year, but fuel costs also went up about $8,600, resulting in just $3,000 more profit despite rates being so strong throughout the year.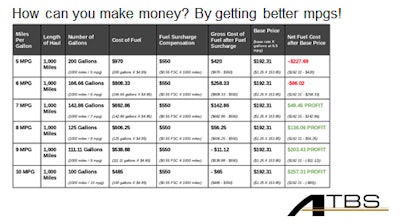 Overdrive Extra contributor and owner-operator business coach Gary Buchs noted owners need to do the math to determine if slowing down to increase fuel mileage would make more sense for their business than driving faster and using more fuel to get unloaded and on to your next load more quickly.
Hosted noted an old general rule of thumb for fuel mileage that tends to hold true at highway speeds: every 10 miles per hour faster equates a mile per gallon lost. If you can slow down some to save fuel, it will pay off in your net income. If you're running 100,000 miles a year at 6 miles per gallon, you're spending around $80,000 on fuel at $4.85 per gallon. If you increase your fuel efficiency up to 7 miles per gallon, that cost drops to around $69,000. If you can get up to 8 mpg, you'll only be spending $60,000 on fuel.
"How do you nudge yourself mentally to do this?" Buchs asked. "Write those savings numbers down — $11,000, $20,000 — then right next to it, what you could do at the end of the year with that money. Would it be a nice vacation; would it be a contribution to your Roth IRA or other investment portfolio; could it be an improvement in home or business? What can you do with that asset? And write that down. That'll give you that mental nudge to follow through."
Hosted also offered some tips on ways to save fuel, including keeping a longer following distance so you don't have to use your brakes.
"If you drive a little slower, you will be more efficient," he said. "Use cruise when it makes sense, cut out of route miles and cut idling when it's appropriate."
Operators should also be taking advantage of fuel discount programs, Hosted said. Whether you're leased to a carrier or are independent, there are fuel discount programs available to you that will save you at the pump.
"Search for fuel prices," Buchs added. "It may be that smaller station -- and not the big truck stop -- where you can buy fuel often for 40-50 cents lower at the pump than the big truck stop."
Buchs added that it's key to know what the fuel price is after taxes to know the true cost of the fuel.
[Related: In-depth refresher on IFTA accounting for truck owner-ops]
Controlling maintenance costs
Maintenance costs are another big issue keeping owner-operator income lower. With new trucks unavailable, used truck inventory low and prices through the roof, owners are holding onto trucks longer, driving maintenance costs up.
According to ATBS data, maintenance costs overall were fairly flat from 2020 to 2021, but miles were also down by 8,000 on average. Given the fewer miles driven, the average cost per mile for maintenance increased from 11 cpm to 12 cpm, not insubstantial.
ATBS has also found that maintenance issues are consistently the No. 1 reason owner-operators fail, followed by health and finances.
In today's market, with a shortage of diesel mechanics, shop rates are often upwards of $200 an hour. Coupled with the parts shortage extending downtime, a maintenance issue could be a death knell for an owner-operator business.
"Start thinking more about preventive maintenance," Buchs said. "Doing things before they break. That will eliminate a lot of your problems."
Buchs suggested that owners find a local shop that they trust and let them get to know your equipment. "Go in, have them do more inspections, the little things for you so they get to know your equipment," he said. "In the long run, there's a good chance you'll save a lot of money."
---
Find more information about the ins and outs of maintenance, safety, and business and regulatory processes, among a myriad other topics, in the Overdrive/ATBS-coproduced "Partners in Business" manual for new and established owner-operators, a comprehensive guide to running a small trucking business. Click here to download the newly updated 2022 edition of the Partners in Business manual free of charge.