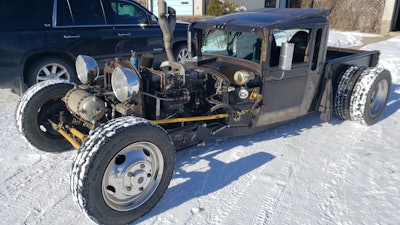 JD Woynorowski, out of Westlock, Alberta, Canada, built this rat rod off-and-on over 11 winters. He started with just the cab, which had been used as a flower planter/kids playhouse on some land his brother purchased. He built the rest of the truck from various parts and pieces.
The frame and front axle came from a 1950s-model Chevrolet 2.5-ton grain truck that was in a scrap pile at his father's farm. The bed was a full 4x8 International box that Woynorowski sectioned down to the size he needed. He also collected other random parts from garage sales and swap meets over the course of 11 years.
The truck is powered by a 12-valve Cummins from a 1989 Dodge truck and a NV4500 5-speed transmission and Dana 80 rear end from a mid-1990s Chevrolet 3500HD.
"I wanted to build a rat rod simply because I wanted something a little different and that I could enjoy," Woynorowski said. "I drive it hard; I beat it up; I have fun with it and the best part is letting kids touch and climb all over it at car and vintage tractor shows I've been to."
Click here to see more photos of reader uploads or to submit your own.