Trucking news and briefs for Monday, Feb. 14, 2022:
Canada invokes Emergencies Act to crack down on protests
Canadian Prime Minister Justin Trudeau announced at a special press conference on Monday that he would invoke, for the first time in the nation's history, emergency powers that will allow him to clamp down on protests that have roiled the U.S.-Canada border at various crossings as well as the country's capital city, Ottawa, Ontario. While this is the first time the Emergencies Act, which was established in 1988, has been invoked, its predecessor, the War Measures Act, was last invoked by Trudeau's father, Prime Minister Pierre Trudeau, in 1970 during a period of unrest known as the October Crisis.
"The blockades are harming our economy and endangering public safety. Critical supply chains have been disrupted. This is hurting workers who rely on these jobs to feed their families," Trudeau said in announcing the move. Trudeau noted law enforcement's difficulty in containing the protests and keeping border crossings moving as justification for the move while promising that the act would allow stepped-up enforcement measures.
The move follow's Ontario's Friday declaration of a state of emergency.
"The scope of these measures will be time-limited, geographically targeted, as well as reasonable and proportionate to the threats they address," said Trudeau, who made clear the country is "not using the Emergencies Act to deploy the military" and it would not suspend "fundamental rights" such as free speech and assembly.
Trudeau said financial institutions would also be empowered to restrict funding or funds to protesters, and that the military could potentially be called on to tow vehicles blocking border crossings.
On Sunday night, the Ambassador Bridge between Windsor, Ontario, and Detroit reopened -- clearing some of the final demonstrators resulting in some of the first arrests in the now two-plus-week-long "Freedom Convoy" events.
[Related: On the 'Freedom Convoy' protest, with Canadian cross-border owner-operator Mike Murchison]
A scan of border wait times on Monday afternoon showed few if any delays.
"I know that everyone is tired of this pandemic," said Trudeau. "We're hearing your frustration with COVID and even with the temporary measures we had to put forward to keep people safe. I know people are frustrated, I hear it. You have the right to express that frustration and even your anger with the government or government policies. It's something we'll always defend in this free and democratic country. But blockading streets and critical infrastructure and depriving your neighbor of their freedoms is a totally different thing. It has to stop."
Delivery truck driver recognized for stopping after witnessing pedestrian struck by vehicle
The Truckload Carriers Association has named Ward Trucking driver Greg Rupp, from Leechburg, Pennsylvania, a Highway Angel for stopping to assist at the scene of a motorist struck while pushing his stalled vehicle.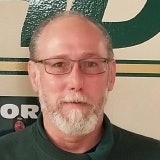 It was around 5 a.m. one morning in October as Rupp, a parts delivery driver, was heading to the last stop on his route when an accident unfolded in front of him.
"I was on Route 40 outside of Brownsville," Pennsylvania, Rupp said. "It's kind of a rollercoaster-windy road. You have to be cautious in this area."
That morning, as he drove down a hill toward a stop light, he slowed and checked his mirrors and saw several cars behind him.
"When I looked at the traffic light again, I saw a car approaching the intersection from the opposite direction. It hit something in the road and sent it flying into the air," he said. "I thought, 'What did I just witness?'"
The car had hit a dark-colored Jeep that was stopped in the road. "It didn't have any lights on, no headlights, no four-ways," Rupp noted.
As it turns out, the Jeep had broken down and the driver was attempting to push it to the side of the road. "Someone else had stopped to help when the driver of the Jeep was struck by the oncoming car," Rupp said. "He hit the driver's corner of the Jeep and spun it off the road. What I saw flying in the air was a person. It was terrible."
Rupp said that without its lights on, the Jeep wasn't visible in the darkness.
He grabbed his phone and called 911, then maneuvered his box truck to the side of the road, grabbed his vest and flashlight, and then ran to the scene. Two people were already with the victim, so he took action to direct traffic around the scene so no one else would be hit. It wasn't long before a trooper and first responders arrived. Rupp remained on the scene to talk with the investigating officers. Sadly, he learned the injured driver passed away a few days later.
TCA has presented Rupp with a certificate, patch, lapel pin, and truck decals. His employer has also received a letter acknowledging him as a Highway Angel.
Love's opens two new locations
Two new Love's Travel Stops locations opened recently in North Canton, Ohio, and Santa Teresa, New Mexico.
The stores combined add 150 truck parking spaces to the company's growing network.
The new Ohio store offers 70 truck parking spaces, a Hardee's restaurant opening March 7, nine diesel bays, eight showers, a Speedco opening in March and more.
The New Mexico location features 86 truck parking spaces; Chester's Chicken, Godfather's Pizza and Subway restaurants; eight diesel bays; six showers; and more.
"We're excited to offer the services and amenities Love's is known for at our 21st location in Ohio and 14th location in New Mexico," said Greg Love, co-CEO of Love's. "Our team members are ready to help get professional truck drivers and four-wheel customers back on the road quickly and safely."