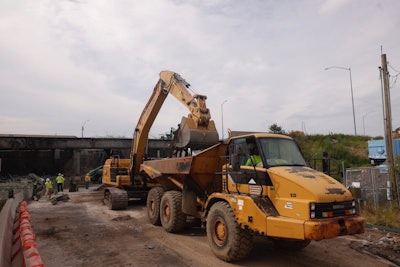 Office of Pennsylvania Governor Josh Shapiro
The federal government has responded to the bridge collapse on I-95 in Philadelphia with $3 million in "quick release" funding to get the ball rolling on a process that could hobble the vital trade corridor for months.
The U.S. Department of Transportation's Federal Highway Administration (FHWA) on Thursday announced the $3 million Emergency Relief funds "for use as a down payment" by PennDOT "to offset costs of repair work on a section of Interstate 95 in Philadelphia that collapsed as the result of a gasoline tanker truck fire," according to a press release.
The incident has received statewide and national attention, with Pennsylvania Gov. Josh Shapiro quickly declaring a state of emergency and DOT Secretary Pete Buttigieg visiting the site within days.
"Every day counts in this urgent reconstruction project, and the quick-release funding is an important step to help PennDOT rebuild the collapsed portion of I-95," said Buttigieg. "We will continue to use every federal resource we can to help Pennsylvania restore this key artery quickly and safely."
Shapiro's office on Wednesday announced its plans for repairs, saying it had contracted with Philadelphia-based contractor Buckley & Company and was "working our tails off" to get the road back open.
For now, the plan is "to backfill the gap in the roadway so that it can be paved over and reopened safely and as quickly as possible," with the backfill to made of "a specially-designed, Pennsylvania-made glass aggregate."
"Once complete, cars and trucks can return to this portion of I-95 as crews work to rebuild a permanent bridge while keeping six lanes of traffic flowing at all times," Shapiro's office said.
Trucks hauling the backfill will have a state police escort.
The project will even feature a 24/7 live video feed of the construction work, which will likely draw comparisons to the I-85 bridge collapse in Atlanta, Georgia, in 2017, which took just 45 days to remedy.
Previously, Shapiro's office projected the project would take "a number of months."
The structure normally carries 160,000 vehicles a day -- roughly 13,000 of which are commercial vehicles -- but was destroyed when a local fuel hauler, Nathan Moody of TK Transport, overturned a gas tanker causing an explosion.
I-95 in Pennsylvania remains closed to motorists between Exit 30 (Cottman Avenue) and Exit 26 (Betsy Ross Bridge/Aramingo Avenue).
PennDOT confirmed the following detours are safe for truck traffic:
I-95 Southbound: Route 63 West (Woodhaven Road), U.S. 1 South, 76 East, I-676 East
I-95 Northbound: I-676 West, I-76 West, U.S. 1 North to Route 63 East (Woodhaven Road)
Overdrive interviewed owner-ops and fleet owners familiar with the area to get a sense of the best alternative routes and how best to avoid new traffic flows from the disruption.
[Related: Roads 511: Highway information in real time]