Trucking news and briefs for Wednesday, June 21, 2023:
UCR fees for 2024 registration year about 9% reduced
FMCSA announced in a Federal Register notice that will publish Thursday that it is reducing the fees for registration in the Unified Carrier Registration (UCR) Plan and Agreement for the 2024 registration year.
The fees for the 2024 registration year are approximately 9% less than fees for 2023, with varying reductions between $4 (for the smallest carriers) and $3,453, depending on the applicable fee bracket. The changes reduce the fees paid by motor carriers, brokers, freight forwarders, and leasing companies to the UCR Plan and the participating states
The UCR Plan Board provides fee adjustment recommendations to the Secretary when revenue collections result in a shortfall or surplus from the amount authorized by statute. If there are excess funds after payments to the States and for administrative costs, they are retained in the UCR Plan's depository, and fees in subsequent fee years must be reduced.
The new fees for the 2024 registration year:

The official website of the UCR plan is Plan.UCR.gov.
International's hybrid SuperTruck II hits 16 mpg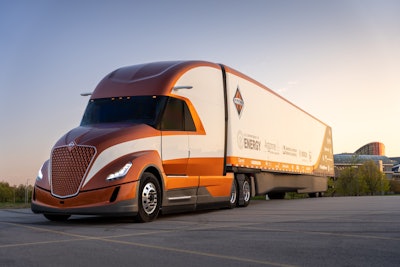 Navistar on Tuesday revealed the results of the International SuperTruck II, a project in partnership with the U.S. Department of Energy.
The project demonstrated 16 miles per gallon for fuel efficiency through hybridization and a 170% improvement in freight efficiency, among other advancements over the 2009 baseline vehicle, its International SuperTruck I.
It also proved innovative technical approaches to weight reduction from rolling resistance technologies, Navistar said, and aerodynamic improvements and powertrain technologies designed to deliver premium freight efficiency.
"With co-funding by the DOE, Navistar engineers experimented with prospective technologies not currently available in the Class 8 truck market to accelerate the impact of sustainable mobility," said Russ Zukouski, chief engineer, Global Innovation and Principal Investigator for the SuperTruck programs. "The team concentrated its design on high-voltage electrification, utilizing hybrid technology on a path toward full electrification that has the potential to be commercialized in fully electric vehicles and improve customers' total cost of ownership and business operations."
International SuperTruck II was built as a hybrid vehicle featuring a combustion engine with high-voltage accessories and technologies, developed in partnership with Bosch. Engine improvements were made in key areas including combustion, friction, gas exchange, and airflow through the engine. A redesigned cylinder head with the dual overhead cam engine and enhanced fuel system resulted in 2% fuel economy improvement when compared to International SuperTruck I.
Aftertreatment system improvements included diesel exhaust fluid (DEF) dosing, improved mixing and lower restrictions, new selective catalytic reduction (SCR) formulations for high-NOx reduction and reduced cold-start activation time.
The project also highlighted connectivity with next-generation predictive cruise control, as well as leveraging technologies and information within the larger Traton Group to explore vehicle-to-everything technologies to enhance safety and efficiency.
[Related: Freightliner debuts second SuperTruck]
New TA Express open in Texas
TravelCenters of America this week opened a new TA Express in Huntsville, Texas, at Exit 118 off I-45.
The location offers 90 truck parking spaces, six diesel lanes, a Primo Taqueria restaurant, three showers and more.
[Related: Truck parking reimagined: Bennett's 'Large car campgrounds']
MHC Kenworth opens new facility in El Paso
Murphy-Hoffman Company (MHC) has opened a newly constructed facility in El Paso, Texas. This is the largest commercial truck dealership in El Paso, the company said, as well as the first temperature-controlled service department in the city.
MHC said the state-of-the-art, 96,000-square-foot dealership is positioned on 25 acres with increased parking for easier maneuverability. It offers customers truck service 24/7 as well as an all-makes body shop with downdraft paint booth, 26 service bays with compressed natural gas (CNG) services and an expanded parts warehouse.
Said MHC Regional Vice President and General Manager Josh Schwartz. "We take pride in opening an advanced facility that offers employees a comfortable workspace as well as the ability to provide our customers with additional services."
Customers can enjoy an expanded driver's lounge with leather recliners, a flat screen TV, free Wi-Fi, washers and dryers and dedicated restrooms and showers, MHC noted. Employees are also offered updated break rooms, locker rooms, a large conference room for team meetings and training area.
Located one block north of Interstate 10 and Highway 375, the dealership is easily accessible for tractor-trailers.