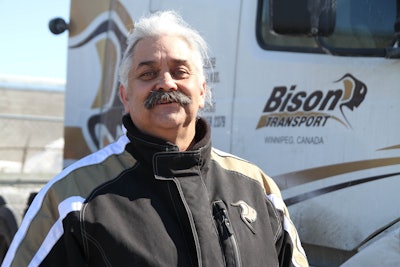 Driving for more than 36 years with 4.3 million accident-free miles has been no easy feat, says owner-operator Mark Tricco, and maintaining that safety record has been the biggest challenge of his career, he says.
But logging those accident-free miles has also been the most rewarding part of his career, he says, along with making a good living for his wife and three children.
"As long as you can balance home life and work, and having a good wife at home helps, you'll have a good career," he said.
Tricco, a resident of Brandon, Manitoba, Canada, is a finalist for the Truckload Carriers Association and Overdrive Owner-Operator of the Year Award, the winner of which will receive $25,000. The award, sponsored by Cummins and Love's Travel Stops, recognize drivers who have driven safely, enhanced the image of trucking and served their communities.
Tricco and owner-operator Glen Horack are the two finalists for this year's Owner-Operator of the Year award. The winner will be named Tuesday, March 8, at TCA's annual convention in Las Vegas, Nev.
Tricco is leased to Bison Transport in Winnipeg, Manitoba, and has been driving for the carrier for 20 years. He started with Bison as a company driver and transitioned into being an owner-operator after about 18 years ago.
"I bought my own truck because I wanted more freedom than I had as a company driver," he said. "You get to be independent as an owner-operator. I'm still leased with the company, but it gave me more independence and I was able to make a little bit more money."
Over the years, he's won numerous safe driving awards from Bison, the Manitoba Trucking Association, the Manitoba Trucking Association and the Canadian Trucking Alliance.
He currently hauls both dry van freight and reefer loads with his 2009 Volvo.
"I like to run the Midwest around Kansas City and over through Ohio, then come up through Toronto and back into Winnipeg," he said. "I like to stay in that corridor. I drove all over when I was getting started, but I like staying central now."
Tricco said he stays out 10 to 12 days at a time before going home.
"I like to take about three days off when I can, but sometimes it's just a quick 36-hour turnaround," he said. "It just depends on the freight."
He said making sure equipment is properly maintained plays a big role in staying safe on the road.
"You've got to stay up on maintenance," he said. "If you don't do that and you break down on the road, it's going to cost you a lot more than if you were at home. Do a proper pre-trip every day, and do your best to travel on these highways as safely as possible. Pay attention to what's going on around you and try to stay two or three steps ahead of everybody else. That's not always easy, but it's part of the job."
Tricco also says he feels it's important to help fellow truckers on the road and new drivers at Bison.
"I always have tools with me in the truck to help somebody if they're broken down, and if I can't help, I'll help them get to a repair shop or whatever it takes," he said. "When we have new guys come in at Bison, I'll take five or 10 minutes out of my day to sit down with them and help them through something they aren't understanding, whether it's with regulations or anything else. It doesn't hurt me to sit down and have a chat with them."
Tricco said he's shooting for another eight years behind the wheel and may transition into a training role afterward.
"We've got a training program with Bison with our orientation that I could join and ease myself off the road in the future," he said.