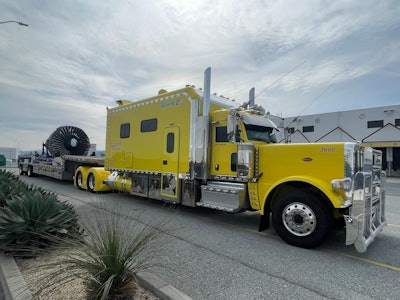 Husband-wife team Chris and Ruth Smith didn't take the most traditional path to becoming owner-operators, today leased to aviation engine-hauling Southern Pride Trucking, but their unconventional path has led them to success.
Chris started driving a truck in the United Kingdom in 1987 after a stint in the U.S. Army. His family is from the UK originally, and he spent his early childhood there before his parents moved him and his sister, Beverly, to California in the 1960s when Chris was 6.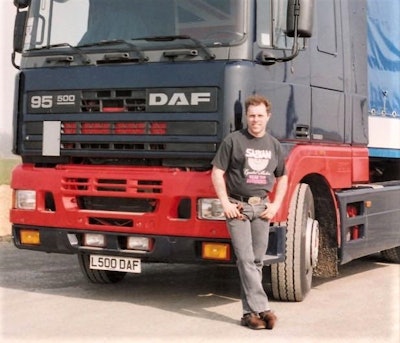 When trying to find his footing after the military, he knew his uncle drove a truck in England and Europe, so he decided to see what it was all about. In the early parts of his career, Chris drove "all over Europe. Then in the later edges of the 80s," basically 1988-'89, he said, he "drove the transcontinental run from the UK to the Middle East."
In those early years of his driving career, Chris "went back and forth from the UK to the U.S. because my parents were living over here [in the U.S.], so I sort of always missed them," he said.
Chris met Ruth, who is from England, during one of his stints in the UK. "I was working for a feed merchant with a public weighbridge," the term used for scales across the pond, Ruth said. "He came in, and we met when I was working there."
The couple got married in 1997. Just a few months into their marriage, "there was a change in our situation," Ruth said. Namely, Chris lost his truck driving job on Christmas Eve. The company he was driving for at the time had a shirt-and-tie policy for operators. Someone Chris worked with reported him for not wearing a tie.
"I showed up to pick him up from work" on Christmas Eve, Ruth said, and "I had the turkey sitting on the backseat my company had given me as a Christmas gift." When Chris got in the car, he let her know the news. "Oh great. Thanks a lot. Merry Christmas," she joked.
It was a significant setback. Yet decisiveness around big moves toward achieving big business and life goals have been a hallmark of the pair's journey through U.S. trucking off and on since that time. It wasn't long after that fateful Christmas Eve that they picked up and moved to the United States with a singular goal of getting Ruth trained and venturing into team over-the-road work.
Their move into truck ownership wouldn't come until later, but it's clear now nearly a decade into it that the Smiths' planning excellence and close cost attention set them up for success hauling aviation-related freight, leased to Southern Pride Trucking, even with all the recent-history challenges -- COVID's huge early knock on that freight, 2022's fuel-prices run-up and more.
The Smiths are semi-finalists in Overdrive's Trucker of the Year award program for 2023, and our Truckers of the Month for February.

A long haul to ownership
That Christmas "gift" to Chris and Ruth Smith, as noted, led them to the United States. The couple was based in California at the time, near where Chris grew up, and he got work at Dick Simon Trucking while Ruth began her CDL training with the same fleet. Chris was Ruth's trainer, and that began their journey as team drivers.
By 2004, the pair was ready to get out of California, eyeing Florida as a potential landing spot. After five hurricanes hit the state during that time, they changed course completely and decided to move back to the UK.
"We thought that was the best thing to do for us," Ruth said. "So, we did go back to England in 2005, but it was the worst move we ever made. It took us 10 years to leave again because of just different things going on. We regretted moving back there, and we made a plan to come back to the U.S. again."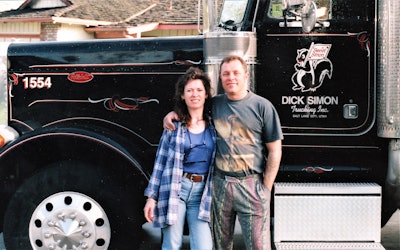 By 2015, Chris knew he wanted to become an owner-operator, and he had seen the work Southern Pride Trucking does, the pride in its name brought to life by way of the care the company's leased owner-operators seemed to put into their rigs, many outfitted with big custom sleepers delivering the comforts of home to the road.
After around a decade out of trucking, they came back to the States once again with clear intentions, this time with a goal of business ownership. Yet they had to pretty much start over to meet most fleets' experience requirements. Now based in Crossville, Tennessee, they hauled for Meiborg Brothers Trucking while trying to build a plan to reach the goal.
"We were going through Texas, and I was hemming and hawing" about the truck-purchase decision, Chris said. "Do we buy a normal truck for $120,000 or a bigger truck that's double the price? I couldn't quite make up my mind."
Ruth was driving through Texas and Chris woke up in the bunk needing to find some facilities. He asked Ruth how far to the nearest rest area, and she told him it would be another 45 minutes.
"That's it; we're getting the bigger truck," Chris said. "I wanted a truck with a toilet in it. It had nothing to do with restaurant features, things like that. It was purely the toilet and shower."
Getting down to business -- and success through COVID's big shock
The first truck the couple bought was a 2016 Peterbilt 579 with a 144-inch ARI sleeper. The move to becoming owner-operators was the couple's first foray into business ownership, but Chris did have management experience from their most recent 10-year stint in the UK working for a phone company.
While Chris's sights were set on eventually leasing on with Southern Pride, the Smiths first leased to STI, hauling museum artifacts and fine art in STI's climate-controlled fleet.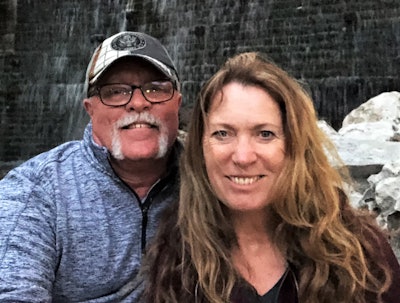 In 2018, Chris was able to realize his dream with Southern Pride, where the couple is still leased. They operate across the country hauling primarily airplane engines to airports. Chris said in the summertime, they will haul anywhere, but in the winter, they try to stay out of areas more susceptible to winter weather.
Due to the nature of the freight they haul, Southern Pride doesn't allow its operators to drive where chains are required, Chris said, but he and Ruth will still take loads to the Northwest during the winter, taking the southern route across I-10 to I-5 in California, then up to Seattle to avoid the Rockies.
The Smiths also try to avoid areas in the winter that could leave them parked due to impassable conditions. "If you're up North in the wintertime and get shut down because of snow, you're not making any money," Chris said. "We can get from Miami to Seattle in three days taking the southern route, where it could take a week if we get shut down on the northern route."
Both the Smiths and Southern Pride are benefiting from the partnership.
"Chris and Ruth Smith have worked for Southern Pride Trucking for over five years," said Edgars Gulbis, who's in management at the company. "They do a great job, provide on-time safe service, and understand the unique specifics of jet engine transportation."
As a result of their experience, the Smiths "are able to service our high-profile airline sector customers in a prompt and punctual manner. It is a pleasure to have such a team as part of our fleet," Gulbis added.
Chris said working with Southern Pride has been all he hoped for when he spec'd the build with leasing to the company in mind. "My truck was built for Southern Pride," he said of what he feels will be a long-term home. "We don't plan on going anywhere else."
In 2019, the couple bought their newest truck, a 2020 Peterbilt 389, after deciding they'd made a mistake with their first. "The first truck should have been a 389," Chris said, but they went with a shorter 579 to be on the safe side in case their plans for getting to Southern Pride didn't work out -- they didn't want their truck to be too long to do certain work.
Not long into ownership of the 2020, COVID-19 delivered perhaps the biggest shock the airline industry has ever experienced, with big ramifications for their bread-and-butter business. When the COVID shutdowns began, airports essentially became ghost towns. "People weren't going on business trips or vacations," Chris said. "If you went to an airport, you would see -- I was shocked by what we saw -- if that place had three runways, two of their three runways were stacked with airplanes parked. You'd think it was Armageddon."
Chris said good planning on the Smiths' part for their truck payments, keeping them as low as possible with a large down payment -- they only financed around $150,000 of a $350,000-$375,000 truck purchase -- was the biggest reason their business survived. "We went from 14 loads a month to four," he said. Some other owner-operators the Smiths worked with didn't make it through "because some people have massive truck payments," he said. "I'm lucky enough to where we don't."
Their current 389 will likely be their retirement truck, he added, mostly because Peterbilt no longer make trucks quite as lengthy from the factory. The 2020 389, named "Beverly II" after Chris' late sister, boasts a 380-inch wheelbase with a massive 192-inch ARI sleeper.
"Peterbilt won't go this long anymore," Chris said. "We're going to keep her until we retire." He said they're planning some interior sleeper upgrades, as one would with their house, but "this girl's going to be around until we stop driving, then maybe we'll sell her, or I'll be buried in her."
[Related: The big-bunk 389 of Ruth and Chris Smith: Working combo champs]
Routine maintenance for Beverly II comes with a short oil-change interval -- every 15,000 miles. And while they're on the road, they keep a log of needed minor maintenance items. Back home in Tennessee, their preferred shop, J&K Truck Repair in Crossville, does the work during their time off. After three and a half years of ownership, Beverly II has 630,000 miles on the odometer.
The Smiths tend to stay out five to six months at a time, though they're looking to cut that time back to three-four months this year for more home time. It's not all work while they're on the road, however. The Smiths both enjoy golfing, so when they have some downtime waiting to be loaded or unloaded, they'll find a nearby course and play a round. "When you're on the West Coast, you can take the early tee times because they're always available; nobody wants them," Chris noted.
While working, the couple splits driving into shifts, with Ruth driving from 5 a.m. to 5 p.m., Chris from 5 p.m. to 5 a.m. They also always stick to Eastern time when planning, regardless of where they are in the country.
Endurance, profit through recent cost inflation

As 2021 and 2022 rolled around, particularly in 2022 with fuel prices skyrocketing, the Smiths made adjustments to how they operate not just to survive, but thrive in the post-pandemic era. They slowed top cruise speeds from 71-72 mph to 68. "That increased our mileage and the distance we can travel" on a fill-up, which allowed them to start being more selective about just where they fill up. With about a 1,400-mile range on full tanks, they now shop around for the cheapest fuel within that 1,400 miles.
"We spent a lot more time planning our fuel stops than we used to," Ruth said. Before, "when we needed fuel, we stopped. Now, depending on our route and the day we go through, we plan. It makes a big difference over the course of the year."
Even with those changes, the Smiths saw a $165,000 fuel bill in 2022, a sizable chunk of the $508,000 the couple grossed in 2022 on 191,447 miles -- loaded, empty and personal. After all expenses, the Smiths cleared around $130K last year.
Looking ahead through 2023, the owner-operators expect another good year, even with working "a little bit less," according to Chris. Always mindful of quality of life, they plan on "going home more often, so we might make a little bit less money than last year, but that's only through our choice."
You can enter your own owner-operator business or nominate another for Overdrive's 2023 Trucker of the Year competition via this link. Nominations will be accepted throughout the first half of 2023.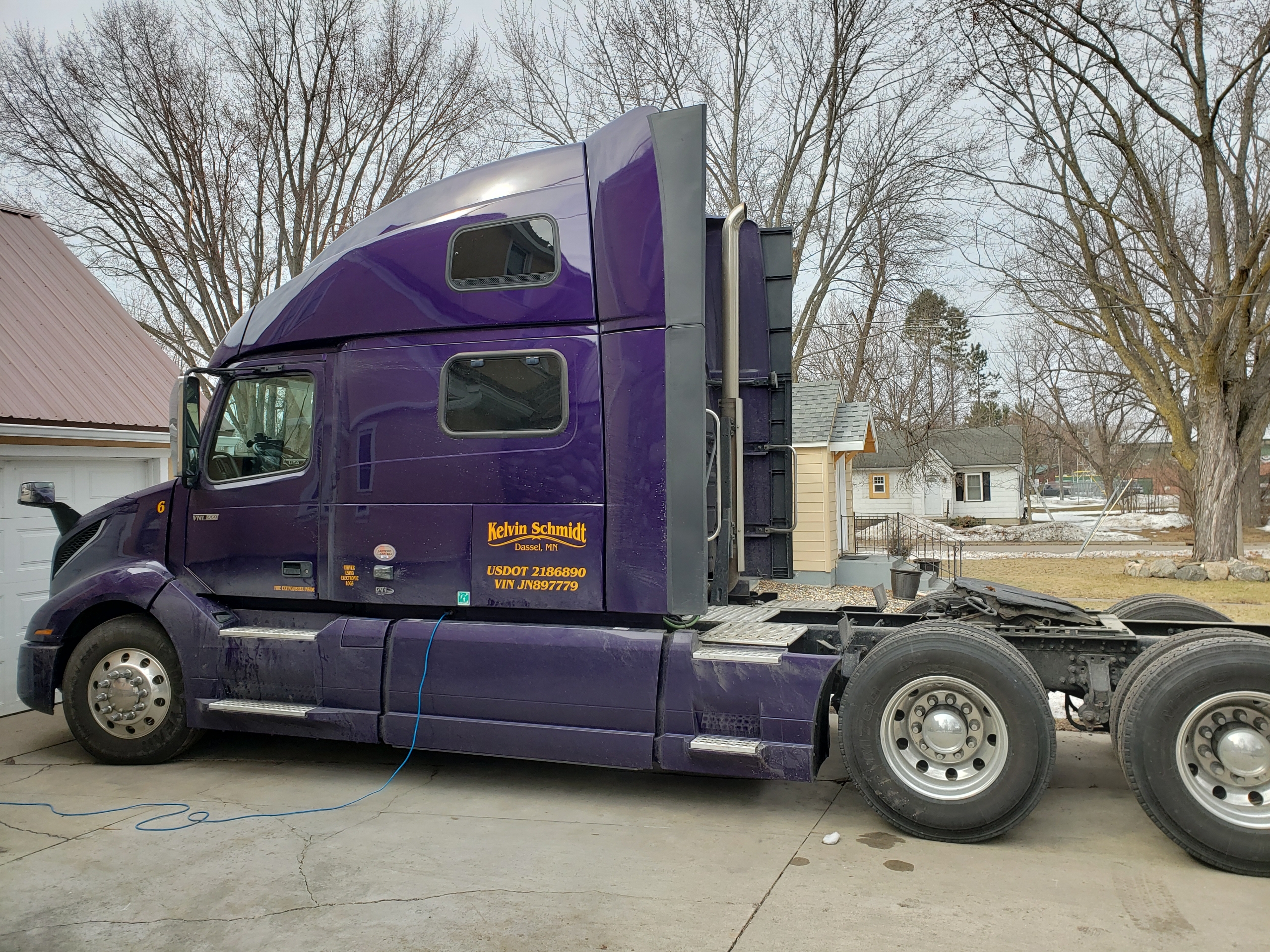 Always headed home: Owner-op pulls in profit with a single goal in mind
January Trucker of the Month Kelvin Schmidt's decade-plus career as an independent isn't, ultimately, about the trucking or simply making money. His operation's freight and rates consistency delivers profit and time back home where it belongs.