Today, the team of Rita and Roger Wilson that is Rita's Absolute Trucking, hauling refrigerated chocolate between Chicago and Pennsylvania, gets home most weeks more than once. "One day during the week," Roger said, then "home every weekend, usually."
Yet the team isn't home at the same time, every time. That's right, Roger Wilson, after more than 50 years in trucking, and Rita with her three-plus decades in the rearview as well, run separately in a pair of Kenworths.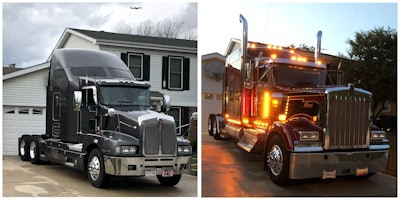 Roger's held onto the Cat-powered T600 since buying it new, recently completing a second overhaul on it. "It's good to go for another million miles," he suspects. Their Rita's Absolute Trucking business runs with authority, one of two businesses they ran in a prior time, the other their Rita's Express brokerage. At its height, Rita's Absolute Trucking hit 15 trucks running consolidated LTL out of a warehouse the pair operated.
They sold the last two of those additional trucks "five to six years ago," Rita said, and have been a two-person operation ever since.
Their principal dedicated hauls for Blommer Chocolate Company go back two decades, though.
Consumer Packaged Goods Office Supervisor Denver Davis, with Ryder System, noted he'd "partnered with Rita/Roger Wilson for many years servicing our Blommer Chocolate account. They are a pleasure to work with and have always kept open communications with our team on behalf of our customer."
On time, every time, Davis added. "They provide service excellence, are courteous and professional for all interactions. ... We have really enjoyed our relationship with both over the years and look forward to many more years in the future."
It's that kind of customer satisfaction in part that makes the Wilsons contenders for Overdrive's 2023 Trucker of the Year award. Rita and Roger are our September Truckers of the Month.

[Related: 'Everything is a lesson' -- Pulli Express Inc.'s paths to profits through continual adjustment]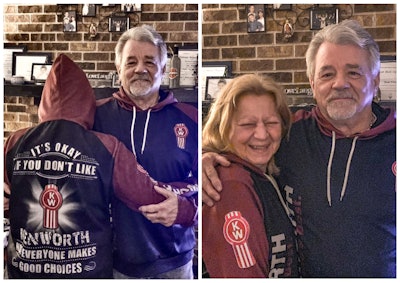 Match made in trucking
The Wilsons got their starts independently of each other, Roger in Nebraska in 1970 with local work in Omaha. When he first went over-the-road, refrigerated swinging meat would be his trial by fire -- or ice, as it were. "You break in and you're hauling swinging meat, going from a local job to ... 30,000 pounds hanging from the roof" of the trailer, he said. It was a "good way to start out -- with a challenge. You learn a lot from it."
It wasn't until he was in his 30s that he moved to Illinois and "came to work for a friend" doing LTL consolidation building loads to the West Coast. "At the time, we had 12 trucks," Roger said.
Around that time in the mid-late 1980s, Rita Wilson was learning to drive, trained by a partner in New Jersey who was originally from Illinois. Among her first regular loads: "We hauled Land O'Lakes butter up and down" the East Coast, Rita said.
That relationship wouldn't last the 1990s, she noted, and along the way she met Roger via a "mutual friend of ours who was a broker," she said. "Roger also hauled for her. I just thought he had the neatest voice in the whole wide world" she said of their first conversations. "I was the pursuer." By 1998, the pair were tying the knot and minting new businesses as collaborators. Roger left his friend's LTL business to go out on his own with five trucks -- Rita brought a couple to the operation, too, and Rita's Absolute Trucking was born in the early part of this century.
An insurance company advised splitting off a brokerage business under a different entity to work with outside carriers, a sizable part of the LTL business the pair were doing. "With Rita's Express, we were brokering a good bit of freight," Rita said, in addition to growing the carrier side of the business up to, at its height, 15 trucks, running out of a warehouse in Wood Dale, Illinois.
It was "quite intense" work for several years there, Roger said. "You go out and make pickups and everything comes back to the dock, and when the trucks are ready to go, the freight goes out with three-four stops" running East from Chicago in most cases, though lanes from Illinois to Texas were also part of the mix.
"Roger did it all," Rita said, a little of everything in the operation, from loading/unloading trucks, hauling freight, working with customers, you name it. "He did the appointments, booked it all. When a driver stayed out too late" and called off a run, "Roger would get in a truck and go deliver that load."
They were working with a variety of customers, running LTL outbound and truckload back to "get them back as quickly as you can," Roger said. You made your money outbound, he said.
Starting in 2007, though, challenges to profitability in the operation mounted with the Great Recession tanking freight availability and rates. "Things went south real fast," Rita said, and the Wilsons began to slowly downsize. Roger, particularly, began to feel that reliability of the workforce suffered with the decline in rates to the point that, "when you had an issue with the driver, it was easier just to go do it yourself."
Operators willing to put up with LTL -- multiple stops, live unloads and the like -- got harder and harder to come by. "We started to slowly sell off trucks when the availability of drivers just wasn't there," he said.
Through it all, though, they hauled Blommer chocolate, working through Midwest Warehouse and Distribution System before Ryder System purchased the company in 2021.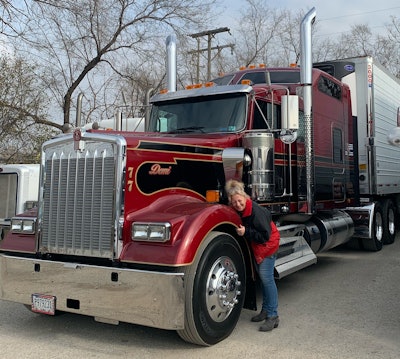 'Life's a little easier now'
"I think we're pretty blessed that we have had Blommer all these years," Rita said. During COVID, the pair nurtured that relationship. "When rates went through the roof, we did not gouge them -- we went up more than we normally would, but we were still lower than what they were paying" others.
They've been careful to account for fuel volatility with a surcharge in their rates, and "if we have to sit two-three hours" on either end hauling the company's product, "we don't really charge detention," she added. It's a sacrifice they're willing to make to preserve the relationship.
"You help me, I'll help you," Roger said. Though much of their business now is centered on the lane between Chicago and Pennsylvania, running Blommer freight both ways most of the time, they're afforded plenty flexibility, too, hauling shuttle loads in the Chicago metro for the company.
During COVID, the opportunity rose to fill that need for the Blommer factory in downtown Chicago at Adams and Kinzie. The pair invested in a new reefer trailer to effectively stage to run those shuttles from the facility to the warehouse in the suburbs. "You do two of them in a day in about 10 hours," Rita said, fighting city traffic on I-88/290 into and out of town, backing in at Adams/Kinzie to load with very little wiggle room. "You have to time it just right."
You might sit through nine traffic lights before you "get a moment to block all four lanes" of the city street to make the maneuver, she added. Yet maneuver it she does, with a 280-inch wheelbase no less. "Sometimes you sit and watch" another hauler, and "they've taken their doors off."
They've invested in the relationships on both ends of their regular runs, Roger said, enabling them to build in arrival-time flexibility with the manager at the Chicago-area warehouse they serve, minimizing any delay at the dock by avoiding peak hours.
Such is the solidity of the business that Rita's Absolute Trucking hasn't run a load for a broker in six to eight months outside the core customer. "Sometimes," out in Pennsylvania without a return load, "we come home empty," even, Roger said, or schedule maintenance for one or the other of their power units with a trusted shop in the area, Kenworth of Pennsylvania in Clintonville. "In Chicago there are so many trucks and only so many dealers" you might "wait a week to get in the shop here -- that's hard to deal with when you're trying to keep the truck rolling and keep the revenue coming in."
In Clintonville, he added, it's simple to "call them ahead of time enough that we can get in there" and out fairly quickly.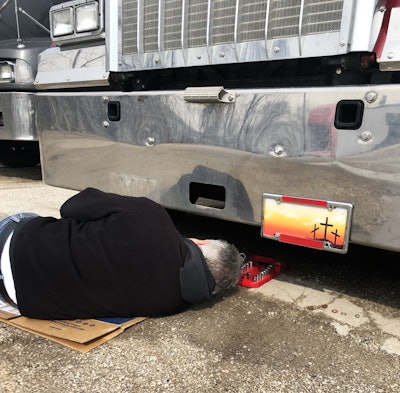 Minimizing unnecessary downtime, closely managing costs, maximizing revenue opportunity. All are clear attributes of the core of the business, but it's service that is "the most important thing," Rita said. "We jump through hoops for Blommer. We don't like to do local work, but in the summer they'll keep one of us here for a month. You're home, but you're not. You get more rest on the road " The customer is "so good to us."
In some ways, the pair have arrived at the absolute best place they could imagine. Roger recalls managing the warehouse and those 15 trucks. "Life's a little easier now," he said. No more phone calls in the middle of the night, for instance, with this or that problem encountered OTR by a driver.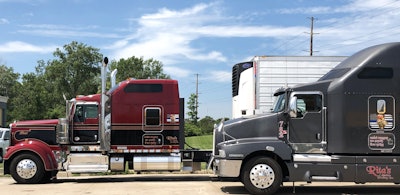 "This is the best you could ask for anywhere in trucking," Rita said. "It's really the best," the absolute trucking best.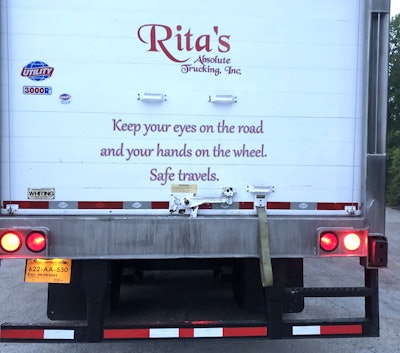 [Related: Beating the odds in a 1989 Marmon, from Chicago construction dump to OTR]