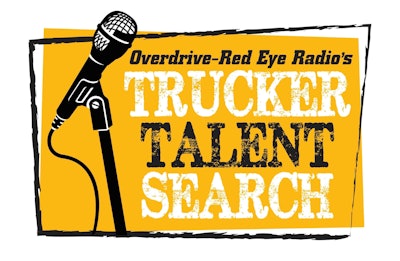 Three truckers who spend their downtime singing and writing songs will compete live at August's The Great American Trucking Show, where the Dallas-bound drivers have been invited to participate in Overdrive-Red Eye Radio's Trucker Talent Search event.
The three, Nate Moran, Paul Marhoefer and Don Whatley, were selected from a group of 28 entrants after a round of audience online voting in May and June.
Nate Moran
Song he submitted: cover of Michael Ray's "Kiss You in the Morning"
Why he chose the song: "I love how it reminds me of my wife. I sang this to her at our wedding on April 4, 2015."
Nate Moran, 25, of Pomona, California, picked up the guitar at age 11 after losing his dad, who passed away on a hunting trip. "Losing my dad got me into music, and music kept me out of trouble. If I didn't find music I would have gone down the wrong road most likely," he says.
After playing guitar for a few years, he started singing, too, and that lead to him writing his own music. "It just started coming to me, bits and pieces here and there," he says.
He didn't get serious about writing till a few years ago, though. Around that time, he also started trucking. He is a company driver for Smokey Point Distributing and hauls freight for the aerospace industry.
Nate Moran recorded and released two songs on Amazon and iTunes. He hopes to follow "Middle of the Moonlight" and "Honey Drop" with more recordings this year.
Paul Marhoefer
Song he submitted: "That's Why I Drink"
About the song: "Someone told me once that you don't mess around with Mercer County, Ohio, residents' religion, guns and alcohol. The county has a high consumption rate of beer but also very high church donations, and usually those two things don't happen at the same time."
With more than 30 years of experience driving truck (straight truck and then tractor-trailer since 1987), Paul Marhoefer's songs usually come from a common source: "I get some of my ideas for songs from old drivers and sometimes from myself, because I'm an old truck driver, too."
He initially got into music when he was about 20 years old. He learned to play guitar after seeing a Harry Chapin concert and said to himself, "That's what I want to do."
Marhoefer, 55, of Losantville, Indiana, hauls reefer for Moeller Trucking. He has taken a couple of years off from trucking for various office jobs, but keeps on coming back to the road.
Marhoefer and his wife, Denise, are fans of the Texas singer-songwriter tradition and in 2014, they formed a group of investors to host Ray Wylie Hubbard at a concert in Hagerstown, Indiana. Marhoefer was Hubbard's opening act.
Don Whatley
Song he submitted: "Tears of Pride"
Why he chose this song: "All of my other songs are about the trucking life. But this song is special. I dedicated it to our military and their families and was part of a compilation that was sponsored by the USO and sent to the troops in Afghanistan."
Don Whatley, 64, drives for Douglas Transportation out of Mesquite, Texas. The 31-year veteran driver is a singer-songwriter who likes telling his life story set to country music. He says his wife, Carol, inspires most of his songs. Her favorite song is, "Honey Do," about all the chores waiting for him when he gets back home. He says he also like to tell funny stories between sets.
He was 12 years old when he was inspired to pick up the guitar and start writing songs after seeing the Beatles play on the Ed Sullivan Show. "I was so impressed and have played music, written songs, played in bands and performed ever since then," he says.
Don Whatley self-released a studio album named "American Trucker," which is full of his original compositions.