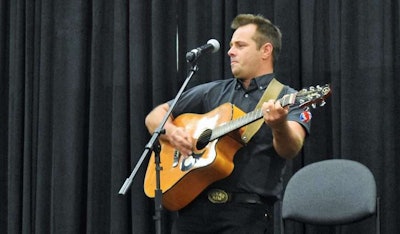 2016 Trucker Talent Search winner Jason Lee Wilson made an appearance on Eric Harley's Red-Eye Radio show Monday, where the duo talked last year's contest, Jason's Axle Out Pro-produced music video, the friendships he's built with the other 2016 Talent finalists and more.
The Tennessee-based van operator won the 2016 contest with his rockabilly-inspired original "Truck Stop Betty," which he played for a crowd of attendees at last year's Great American Trucking Show and a panel of judges. In the interview with Harley, Wilson talked about his Dallas-based recording session, in which he invited the two other 2016 Trucker Talent Search finalists Keith Snyder and Will Perry to play behind him during the session. You can see Wilson's video here, with Snyder playing bass and Perry singing back-up vocals.
Nominations for the 2017 contest, produced by Overdrive and Red-Eye Radio, are ongoing now. Visit TruckerTalentSearch.com to see the nominations and enter. To those timid about entering, Wilson advises to "put your fears and insecurities aside." Listen to the full interview at the player above or the player below.
Podcast: Play in new window | Download