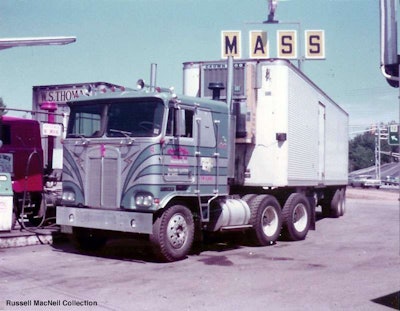 Amateur truck photographer Russ MacNeil has taken photos of big rigs since he was a teen growing up near Westfield, Mass. As a child, he was mesmerized as trucks roared by on walks with his aunt near Route 20. By the time he was 27, a black Mack Model B he shot near Ft. Pierce, Fla., appeared on the cover of Overdrive's July 1984 issue and was featured as the Tractor of the Month.
One of the stops where he took photos – one of them shown here – is the Mass 10 Truck Stop in Auburn, Mass., which is featured on OverdriveRetro. He says he learned about it and others, such as the Triple T in Tucson, Ariz., by reading Overdrive as a youth.
Though truckers jokingly referred to the Mass 10 as the Dump, it was an oasis for them, MacNeil recalls.
"In the '70s, there weren't many truck stops in New England," MacNeil told me in a phone interview. He's now a resident of Perry, Ga., where he is an aerospace refueling specialist for the U.S. Department of Defense at Robbins Air Force Base. "It was a safe haven where they could go and not be harassed by police about their trucking."
He drove his mother's 1970 Volkswagon 40 miles to the popular spot and took photos of what he says were fancier trucks that owner-operators drove. Macks and Brockways were common in Massachusetts, but it was at the Mass 10 where he first saw Peterbilts. "I saw a lot of fleets and carriers there that I didn't see other places. It was basically a kind of hole-in-the-wall place, but it was the only place you could park."
The longtime U.S. Air Force civilian employee returned recently from trips to Ohio, Pennsylvania and Massachusetts where he shot truck photos along the way. You can see his vintage truck photos from his repertoire at Hank's Truck Pictures.