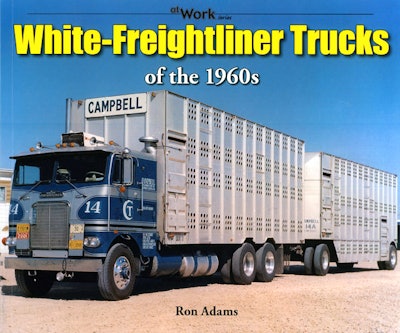 The new book, "White-Freightliner Trucks of the 1960s," by Ron Adams, published by Iconografix in Hudson, Wis., features more than 100 photos, half of them in color, for truck history buffs to enjoy memories of their own vintage Freightliners or simply bygone years in their careers.
Many of the paint jobs on the rigs, like the 72-inch cab with the San Francisco design on page 61, are similar to ones highlighted in Overdrive's issues of the mid and late 1960s, one cabover of which on the August 1968 cover you can read about at OverdriveRetro. And, like most of Overdrive's, the photos were taken at delivery sites, truck stops and even weight scales.
In the 128-page mostly picture book, Adams also provides historical summary and context of the Freightliner company, which started in 1937 as Consolidated Truck Lines when, Adams writes, Leland James "took on a venture that was a stab in the dark." It was in 1951, Adams explains, that Freightliner agreed to sell its trucks through White Motor Co. and "exploded" in sales through the 1960s.
Adams obviously enjoys his subject. Since he was 12, he has been collecting photos of trucks and, early on, wrote letters to truck makers asking for photos. He dedicates his book to another aficionado he met and with whom he has traded photos with for 45 years, photographer Harry Patterson, who has Freightliners featured in Adams' book.
The author's concise writing style complements the clarity of detail in the photos in the 128-page paperback book, which can be bought for $32.95 through Quayside Distribution Services.