Give that man a CDL
Little did South Carolina Gov. Mark Sanford know how universal was the feeling he revealed to his Argentinean mistress in one of several e-mails released by The State newspaper. Describing an early morning excavator session on his farm, he wrote, "To me, and I suspect no one else on earth, there is something wonderful about listening to country music playing in the cab, air conditioner running, the hum of a huge diesel engine … the day breaking and vibrant pink coming alive in the morning clouds."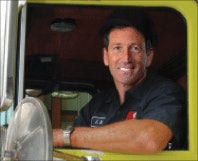 Trucking résumé, down under
This 1989 Kenworth W900L is one of a few built and painted to resemble a KW used in the James Bond flick "License to Kill." It was brought back to pristine condition by Klos Custom Trucks in Geelong, Australia, and photographed by trucker Robbie Rose. He also freelances as a photographer for the biggest trucking magazine on the southern continent, Truckin' Life, and is somewhat infamous for his 2007 online video résumé exhibiting his prowess backing double and triple tanks. Find it and more from Rose at YouTube.com/dingosgotmybaby.
Highway politicking, take two
When Springfield, Mo., neo-Nazis moved to adopt a section of the West Bypass and have the National Socialists Movement name on roadway signage, state legislators employed a tactic from the 1990s. Back then, a battle between the state and the KKK ended with the Klan adopting a segment of I-55 south of St. Louis. The legislature responded by renaming the road in honor of Rosa Parks, known for the Montgomery, Ala., bus boycott. In May, Missouri reps voted to dedicate the National Socialists' adopted segment in Springfield to the memory of Abraham Joshua Heschel, a rabbi famous for taking up the cause of black civil rights leaders in the 1960s.