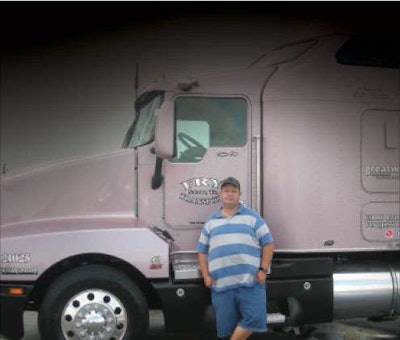 When Greatwide Owner-Operator of the Year Artie Fry isn't picking up an extra load, he's getting a buddy's truck ready for Pride & Polish or fishing for channel catfish.
Artie Fry will drop his fork in the middle of dinner to haul a load. So says his dispatcher Shannon Treadway. She knows she can depend on Fry if others don't come through. "He's gotten me out of many a jam," she says of the 14-year Greatwide Dedicated Transport veteran.
"I'm not one of those people who likes to sit around," says 44-year-old Fry. When Treadway calls to offer him runs, he always chooses the longest one. "I guess it's greedy," he says, although others testify he's anything but.
Longtime friend and Greatwide Dedicated owner-operator Daryl Rodman explains. "Artie takes care of a lot of people," he says. "He chooses to work hard and make as much money as he can so he can help his friends and family."
For Fry, trucking is much more than the profit. "He also just likes to run," Rodman says.
Fry has enjoyed customizing trucks at his Salado, Texas home since 2005. That year he pulled Rodman's truck into his back yard, rolled up his sleeves in 110-degree heat and helped his friend trick out the truck for Overdrive's Pride & Polish. The two first-time customizers worked for months on Rodman's 2003 Kenworth W900, installing hardwood floors, a drop visor and an airline deck and polishing the truck every day for two weeks before its Great American Trucking Show debut.
They flipped through custom truck magazines for ideas and followed their intuitions. "We just picked out what looked good to us," Rodman says. The 2003 Kenworth W900 took home third place in its class in 2005 and 2006.
Fry's mechanical expertise and dedication was essential to their success, Rodman says: "How many guys would do that for me?"
Fry has enjoyed trucking since he was a youngster. When Fry was 8, his father took a job as a long-haul company driver for Allied Van Lines, and Fry rode alongside him in the summer. "When I was in school, I couldn't wait 'til summertime when I could run with my dad," he says. He learned more in the passenger's seat of his dad's truck than he ever did in school, Fry says.
"I just like the freedom of being on the road," Fry says. Trucking has allowed him many more freedoms than often offered by the open road. In 2008, as many owner-operators struggled to stay afloat, Fry netted $75,000.
Drivers for Greatwide's Temple, Texas, branch, where Fry works, haul groceries for Walmart stores within the state. As the economy declined, Walmart's revenues rose.
Increased demand for the discount department store's products gave Greatwide truckers a surplus of runs and an opportunity to make the most of the recession. "Greatwide's done me good," Fry says.
Eager to make money when young, Fry went to work before completing high school and never returned. He has flourished in the recession and still sets time aside to enjoy his home, a 2.5-acre plot on Stillhouse Lake near Salado.
Part of Fry's success is due to his organizational skills. He has only one rule: to keep his business and personal accounts separate. "Doing so helps me keep track of my earnings and expenses, and at the end of the day, I end up taking more money home," he says.
To keep expenses in check, "you've got to do your own maintenance," Fry says. He greases and polishes his 2003 Kenworth T600, rotates his tires and checks air pressure in his back yard between runs. He says rotating his own tires saves him at least $300 each time. Friends regularly drop by his house to work on their trucks, too.
Fry handles his equipment just as carefully as he does his earnings and expenses. In 21 years as a commercial driver, Fry has not had a single accident, ticket or moving violation. "I run the speed limit and give plenty of following distance," he says.
Another way Fry balances expenses is by picking up extra loads. Living just 15 minutes from the Greatwide yard means he's often available at a moment's notice. Dispatcher Shannon Treadway says Fry helped her out of a bind more than once when she was new on the job five years ago. Working nights was especially stressful, Treadway says.
On one of her first nights on the job, "at 2 a.m. a guy fell off a load," Treadway says. Fry was one of the first owner-operators she'd met at Greatwide, so she called him first.
"Artie got up in the middle of the night and came and took that load, no questions asked," she says. The two have been friends ever since, and Fry is still the first person Treadway calls in tough situations.
Trucker trivia
FRY RESCUED Greatwide colleague Clyde McKee in the throes of a heart attack in 2008. Fry had stopped south of San Antonio to refuel and called for help when he noticed McKee parked nearby, his driver's side door ajar and he slumped over the steering wheel. Fry returned McKee's truck to his Temple, Texas home. "I did what I was supposed to," Fry said. His friend recovered in the hospital.
FISHING IS GOOD on Stillhouse Lake, where Fry makes his home. This August, he caught 52 channel catfish in one day. Fry said he cleaned them and was waiting for the perfect fish fry weather to take them out of the freezer.