Trucks that track with 'Trek'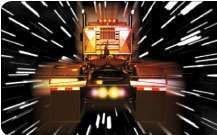 The parallels between space travel and trucking are many, but the decades-long phenomenon that has been "Star Trek" had us wondering when an operator named Kirk would finally adopt the "Captain" CB handle and name his business accordingly. Finally, an Associated Press story details the operations of a Jackson, Miss.-based trucking company that also integrates the name of the TV show's space ship: Captain Kirk Enterprises, owned and operated by Kirk Williams. Not exactly a trekkie, Williams said he happily gets more home time than his fictional counterpart, running a regular round-trip to Memphis daily.
Stitching stories together

Texas owner-operator Wayne Dollar (pictured) not only stitches his own quilts, he's won awards with three of his creations since he started making them last summer. A trucking-themed quilt, called "Trucking Around" (also pictured), won first place at the Tri-State Fair in Amarillo last year. Dollar tells stories through both his quilts and more traditional means. He has produced four CDs of "stories of my life on the highway," he says. "I like to share my thoughts with other people." Visit his website: truckingaround.com. – Lucinda Coulter
Earn Gold Card, toss log book

As the Federal Motor Carrier Safety Administration reconsiders hours-of-service regulations, some of the unorthodox proposals from drivers have focused on giving greater freedom to veteran safe drivers. Bison Transport hauler Tom Balaz proposes tying flexibility to a driver's safety record. "Give him some wiggle room," says Balaz. "Instead of being forced to sit for 10 hours, maybe [a longtime safe driver] can roll after 8 or 9." Wisconsin's Jeff Clark, who pens a fitness column in Overdrive sister mag Truckers News, goes further: Million-mile safe drivers could earn total exemption from hours regs. "The standards to reach Gold Card status must be tough, but attainable," he says, including a million miles "without an at-fault DOT reportable accident, moving violations, driver out-of-service violations or positive drug tests." n

Class Act
This 1995 Peterbilt 379 isn't the creation of an owner-operator, custom shop, fleet or dealer. Some of the folks who tricked it out don't even have their driver's license. Class Act, as it's known, was restored from scrap condition by 35 high school students from the Clarion County Career Center in Shippenville, Pa. Instructor Don Doverspike led the effort, the school's second Class 8 entry in show truck competition in Louisville, Ky., where this year it placed second in the First Show Bobtail class.
Trucking toward the guv's desk
A Channel 19 exclusive Since we noted "Singin' Sam" Little's campaign launch for the governorship of Alaska, he's been laying the groundwork for the run. Included was a visit to Nashville, Tenn., in April, where he sang his campaign song: "Let's run a truck driver for governor this time. / Those other politicians have lost all of their shine." Check out the video on youtube.com/OverdriveMag or OverdriveOnline.com.
For your daily dose of trucking humor, oddities and coverage in the media, visit: OverdriveOnline.com/channel19.
SEND US STUFF
Overdrive, 3200 Rice Mine Road N.E.,
Tuscaloosa, AL 35406, or e-mail tdills@rrpub.com.