New life for old classics
Daredevil Evel Knievel used a 1974 Mack Western series FS700 while on tour, making many of his historic motorcycle jumps in the 1970s. After the rig sat for decades in Florida gathering pine needles and corrosion, BPW Transport small fleet owner and truck restorer Brad Wike began restoring it, spearheaded in part by an appearance on the American Trucker TV show last year.


Wike's career as an owner-operator began in 1990 in Taylorsville, N.C., where he became a dedicated hauler for a local wire manufacturer. He added another truck in 1993, continuing to grow to five Peterbilt 379s today.
He also diversified. In 1997 he immaculately restored a 1963 Mack B61 tractor. Today he owns the rig used in the film "Duel," a Smokey and the Bandit Kenworth tribute tractor-trailer he customized, and other treasures. He buys and sells American classics here and overseas.
His property in Lincolnton, N.C., hosts the annual truck show for his region's chapter of American Truck Historical Society. Find more at BradsClassicTrucks.com. –Todd Dills
Make a Love's connection

Since its debut last year, the Love's Connect app for iPhone, Blackberry and Android smartphones has undergone upgrades aimed at streamlining connections

to Love's Travel Stops' services. The app not only provides an efficient stop locator, but drivers can quickly access Love's nationwide roadside assistance service, info on fuel and bulk DEF prices, and parking availability for each stop. The app also comes with weekly deal alerts sent directly to drivers' phones. To get the software, scan the QR code with your smartphone, then click "Download Our App."
Lights, camera…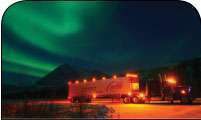 Carlile Transportation's Dave Johnston photographed his rig and the Aurora Borealis on Alaska's Dalton Highway, where he runs three times weekly from Fairbanks to Prudhoe Bay. With sunspot activity at a peak this winter, the northern lights have been particularly strong. Johnston shared this photo in Overdrive sister magazine Truckers News' photo group on Flickr.com. Visit flickr.com/groups/truckersnews to share your photos from the road.
GAUGES
Truckers 3rd in Fatigue Survey
In a National Sleep Foundation survey, 27 percent of truckers say their irregular schedules don't give them adequate time to sleep. Even larger numbers of train operators and pilots say their

schedules cause sleep problems. Fourteen percent of truckers say they have had a "near miss" accident because they're sleepy. "Employers should put more effort into designing work/rest schedules that facilitate sleep and minimize workers' exposure to irregular, variable schedule changes," says Patrick Sherry, a sleep researcher.
Freight heads up
Dry van and flatbed rates recovered, 3 cents and 2 cents respectively, from January to February after the historically low seasonal dip in January. Reefer was down 2 cents from January to February.
March 6, 2012 diesel price averages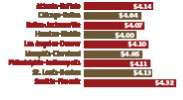 FUEL SURCHARGE INDEX (www.FuelSurchargeIndex.org) prices are collected daily from more than 5,500 truck stops and averaged along specific routes.
CALENDAR
APRIL 13-14: ATHS CHAPTERS SOUTHEAST REGIONAL TRUCK SHOW, I-40 Exits 392 or 294, Knoxville, Tenn., (865) 789-7771.
APRIL 13-14: MARMON TRUCK GATHERING, 2104 N. Central Expressway, McKinney, Texas, (469) 667-7158.
APRIL 14: ATHS YELLOW ROSE CHAPTER ANNUAL TRUCK SHOW, Riverbend Park, Smithville, Texas, Lloyd Holden, (830) 743-3179.
APRIL 20-21: ATHS WHEAT STATE ANTIQUE TRUCK SHOW, Newell's Truck Stop, I-35 exit 31, Newton, Kan., (316) 283-0130.
APRIL 27-29: 75 CHROME SHOP ANNUAL TRUCK SHOW, I-75 exit 329, Wildwood, Fla., www.75chromeshop.com, (866) 255-6206.
Sneak peek at Wildwood T-shirt

Overdrive's Custom Rigs magazine shared this T-shirt design for the first Pride & Polish contest of the year on its Facebook page: facebook.com/Custom-RigsMagazine. Like the page to get other updates from the custom truck world.
APRIL 27-29: TRUCK SHOW & BBQ ATHS Central California Chapter, Kirkland Ranch, Plymouth, Calif., Dennis Chan, (916) 381-6063.
APRIL 28: ATHS NORTHWEST CHAPTER ANTIQUE TRUCK SHOW, Harold E. LeMay Marymount Museum, Spanaway, Wash., Roy Friis, (360) 866-7716.
MAY 4-5: MIDWEST PRIDE IN YOUR RIDE TRUCK/TRACTOR SHOW, Tri-State Raceway, Earlville, Iowa, Eldon Jaeger, (560) 580-8200.
MAY 6: ATHS SOUTHERN CALIFORNIA CHAPTER ANTIQUE TRUCK SHOW, Orange Empire Rail Museum, Perris, Calif., Ken Lund, (909) 790-7707.
May 17-19: SHELL ROTELLA SUPERRIGS 30TH ANNIVERSARY, Speedco, I-44 exit 4, Joplin, Mo., rotella.com.
MAY 18-19: JOPLIN 44 TRUCKERS JAMBOREE, Joplin 44 Petro, I-44 exit 4, Joplin, Mo., (417) 624-3400.
MAY 19: ATHS GREATER CINCINNATI CHAPTER TRUCK SHOW, Howard Trucking Co., Fairborn, Ohio, Jerry Howard (937) 878-6154.
MAY 19: ATHS PIEDMONT CAROLINA CHAPTER LESTER BROWN MEMORIAL TRUCK SHOW, North Carolina Transportation Museum, Spencer, N.C., (336) 431-6824.
MAY 19: ATHS SHENANDOAH VALLEY CHAPTER TRUCK SHOW, Lawn Party Grounds, Green Street, I-81 exit 240, Bridgewater, Va., (540) 478-4389, oldtrux4me@yahoo.com.
MAY 19: DELAWARE ATCA CHAPTER ANNUAL ANTIQUE TRUCK SHOW, New Moose Lodge, U.S. Route 13 south, New Castle, Del., Jack Smith, (302) 381-0959.
MAY 31-JUNE 2: ATHS NATIONAL CONVENTION & ANTIQUE TRUCK SHOW, Eastern States Exposition, West Springfield, Mass., (816) 891-9900.
JUNE 1: EAST COAST TRUCKERS JAMBOREE, Kenly 95 Petro, I-95 exit 106, Kenly, N.C.
JUNE 8-9: OAK GROVE TRUCKERS JAMBOREE, Oak Grove 70 Petro, I-70 exit 28, Oak Grove, Mo.
JUNE 8-10: ATHS NORTHEAST OKLAHOMA SHOW, Big Cabin Truck Plaza, I-44 and U.S. 69, Big Cabin, Okla., Omer Williams, (918) 256-5957.
JUNE 9-10: ATCA YANKEE CHAPTER SHOW, Bethlehem Fairgrounds, Bethlehem, Conn., Bill Mitchell, (203) 739-0118.
JUNE 10: ATHS METRO JERSEY CHAPTER, Automatic Switch Co., Florham Park, N.J., (973) 726-4586, thomasmulligan@msn.com.
JUNE 10: ATHS OCEAN STATE VINTAGE HAULERS TRUCK SHOW, Johnston War Memorial Park, Johnston, R.I., Joseph Pingitore II, (401) 692-0095.
JUNE 10: ATCA GREATER PITTSBURGH CHAPTER TRUCK SHOW, Kings Family Restaurant, I-70 exit 32-B, Bentleyville, Pa., George Bradish, (724) 539-8386.
JUNE 14-16: GREAT WEST TRUCK SHOW, including Custom Rigs Pride & Polish, Las Vegas Sands Expo & Convention Center, (888) 349-4287, www.greatwesttruckshow.com.
JULY 12-13: WALCOTT TRUCKERS JAMBOREE, Iowa 80 Truck Stop, I-80 Exit 284, Walcott, Iowa, www.iowa80truckstop.com.
AUG. 11: BROCKWAY TRUCKS 100th ANNIVERSARY, Cortland, N.Y., www.brockwaytrucks.org.
AUG. 23-25: GREAT AMERICAN TRUCKING SHOW, including Custom Rigs Pride & Polish and ProPickup Truck Expo, Dallas Convention Center, Dallas, www.gatsonline.com.
OCT. 5-6: CHARLOTTE DIESEL SUPER SHOW, including Custom Rigs Pride & Polish, zMax Dragway Charlotte Motor Speedway, Concord, N.C., www.dieselsupershow.com.
OCT. 27-28: TRUCK DRIVER SOCIAL MEDIA CONVENTION, Harrah's, Kansas City, Mo., truckingsocialmedia.com.
Q Are fuel additives for cleaning injectors worth using?
A YES Diesel experts say deposits can interfere with an even fuel spray pattern in the combustion air.
Peter Jutras, senior accounts manager at Howes Lubricator, notes his company's Meaner Power Cleaner "keeps carbon deposits and varnish off the injector tip." Both can "rob the injection system of optimum performance," he adds, interfering with proper atomization. In trucks fitted with a diesel particulate filter, good injection performance is even more critical because soot must be constantly burned off inside the DPF.
Although the product can be used to clean long-running injectors, Jutras suggests continuous use because "once carbon coking develops on an injection nozzle, it can be really hard to get rid of." Fuel/maintenance cost savings from using an injector cleaner can be around 5 percent, he notes.
CHANNEL 19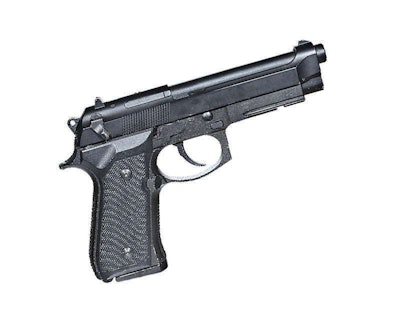 'A suicide threat, a drawn gun,' and 3 trucker heroes
"I thought we were going to be in trouble, which is what I told the cop at first," Eagle Pass, Ore.-based log hauler Tony Rickman told the Estacada News in February. Instead, he and two other truckers received citizen commendations for helping a law enforcement officer stop a drunk driver near the Highway 224 entrance to Mt. Hood National Park.
"I wasn't trying to be a hero," Rickman added, "I was just thinking, 'This cop is way up here by himself and what if something does happen.'" The protracted incident involved, among other things, a "thrown champagne bottle, a suicide threat, a drawn gun, and countless incidents of dangerous driving." Find links to the full dramatic account on the Feb. 14 blog entry.
Tireless reporting on fatigue

One-fifth of all four-wheeler accidents are attributable at least partly to driver fatigue, one of many stats detailed in a fascinating infographic from FrugalDad.com about the importance of sleep. The Channel 19 blog's Feb. 24 entry contains the full sleep graphic. It also has an archived edition of the Truth About Trucking Live online radio program featuring blog editor Todd Dills discussing the latest regulatory developments with sleep apnea. Shoot the QR to pull the post up directly on your phone or tablet.
Alert network for missing drivers

Driver-to-driver connectivity via the social networks yielded a new initiative after North Carolina hauler Mark Williams Sr. failed to make a delivery and was reported missing. Drivers and advocates launched the Missing Truck Driver Alert Network as a Facebook group. A driver's response to a post led to the location of Williams, who had died, says network cofounder Kari Fisher. The group gained more than 1,000 members in its first two weeks, and they've launched the MissingTruckDriver.com site, where you can sign up for text alerts. For our interview with Fisher, who runs with her flatbedding owner-operator husband, see the Feb. 16 entry on the blog.
For 'the ones who don't fit in'


Former Bekins Van Lines owner-operator-turned-writer Fred Afflerbach's Roll On novel, due this month, tells the story of Ubi Sunt on what may be his last cross-country run to see the grandkids. The book evokes the 1980s in cinematic detail, such as rumors of an independent strike. Sunt, hauling in a 1956 Peterbilt cabover known as Old Ironsides, is the writer's tribute to those who came before him. "When I came on, I was listening to these old-timers — these guys drove when the roads were more primitive, drove with more primitive equipment, too."
The book is dedicated to "the ones who don't fit in." Afflerbach says, "Bedbuggers were the black sheep compared to the reefer haulers with the fancy rigs. It might take us a whole week to get full — the other guys could come in and out in one or two days. We were misfits among misfits."

For more of the interesting and odd parts of trucking, visit Senior Editor Todd Dills' Channel 19 blog at OverdriveOnline.com/channel19.
TRUCK GALLERY
Designed to please
Independent Laird Fuller, of Broomsfield, Colo., parked his 1995 Peterbilt 379, equipped with a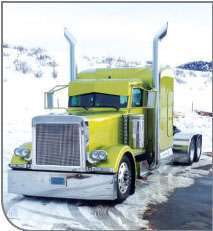 435-hp Caterpillar and 18-speed transmission, for seven months to customize nearly every inch of it. With the help of a dozen friends and Vinny's Design of Henderson, Colo., Fuller did a near complete rebuild, adding a left sleeper door and suiciding all other doors. Custom fuel tanks from AlumiTank and a 30-inch-stretched frame complete the package.
Geib's Gambler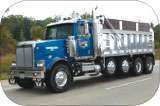 Waldo, Wis., resident Gary Geib drives this quad-axle 2006 Western Star for Silver Nagel Trucking. Geib uses the dump to haul gravel, sand and topsoil. He christened the rig Gambler Trucking because, he says, people say he resembles country music singer Kenny Rogers. The truck is powered by a 475-hp Caterpillar and an 18-speed transmission.
Gold mine dreams
Bright Wright, 21, of Montrose, Colo., hauls limestone to coal mines with his '96 Peterbilt 379.

While working in Nevada gold mines through age 19, he says, "I saved all my money and bought my truck and went to work for Colorado Lime." He and his father are leased to the company, and they haul together. The truck's pictured here in front of the Dillon Pinnacles and Blue Mesa Reservoir in Colorado.
LESSONS LEARNED

The benefit of owning a rolling 'doghouse'
Jenni Reynolds-Kebler and her husband, Robert Kebler, took a company driver job at a carrier with a no-pet policy, so they boarded their dog, Gizmo (pictured), with acquaintances near their Oregon home. But as Reynolds-Kebler detailed in her "Grizzly tales of the Gizanator" note on Facebook in February, her calls to check in started going unanswered. When she got a "this line has been disconnected" message, she began to try whatever social media avenue or email address she could. "I simply stated, 'call me ASAP!'" she wrote. Turns out Gizmo's caretakers had given the dog to an acquaintance, and was fine. After that, Reynolds-Kebler says, they bought a 2005 Freightliner Columbia and leased to Gordon Trucking. They call it a "Gizmo doghouse on 18 wheels."
Never tire when you're owed money

Have you ever had casing credits delayed with a new tire purchase? Owner-operator Phil Madsen hadn't either until an Arizona tire dealer told him it had "to X-ray our old tires first and give credit only if they pass the test," he wrote on his Learning Something New Every Day blog Feb. 8.
Because of their schedule, he and his expediting partner and wife, Diane, had to do business and move on. Months passed with no check for the credits arriving. Calls to the dealer went unanswered. On Feb. 19, Madsen learned perseverance pays: "Diane and I will not have to go to war to get the money a tire dealer owes us for casing credits. Learned when the check arrived." Follow Madsen's daily education via overdriveonline.com/madsen.