If you're anything like independent owner-operator Mike "Mustang" Crawford, you'll be on the road for the Thanksgiving holiday tomorrow. Checking in with Crawford this morning, he noted he was loading in Houston this morning bound for Salt Lake and was taking the time before the pickup to plan his route and, "most importantly, figure out where I'll be stopping for Thanksgiving dinner tomorrow," he said.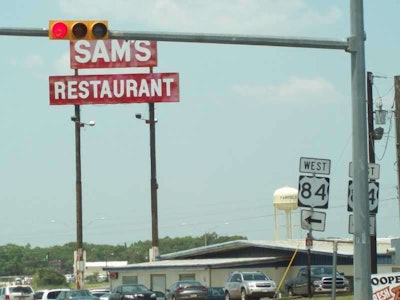 Crawford, our Trucker of the Year in 2010, you may recall figures himself something of a buffet connoisseur, and made note of a potential stop at Sam's Restaurant in Fairfield, Texas (open 6 a.m.-7 p.m. Thanksgiving Day), quite possibly the best, simple, most down-home buffet the nation over, he said. He singled out the "seven inches of meringue" on some of their pies as just exceptional, among other more savory options.
But if his load picked up early enough today, he'd hit the Petro in Amarillo.
If informal polling on our Facebook page is any indication, however, Crawford is in a sizable minority of drivers and owner-operators working over the Thanksgiving holiday. Just more thank 60 percent reported they were planning to get home to celebrate the holiday with family when we asked the question last week. Here's the full results:
What are your plans for the Thanksgiving holiday?
Getting home: 61 percent
Working, on the road: 33 percent
On vacation: 6 percent
Following find highlights among the responses:
James McCarter: Yes, no place like home and family time for the holidays. The years go by too quickly.
Jake Moore: Yep. Why stay out if most shippers and receivers close down.
Chuck Guintard: I'm taking the whole week off — deer stands and duck blinds for me.
Randal O. Bouwens: Traveling to Denver with a load.
Tom Puckett: Usually run over turkey day and get home first of December and stay home till early January. Freight rates stink anyway — why wear out your equipment running a charity!
Nicole Hellstrom: Going to the northern cabin to go kayaking.
Brent Ball: Hopefully I'll get a load ans will be truckin…
Donald Wills: I'm not much for holidays. Think I've spent too much time alone.
Lisa McAlpine-Jackson: I'll be home the day after tomorrow, and I'm stayin there till the 30th! I need some sleep! Lol. Happy turkey day guys 'n' gals. Be safe and keep the shiny side up 'n' the rubber side down…
Happy Thanksgiving, everyone, and thanks for what you do.