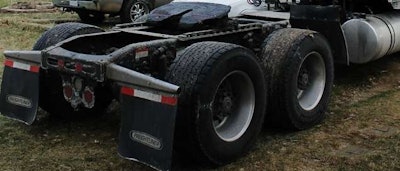 Before acquiring the 2004 Freightliner George Parker and Overdrive contributing writer Wendy Parker now run in, George had no experience whatsoever with wide-single tires, outfitted on the drive axle of the Coronado he bought used. Wendy posted a question seeking advice and point of view on the tires, relative to the dual pairs they are intended to replace, on January 5: "Do they really pay for themselves, as some say, or are they a pain in the rear and more expense than they're worth?"
Singles are common today in many on-highway applications, and the question clearly struck a nerve, showing extremes of both love and hate from readers on the subject. Some heaped kudos on singles for and improved ride as well as cost savings in both fuel and long-term maintenance. Others noted reduced traction getting started in some road conditions, among other concerns. Of the more than 400 responses to the question, the following excerpts sum up the long conversation, played out both here on OverdriveOnline.com and via our Facebook page. Click those links to read more and/or weigh in yourself. 
Raymond Carmickle: We tried the super singles here. They lasted six months before the fleet went back to doubles. Blowouts were costing a rim and a tire. Long-term, they are more expensive. 
Jenckes Whitaker: I had them, and it wasn't so bad in the snow or ice. As far as getting stuck after a blow-out, by law you can't drive on a flat anyway. They were much smoother on the road, and it's anyone's guess if it's more fuel-efficient – that's the line the company sold me on mine…. The only ones I ever lost were on the trailer. Same as any, they trash the mudflap. 
Andrew Slaughter: Stick with duals. I borrowed a company truck that had [singles]. Got stuck trying to pull out of a parking spot with a small amount of ice.
Lucar Borc: [Speaking of advantages,] how about 400 lbs. less of "rotating mass" on your truck? Shorter stopping distance? Wide patch on road surface? More torque and hp to the wheels? Better handling due to two walls' flex instead of four? Better fuel economy? 
Bob Yerdon: Research says they save you $3,000 a year on fuel. You must check pressure every day – don't run them low on air. I've put 500,000 miles on mine and love them. 
Alan H. Williamson: I only see the super single as a big hassle. They don't save that much weight when compared with a low-profile 22.5 on an aluminum wheel. 
What do you think?