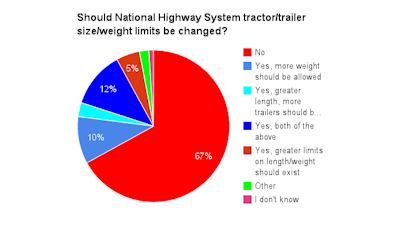 Results from polling on OverdriveOnline.com show majority favor for the status quo on size and weight restrictions on the National Highway System. Polling followed news of Congressional attention with lobbying from outside groups on the size and weight issue as legislators craft a highway bill, as well as preceded a public webinar conducted by the Federal Highway Administration on truck size and weight regs.
Gordon Alkire, commenting under the above poll on OverdriveOnline.com, called raising single-unit, nonpermitted legal weights or combination lengths a move that would benefit next to no one. "The increase to [the current limit of] 80,000 lbs. and longer trailers to 48 feet and then to 53 feet began to destroy our roads and bridges," he said. "The increase in taxes and licenses did not go to the road fund but everywhere else. Now if the weight is increased, is the increase in tolls and licenses and registrations going to fund the additional repairs needed? Very doubtful."
The only benefit, the owner-operator added, would go to fleets who could employ fewer drivers as a result. "Larger, heavier trucks will put some small carriers out of business," and any benefit to trucking otherwise would be so small "it will be barely noticed."
At least one commenter made a case for the almost 3 in 10 respondents who did in fact favor some kind of an increase: "I pull a three-axle step deck, and with all the equipment I have to carry, I have a tare weight of 35,000 lbs." A little extra weight would help the hauler out tremendously, he said. "I don't dare load anything more than 44,000 lbs. Most shippers are looking at shipping 48-50,000 — this is what I need help on."
What do you think? Weigh in in the comments here.