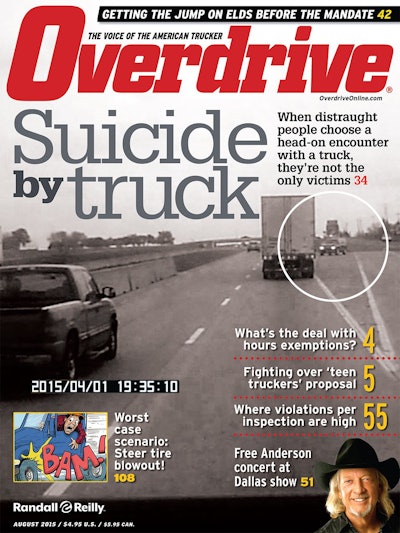 Since the last update on readers' individual reactions to Carolyn Magner's in-depth multi-part feature on the "suicide by truck" phenomenon, trucker Allen Smith, cohost with his wife, Donna, of the Ask the Trucker Live call-in show online, has scheduled a talk with Magner to discuss it. And readers continued to respond in numbers with their own stories detailing the aftermath of such incidents.
Below find several new accounts.
You can tune in to hear Magner's appearance on Ask the Trucker Live on Saturday at 6 p.m. EDT at this link.
Reactions via OverdriveOnline.com:
M. Leora King: Three years ago this week my husband, a hazmat hauler, had a 27-year-old do what was called by police as a 'superman swan dive' in front of my husband's semi less than a half-hour away from our home. I was called to the scene. (I will not go there on what I saw.) Thank God my husband never got out of the truck. We did everything that was asked. I followed the police car he was in to be taken to the hospital for the drug test, getting all documentation to have for the employer, meeting with the insurance company (that was flown in) and being told we would have their support. Safety manager told him to take the time he needed and return when he was ready — they would take care of his wages. Never happened! I had to change jobs to be able to be more support for him with the situation. A benefit was better health insurance. He was injured at work and tore his right rotator cuff needing surgery in 2013 and again in May of 2015. He suffered greatly and was diagnosed with mood disorder, and it opened the door to PTSD. The adjuster has told us that the incident was before Minnesota allowed it under the work-comp codes as coverage. They will not address the anxiety, PTSD. It is horrible, and all they say is that it is not part of this claim and because there were no injuries in the accident (to my husband) they can not open a claim. Please if you find yourself in this situation, go to the hospital. The injury is internal, and you need to be your own advocate. When I first came to Overdrive I was looking for these types of articles and there were none. I am happy to have it out in the open, but saddened that so many truckers trying to provide for their families have to go through this situation.
Robert: I was in De Kalb, Texas, it was 11:30 at night, and a husband and wife ran down an off ramp and through a stop sign into my path. Totaled my truck and trailer, and load. Put me in hospital. Their pickup was total loss too.
y driver trainer had a head-on suicide, and all my best wishes go out to drivers who've had to go through this and the immediate knee jerk reactions, blame the trucker. How often do we constantly see bad four-wheelers on the road, illegal lane changes, speeding, swerving, etc… And too frequently truckers are punished for four-wheeler mishaps. It's shameful that politicians have yet to get onboard. Dashcams are a necessity now.
Via Overdrive's Facebook page:
Chad Mitchell: I have a friend that does not drive anymore because a guy committed suicide on his truck. From what I understand the guy hit while he was going over in the ditch to miss the head-on collision.
Brent Hedlund: I think about this every time I take to the road. Actually had a woman who was obviously intoxicated try to lay down in front of my truck in Louisiana on I-10. Luckily, I didn't have anyone beside me and I was able to dodge her.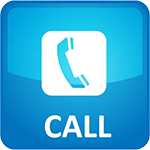 Jerry Noel: The sad thing is I know two people who have done this. … I feel sorry for the drivers when people try to kill themselves. They don't think of the driver. That's got to be hard to live with, but I bet it happens all the time.
Heather Lynne: My husband is a driver, and I worry about this every day. I will never understand somebody using an innocent trucker … . If you want to die, I guess that is your choice. But please leave other people out of it. 
Original reactions piece following the first installment of the "Suicide by truck" series:
Kudos came in for Carolyn Magner's in-depth feature on the "Suicide by truck" phenomenon — individuals at the end of the rope stepping or driving into the path of oncoming semis — and the tragedies such incidents are for truckers. "I've read over the years of how common the suicide element of fatal accidents for railroad engineers is and more recently the whole suicide by police issue," wrote Paul Bingham. "In reading those stories I've thought that there must be some share of truck-involved fatal accidents that were really suicides too. You've found the evidence and found the personal link to affected drivers to bring this into the light and show that this is affecting truckers too. Compelling coverage of poorly-known issues affecting trucking is what I've come to expect from you and Overdrive over the years. Keep up the good work!"
More importantly, a number of readers commenting here at OverdriveOnline.com and on Overdrive's Facebook page, among other places, offered anecdotes that further drive home the full extent of the problem — and the potential aftermath.
Glenn Helmly: I was a safety manager for a mid-sized, family-owned trucking company and this happened to one of our drivers in North Carolina. It was devastating for the seasoned driver, who over his career had at one time owned several trucks. Our driver, having a strong faith in God, was able to overcome the incident and returned to driving again… There was very little as a company we could offer him, other than support. We even maintained his pay until he was able to return to full duty, but I personally don't feel that was enough! Workers compensation did zero, other than to notify us and him that emotional distress is not covered for a non-physical injury, which was added insult to injury! The North Carolina Highway Patrol handled the case very well, and other than the required inspection and drug/alcohol testing, they where very professional and supportive of our driver.
David Wilmoth: The tire marks are faded away near the Flying J on I-20 East in Columbia, S.C. The civilian waited until I got close and pulled out in front of me and stayed across all three lanes. I had to lock it down, and came within two feet of hitting him. My wife called me a week later — she told me [the driver] pulled in front of a loaded dump truck and got what he wanted.
Douglas M. Fabish: I was a kid … hauling hazmat out of the San Diego tank farm. Pop was an old hand. We ran jet fuel to the Yuma (Ariz.) Marine base on weekends. Pop left out about an hour in front of me. There was a big smudge of smoke on the horizon in front of me. Pop was dead. The car driver admitted he was trying to commit suicide.
Norman Ott: Happened to a friend of mine in Vegas a few years back. A man was handcuffed on the side of the interstate after a drug bust. He jumped up and ran in front of his T660 and was killed. He installed a bullbar after that. Over $8,000 in repairs plus the cost of the bullbar.
Thomas Lawson: Happened to me late one night on I-80 in Illinois, just before Morris where the truck stop is. Fool kid was on the side of the road with his friends, and he just stood there like a deer. I had about four trucks behind me, and I don't know how I missed the kid. I stood on the brakes and held the wheel straight and stopped inches from him. Troopers said it was a wonder I didn't kill him.
Have your own story? Feel free to use the comments section here to share — we'll update the main piece later in the week as more testimonies come in. As is mentioned in Magner's feature, such incidents are very hard for some to process — if you need help in locating counseling services in your home area, call the U.S. Substance Abuse and Mental Health Services Administration help line: 877-726-4727. Another resource is the National Suicide Prevention Lifeline: 800-273-8255.