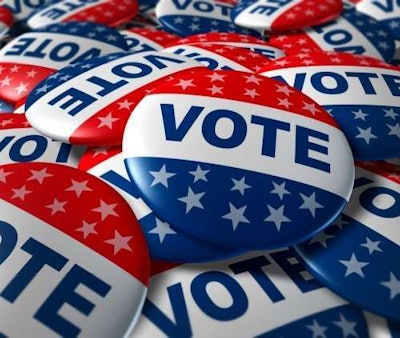 Given the nature of the trucking business, it's no doubt that many truckers have already cast their ballot, whether utilizing a traditional mail-in absentee ballot or taking advantage of the increase in early-voting options in many states. In 2012, the last time Overdrive asked, more than 50 percent of readers reported utilizing one of those options to cast their ballot ahead of the actual Election Day, which this year is Tuesday, Nov. 6.
Given the importance of the midterm elections, so named in relation to Presidential election terms and with every United States House of Representatives seat on the ballot, a recent poll question asked Overdrive readers for their intentions and party affiliations when it comes to House candidate selections. While respondents generally broke in favor of Republican candidates, considered another way the results showed more of an even split when it came to favor for candidates running as challengers or incumbent officeholders.
Distribution of Overdrive readers' preference their local House challenger or incumbent
In 21 percent of readers' districts, as results above show, the House race featured no incumbent at all, while in those that did, just a single percentage point separated respondents who reported intentions to vote for the incumbent or the challenger, suggesting a widespread divide about the current direction of government in general terms.
At the same time, traditionally it wasn't uncommon for many truckers to eschew absolute party-line identification, evidenced by a comment from Christopher Gowin posted to Overdrive's Facebook page around the time of this poll early last month: "If you need a democrat or republican to win, you never will." But in recent years, it's no secret there's been a hardening of hearts on either side of a red/blue divide nationwide. Over-the-top partisan commentary was not hard to find among readers, and poll results, as intimated above, show just where most notes of support among the trucking commentary from Overdrive's readership fall.
Distribution of party membership of House candidates for whom readers planned to cast a ballot
As shown, Republicans were favored over Democrats more than three to one, with a small measure of independent/third-party and write-in candidates and a some uncertainty.