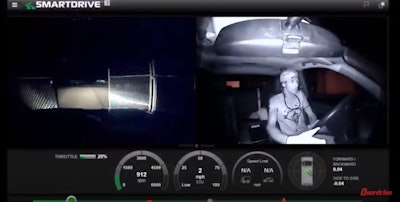 After installing road- and driver-facing cameras with extended recording capability from the SmartDrive company, representatives of the Madison, Ala., location of the Danella construction and utility service company were greeted early one morning with what was clearly a break-in at the yard.
James Hensley, regional safety manager over Pennsylvania-headquartered Danella's Alabama operation, says "I got a call about five o'clock in the morning," a rep on-site noting the yard's "gate was busted open," and a vehicle was missing, along with an untold number of power tools, likewise "copper wire that we use to install on telephone poles." The Alabama location serves mostly utilities in the Huntsville area.
Fortunately, with the tools available from the SmartDrive camera and online portal, reps were able to pinpoint the truck's current location, and "got it towed back," Hensley says. They believe the thief had stashed it away with full intent of using it again. "At that point we started going through the footage," and boy was there a lot of it. Despite efforts the thief made — you'll see some evidence of it near the end of the video compilation above — to cover up or disable the camera, "we had every single incident" that happened along the way. "After he stole several things from different vehicles, he started driving around to drug dealers selling off the tools he'd gotten" off the Danella yard.
The footage proved a gold mine to police, who as early as the very next day had identified and arrested the perpetrator, including accomplices who'd bought the stolen equipment, "and we started getting the equipment back," Hensley says, who notes that before installing the cameras the company had had a larger piece of much more expensive construction equipment stolen that then disappeared as if into the ether.
Hensley echoes others who've moved to dual-view video camera systems when he lauds their ability also to exonerate the driver and fleet in the event of accidents, and "if it is our fault, we can deal with it" more effectively with a clearer window into what happened. Generally, that was "why we initially had it put in – we weren't expecting a theft of a truck. We still haven't recovered the other theft of the piece of construction equipment."
The perpetrator of this recent theft of a Chevy pickup remains behind bars, Hensley says.
Click here to view more Dashcam Central videos.