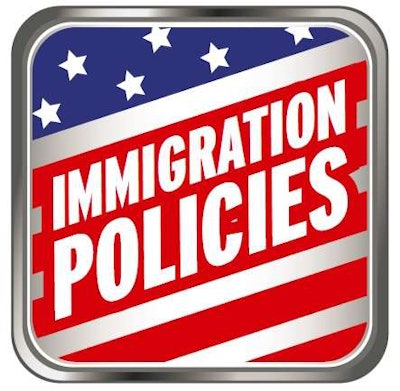 Is $5B border wall funding demand a good reason to partially shut down government?
Response in commentary under the above "hot buttons" poll and elsewhere over the last week, if it illustrated any general trend, showed readers at least feel strongly that the stalemate between a divided Congress and the President over immigration issues is one worth holding out to resolve, no matter how long the government will have to undergo its partial shutdown, now going on two weeks in length and furloughing many government employees for the time being.
Democrats now in the majority of the House of Representatives with the new Congressional session planned Thursday to offer a bill that would fund much of the government and put off discussions around border security and the President's long-sought Southern border "wall" for several weeks. Republicans in control of the Senate were calling that plan, meanwhile, a "non-starter."
Echoing the thoughts of a large part of the majority of readers who saw a positive in the shutdown, a commenter posting only as Jeff expressed favor for the President and some House Republicans' demand for a $5 billion taxpayer-funded border barrier, amid other familiar expressions repeating Trump's 2016 (and ongoing) campaign rhetoric, best illustrated by the "Build the wall" phrase.
"Illegal immigration," Jeff wrote, "is impossible to fix until our borders are controlled. Drones will not stop people from crossing the border. Electronic sensors will not stop people from crossing the border. They only allow folks to watch them doing it. It is too late to keep them out under current laws once they have gotten into this country. Most must be released after given a court date that the majority do not show up for. Only a physical barrier will significantly reduce the illegal border crossings."
As previously reported here, at present there is nearly 700 miles of fencing along various sections of the roughly 2,000-mile Southern border where any new barrier would go. Asked in early 2017 whether building a physical barrier along the entire border was a good plan, a majority of 54 percent then said yes, no matter how it was funded, while another 17 percent of readers favored the idea but only if Donald Trump somehow made good on a campaign promise that U.S. taxpayers would not pay for it (the President suggested he'd get Mexico to fund it).
Some readers saw so much focus on the notion of a wall as laughable at best, lauding the border patrol for the jobs they do and/or disputing safety claims often made by those who argue for a barrier. Vern Shore noted most terrorist acts in the U.S. come from homegrown sources, then asked: "What kind of wall would have prevented 9-11? How many roads and bridges could be repaired with those billions?"
"While we are it, let's spend another $25 billion on a Northern wall, too," another commenter cracked wise.
However the legislative/executive branch standoff ended up, cynics believed all the seeming worry over the partial shutdown as misplaced, further. Jeromy Hodges asked just who "does a government shutdown actually hurt? Have the last few hurt anyone? They say all nonessential government workers get laid off. Nonessential. Kinda makes me wonder why they work for the government at all if they are nonessential."
Nicholas Torres, commenting at Overdrive's Facebook page, echoed Hodges' sentiment: "Nobody cares about the government shutdown."
Hodges added, "The media makes a big deal of these shutdowns, but they aren't any big deal. I wish the government would shut down 11 months out of every year."