The Healthy Trucking Association of America was started to advocate for wellness among the professional trucking community, Merck Smith, chairman of the nonprofit's fleet advisory board, told visitors at the group's Great American Trucking Show booth.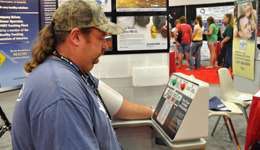 "Our goal is to take a pro-active approach in the industry before the government steps in and regulates it," Merck says. He and group sponsor Marvin Shefsky say that the group hopes to establish industry standards among fleets for conditions such as sleep apnea, blood pressure, obesity and diabetes.
One of the benefits of joining the nonprofit is that fleets can schedule free in-terminal health screenings that include diagnostic testing for hypertension, pulse rate, weight, body mass index and sleep apnea, among other health indicators, says the group's website, healthytruck.org.
Associates at the group's Booth #17171 are offering blood pressure testing and demonstrations of simple exercise equipment designed for fitting in a truck cab.