Pulling pups means profitability and predictable routes for owner-operator Ed Geiger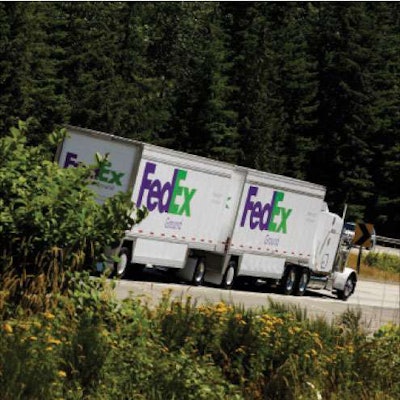 How would you like a dedicated run that gets you home daily, gives you weekends off, provides more than 120,000 miles per year and allows you to cut fixed costs by using a daycab?
That scenario describes Ed Geiger's trucking business. He drives a 475-hp Caterpillar-powered, tandem-axle Kenworth T800, hauling one or two 28-ft. FedEx pup trailers. "I'm home every day," says Geiger, who is 62. "I have a dedicated run and, because of that, a constant income."
Which is not to say his favorable arrangement is a piece of cake. While most people are sleeping, Geiger's at work. He's had to master the skills of maneuvering twin trailers, which is no small thing, notes Chuck Cole of Utility Trailer. "It takes a wizard to back up a set of doubles," he says, "but it can be done."
In spite of a few extra hassles, Geiger is happy to stick with this work. It's been steady for years because the logistical flexibility of doubles is well-suited to FedEx Ground's needs, and drivers with doubles experience are always in demand.
Geiger is part of a network of 600 FedEx driving contractors in Pennsylvania, including 36 working from the West Chester terminal, says spokesman Robert Boulware. The company overall has more than 16,000 contractors, more than 32 hubs and more than 500 Ground and Home Delivery terminals in the country.
FedEx Ground contractors pulling doubles get paid the same rate per mile as those pulling singles, and a Con-way Freight spokesman says the same is true there. However, those who pull triples at FedEx Ground get more "in consideration of the extra driving skill needed," Boulware says.
Pulling doubles has its challenges, but those experienced in it also note its benefits, says John Payne, a senior vice president at FedEx Ground. "We hear comments from drivers like these: 'Twenty-eight-ft. doubles are easier to drive in tighter areas than a 53-ft. trailer because of the way they pivot.' Also, drivers say, 'Doubles are a much more economical way of transporting freight for the customer. If you use doubles, you can service more than one location on the same run.'"
Contractors who want to learn to drive doubles must either qualify through previous experience or spend a minimum of 240 hours behind the wheel with a seasoned driver to learn safe operation, drop and hook, and inspection techniques. A contractor who trains his own drivers must attend 10 hours of familiarization classes and receives a booklet to use in training.
Geiger's professional training began at the MPA Truck Driving School in Elizabethtown, Pa. He first drove for Benson Trucking, and later ran an asphalt truck for a contractor. After that, he drove for a pickup and delivery service. By 1986, he was running over the road for Coordinated Transport, where he learned to pull doubles in a Freightliner cabover. He moved to FedEx Ground in 1990 because of the lure of home time and steady income.
After making single runs, Geiger persuaded the company to give him two dedicated runs every night between Exton, west of Philadelphia, and Woodbridge, N.J. Part of making two runs feasible for Geiger each night is the company expediting the pickup of return trailers in Woodbridge.
Geiger normally pulls two 28-ft. pup trailers, which would give a trailer length of 59 ft. 8 in., and an overall length of approximately 80 ft. 2 in. On the return trip, he may pull a single pup.
He typically leaves his house at 6 p.m. The night delivery enables the company to deliver packages the next day. It also allows drivers to avoid heavy traffic on the New Jersey Turnpike.
As I accompanied Geiger on a run one June night, I learned one of the few downsides of his job is assembling his rig.
The front trailer is engaged normally. To hook up the second trailer, the trailers must be almost perfectly aligned and a precise distance apart. It requires a converter dolly – essentially a fifth wheel mounted on its own axle that converts a semi-trailer into a full trailer. An A-shaped frame (the tongue) carries a drawbar eye forward from the fifth wheel far enough to create the needed clearance between the two pups. When the rig is fully assembled, the drawbar eye ends up fastened to a pintle hook bolted to the front trailer.
A yard assistant dropped the rear trailer by Geiger's tractor. Geiger backed close to an unused converter dolly and picked up the front of it and hooked the drawbar eye over the horn of the pintle hook. Geiger then backed the converter dolly under the rear trailer and hooked it to its kingpin just as you would a tractor, making the standard check for secure hookup, and rolling up the landing gear.
Next, Geiger unhooked the converter dolly's drawbar eye from the pintle hook on his tractor. Then he engaged the front pup to the tractor.
The toughest part came when Geiger backed the front pup toward the rear pup and converter dolly. With hand signals from a man working in the yard, Geiger aligned the two trailers and set them the right distance apart. The helper put the drawbar eye over the horn of the pintle hook on the second trailer. Geiger then finished with the second trailer. The upper latch was lowered, secured and checked for snugness. Finally, he hooked up the two safety chains, the gladhands for the brakes on both trailer and converter dolly and the electrical cable.
We headed east on Route 30, then took Route 202, the Pennsylvania Turnpike, the New Jersey Turnpike and finally Interstate 95 to the Woodbridge exit for the local FedEx Ground terminal. With no traffic snarls on the 96-mile trip, Geiger was able to quickly get into 10th gear and cruise at 65 mph most of the way.
Geiger was quickly assigned a single trailer to haul back, and he attached a converter dolly to the rear to return to Exton. In less than half an hour, he was on his way, arriving at Exton before 2:30 a.m., where my ride ended and he began his second run. If it proved to be a typical day, he was home by 7:30 a.m., ready for a good day's sleep – in his own bed. n
Pup trailer protocol
Doubles drivers can avoid getting into a navigational fix by being careful to pull in only to places that do not require backing to exit. John Payne, a senior vice president of FedEx Ground, offers some other pointers:
• Account for the extra weight by increasing the following and stopping distances.
• The heavier trailer should go directly behind the tractor to provide better control. The trailers' shorter wheelbase and pivot points make doubles more maneuverable through turns.
• During pre-trip inspection, check the extra set of safety chains that doubles have for security in the event of an equipment disconnect. Also check the hook-up of the wiring harness to ensure proper lighting. Complete a test pull after hook-up to ensure proper pintle hook connections as well as the king pin connections in the fifth wheels.
• Avoid oversteering. The second trailer reacts more acutely to sharp steering.
Chuck Cole, manager of technical sales and product training at Utility Trailer, has these additional recommendations:
• Inspect the pintle hook because its eye can rattle, which increases wear on the eye and horn on the hook. Parts should be replaced before the device becomes so loose that it rattles.
• Inspect the upper latch to make sure its locking mechanism is holding it securely.
• Pay close attention to the electrical cables, gladhands and other connections and seals, which are more extensive on doubles. Ed Geiger carries extra gladhand seals for handy replacement as soon as they show signs of wear or cracks.
• Be especially diligent with overall suspension and alignment maintenance. Loose or misaligned suspension parts cause more trouble on doubles because all improper motion is accentuated.
• Do not set the rear axle of the front trailer too far forward. If more than 30 inches from the pintle hook, it goes through too wide a range of motion as the tractor turns. The trailers may collide with each other unless you have an unusually long tongue on the converter dolly.