NHTSA sets new stopping rule
---
The National Highway Traffic Safety Administration has issued a long-awaited regulation to tighten the stopping distance standards on heavy-duty tractors.
The new standard generally requires a tractor traveling at 60 miles per hour come to a complete stop within 250 feet when loaded to its gross vehicle weight rating. The old standard required a complete stop within 355 feet. For a small number of very heavy, severe service tractors, the stopping distance requirement will be 310 feet under these same conditions. And the final rule requires that all heavy truck tractors must stop within 235 feet when loaded to their "lightly loaded vehicle weight."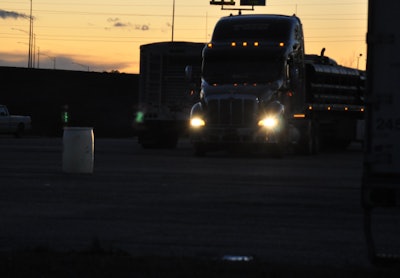 Three-axle tractors with GVWRs of 59,600 pounds or less must meet the reduced stopping distance requirements by Aug. 1, 2011. Two-axle tractors and tractors with GVWRs more than 59,600 pounds must meet requirements by Aug. 1, 2013. The requirements apply only to newly built tractors as of those dates.
Manufacturers can use any of several options to meet the requirement, including installation of enhanced drum brakes, air disc brakes or hybrid disc/drum systems, NHTSA said. The agency noted a number of vehicles in the commercial fleet already use such braking systems and, therefore, already meet the requirements of the amended standard.
NHTSA estimates the new braking requirement will save 227 lives annually and prevent 300 serious injuries. The agency also estimates it will reduce property damage costs by more than $169 million a year.
---
House Votes For Highway Fund Fix- by Jill Dunn
The U.S. House of Representatives voted 363-68 in favor of a $7 billion infusion for the Highway Trust Fund to keep it afloat until the fiscal year ends Sept. 30.
Members cast the July 29 vote after Department of Transportation projections indicated the fund would be in the red by early this month.
Democrats James Oberstar of Minnesota, transportation committee head, and Peter DeFazio of Oregon, Subcommittee on Highways and Transit chairman, have testified the fund would likely need $3 billion to survive until the end of the fiscal year, but agreed a $7 billion bill would protect against worst-case circumstances.
At press time the Senate was expected to vote on a temporary fix before its August recess and favors an 18-month extension, which the White House also supports.
On the day of the House vote, Sen. David Vitter (D-La.) asked fellow senators for a unanimous agreement to take up his Highway Investment Protection Act of 2009. This would allocate stimulus legislation funds to fix the expected shortage.
---
Poll Shows Support for Heavier Trucks – by Staff Reports
The Coalition for Transportation Productivity, a coalition of more than 100 shippers and allied associations seeking increased federal weight limits on interstate highways, has announced the results of a national poll it says demonstrates a majority of Americans support raising interstate truck weight limits without making trucks larger.
CTP says more than half of Americans surveyed favor allowing trucks with proper safeguards to carry more weight on U.S. interstates as a way to make roads safer, reduce environmental impact and strengthen the economy. CTP says the results of its commissioned national poll reveal broad support for responsible truck-weight reform as outlined in The Safe and Efficient Transportation Act of 2009 (H.R. 1799).
"Americans solidly back the same truck-weight reform proposed by H.R. 1799, providing strong support for Congress to responsibly raise the federal vehicle weight limit," says CTP Co-Chairman John Runyan. "With truck traffic already increasing 11 times faster than road capacity and freight expected to double by 2025, H.R. 1799 would make sure America's shipping needs are met in a way that improves highway safety and reduces our carbon footprint."
Among the survey's key findings, according to CTP:
·A majority of Americans favor higher weight limits for properly outfitted trucks. By a margin of 51 percent to 39 percent, a majority favors increasing the weight limit if it contributes to safer roads, greater fuel economy and more productive highway transportation;
·Americans are more likely to support increasing weight limits when they learn that additional axles would make the tractor-trailers safer and better for road surfaces. A strong majority, 66 percent, would be more likely to support legislative action to allow trucks to carry more weight on interstates if those trucks add an extra axle; and
·Americans also are more likely to support a weight limit increase due to positive environmental implications, with 63 percent more likely to support an increase in weight that trucks can carry on interstates if it would reduce carbon emissions and fuel consumption.
The survey was conducted among 1,000 American adults by pollster Wilson Research Strategies and has a margin of error of plus or minus 3.1 percent. The survey was taken June 16-22 via live operator telephone calls. The sample was stratified to be demographically and geographically representative of the national adult population.
Legislators in Congress are lining up on one side of the truck size and weight issue or the other. The CTP-backed legislation (H.R. 1799), introduced by Reps. Michael Michaud (D-Maine) and Jean Schmidt (R-Ohio), would authorize states to allow trucks with a gross weight of up to 97,000 pounds to operate on interstate highways within their state provided that trucks operating above 80,000 pounds add a sixth axle, with brakes. In addition, heavier vehicles would pay a fee that would be dedicated to bridge investments in states that authorize their use.
The American Trucking Associations supports H.R. 1799, saying it could allow trucking companies to use more efficient vehicles to deliver more freight while making fewer trips. The result, ATA says, would be fewer crashes, less fuel burned, less congestion and reduced carbon and toxic emissions.
On the other side, Sen. Frank Lautenberg (D-N.J.) and Rep. James McGovern (D-Mass.) introduced legislation (S. 779, H.R. 1618) that would extend the current limit of 80,000 pounds and maximum length of 53 feet for tractor-trailer trucks on interstate highways to the National Highway System. The NHS covers some 160,000 miles of highway, while interstates represent 44,000 miles.
Within the trucking community, the Owner-Operator Independent Drivers Association and the International Brotherhood of Teamsters are backing the Lautenberg-McGovern bill, citing safety and infrastructure concerns.
---
EVENTS
Sept. 14-17, American Trucking Associations Technology & Maintenance Council Fall Meeting & National Technicians' Skill Competition (TMCSuperTech2009), Raleigh Convention Center, Raleigh, N.C. www.truckline.com
Sept. 25-26, South Dakota Convoy for Special Olympics, Sioux Empire Fairgrounds, Sioux Empire, S.D. (417) 291-0202, www.sdconvoy.com
Oct. 9-10, 2009 Tennessee Truck Show, sponsored by Joey Holiday, Fitzgerald Truck Sales, Crossville, Tenn. (615) 307-4525, www.joeyholiday.com/truckshow.htm
Oct. 22-24, Big Rig Expo, sponsored by Big Rig Shows, Tulsa Convention Center, Tulsa, Okla. (800) 481-0650, www.bigrigexpo.com
Oct. 24, California Truck Jamboree AfterDark, Featherly Park, Anaheim, Calif. (310) 326-4526, www.truckjamplus.com
If you have a trucking event you would like to publicize, send information six weeks in advance to Truckers News Events Calendar, P.O. Box 3187, Tuscaloosa, AL 35403, or e-mail tneditors@rrpub.com. Truckers News makes no guarantee that information submitted will be published.
---
2010 Truck Forecast Reduced – Staff Reports
Amid increasing signs that recovery in the freight markets will be slow, FTR Associates has reduced its projection for 2010 North American production of Class 8 trucks by 12 percent. The reduction comes even as the market continues to stabilize and the outlook for 2009 remains unchanged.
"It will take a substantial improvement in freight demand to soak up the current significant fleet equipment surplus," says Eric Starks, FTR president. "At the moment, demand for truck freight transport is still declining and is projected to bottom out in the fourth quarter. In our view, improvement sufficient to drive new equipment purchases will not occur until 2011."
FTR Associates' U.S. Freight Model collects and analyzes all data likely to impact freight movement and is based on specific characteristics for more than 200 commodity groups. The Nashville, Ind.-based company's forecast reports cover trucking and rail transportation and include demand analysis for commercial vehicles as well as railcars. Specially designed reports are offered to participants in both industries to cover specific needs.
---
Peterbilt Marks 70th Anniversary – BY Max Heine
Seventy years ago T.A. Peterman, having started producing trucks to meet the needs of his lumber business in Tacoma, Wash., began to sell his trucks to the public. That venture grew into Peterbilt Motors, which this year celebrates its 70th anniversary.
In its seven decades, Peterbilt has produced almost 700,000 trucks, says Peterbilt General Manager Bill Jackson.
"Class pays," he says, highlighting the "class" theme the company has used for decades. "Since our first truck was produced in 1939, Peterbilt has become one of the most widely recognized and respected brands in the world – a universal symbol of pride, quality and class."
There have been nearly 100 model configurations in Peterbilt's history, according to Larry Reding, assistant general manager of sales and marketing. "From the first logging trucks of the '30s and revolutionary cabover vehicles in the '40s, to the birth of an industry icon – the Model 359 in the '60s – Peterbilts have set the pace. In the '70s and '80s, the workhorses that built America were Peterbilt Models 348, 362 and legendary Model 379."
Starting with the Model 387 in the '90s, Peterbilt has since launched a series of aerodynamic, fuel-efficient trucks. Such improvements in productivity and payload maximization have been a staple throughout company history, said Landon Sproull, chief engineer. "Peterbilt's product history is a roadmap of revolutionary engineering solutions that continue to surpass customers' requirements and set the bar for the industry."
This year also marks the 60th anniversary of the company's dealer network. Since Coast Counties Truck and Equipment in San Jose, Calif., first began selling Peterbilts in 1949, the network has grown to 247 locations in North America.
---
Pilot Plans DEF Dispensing – BY Staff Reports
Pilot Travel Centers announced installation plans for the rollout of 100 diesel exhaust fluid (DEF) "at-the-pump" locations. The Knoxville, Tenn.-based company will carry prepackaged supplies of DEF at all 350 Pilot retail stores.
Pilot's initial plans call for the installation of 100 bulk dispensing pumps at locations spread out nationally and at a rate of 25 pumps per quarter beginning in the third quarter through the second quarter of 2010. The initial phases of Pilot fuel island DEF pump locations will include Amarillo, Texas; Avondale, Ariz.; Bordentown, N.J.; Brooks, Ore.; Carlisle, Pa.; Charlotte, N.C.; Cheyenne, Wyo.; Denver; Dexter, Mich.; Effingham, Ill.; Ft. Pierce, Fla.; Gallup, N.M.; Greenville, Va.; Hepseria, Calif.; Houston; Meridian, Miss.; Milford, Conn.; Murfreesboro, Tenn.; Oak Creek, Wis.; Oklahoma City; Santa Nella, Calif.; Seville, Ohio; St. Cloud, Minn.; Stanfield, Ore.; and West Memphis, Ark.
Mark Hazelwood, Pilot executive vice president, says the company worked closely with Detroit Diesel Corp. and Daimler Trucks North America, as well as Gilbarco, to develop Pilot's bulk dispensing capabilities and a billing/transaction system that would meet customers' need for ready DEF supply and fuel island convenience.
"The maximum distance between any two of our locations will be 2,618 miles," Hazelwood says. "That is the distance between Milford, Connecticut, and Santa Nella, California, and it is also within the normal range for one tank of DEF on a Class 8 on-highway truck." The company expects to offer DEF "at-the-pump" at prices that are equal to or less than diesel fuel. "Pilot will leverage its national network in a rollout of DEF pumps at travel centers from coast to coast," Hazelwood says.
DEF will be required by selective catalytic reduction (SCR) engines to comply with 2010 emissions standards set by the U.S. Environmental Protection Agency.
---
Truckers News Wins ASBPE Awards
Truckers News' editorial staff recently took home two awards at the American Society of Business Publication Editors annual convention.
The magazine won a bronze national award in the Special Section category for its November 2008 "Shades of Green" issue that showcased environmentally friendly innovations in the trucking industry. The section was written and edited by Editor Randy Grider, Managing Editor Misty Bell, Senior Editors Todd Dills and Max Kvidera, Equipment Editor John Baxter and