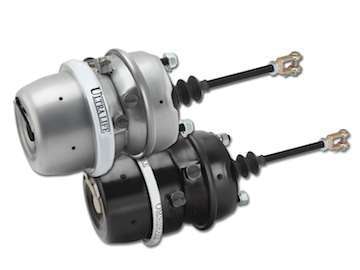 TSE Brakes announced its Severe Duty design is now available on UltraLife and Omnibrake spring brakes, offering increased durability and service life for heavy-duty applications.
TSE's Severe Duty is designed to protect the piston rod with an accordion-style boot cover made from neoprene-impregnated rubber, which allows fewer outside contaminants for increased durability and longer life. Severe Duty spring brakes also feature a stainless-steel clevis pin to help prevent seizing at connection between chamber and slack adjuster and an increased resistance to chemicals.
Additionally, all breather holes are plugged except for two holes per tandem, allowing the chamber to drain and breathe while protecting the chamber from outside material, ultimately extending service life of the brake.
Severe Duty spring brakes are available in both the UltraLife and OmniBrake models and in a 2430 and 3030 size in 2.5- or 3-inch stroke. TSE's in-house full-immersion all-steel e-coating also facilitates consistent coating and thickness for corrosion protection. For more information, visit www.tsebrakes.com.