Stainless bumper

Hendrickson Bumper and Trim's Aero Clad bumper with air dam fits 2003 and newer Volvo VNL on-highway trucks. It's part of an optional factory-installed package on VNL trucks and is also available for retrofits through Volvo and Mack dealers. All Hendrickson AERO CLAD bumpers are crafted from lightweight aluminum with a stainless steel finish and come standard with a 5-year limited warranty against corrosion.
HENDRICKSON, https://www.hendrickson-intl.com/ (800) 356-6737
Cost-conscious truck parts
The aftermarket PartSmart line offers air valves, bearings, belts, clutch, hoses, hydraulic pads and calipers, lighting, rotating electrics, U-joints, seals and wipers for all truck brands. The products can be purchased at all domestic International dealers.
NAVISTAR, www.navistar.com, (800) 448-7825
Obstacle detection sensor
SenseStat is an obstacle detection sensor system that monitors four zones at the rear of a vehicle, indicating the area closest to an object. The SenseStat sensor enhancement has a 1-in. margin of error in detection, Mobile Awareness says.
MOBILE AWARENESS, www.MobileAwareness.com, (866) 653-5036
Correction
The new Minimizer quarter fender has hardware that is galvanized, power-coated and zinc-plated. A story in the June Overdrive misrepresented that information.
MINIMIZER, www.minimizer.com, (800) 248-3855
CB radio with Bluetooth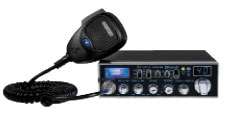 The 29 WX NW BT Citizen's Band radio features Bluetooth, NightWatch illumination and NOAA weather alerts. Bluetooth technology allows the driver to make and receive phone calls through the CB radio. NightWatch illuminates the dials at night, and 24-hour NOAA weather and emergency alerts are available, even if the CB radio is off. The radio includes 4-watt AM RF power output, the maximum allowed by law, instant access to emergency channel 9, Delta Tune to clarify incoming signals and adjustable Dynamike boost.
COBRA ELECTRONICS, www.cobra.com, (773) 804-6375
Cat repair kit
Precious Metals In-frame Overhaul Kits for on-highway engines offer pre-packaged engine overhaul options. The in-frame overhaul kits are available for 3406E, C-15 and C-16 engine models. Kits include parts necessary for a variety of repair options, from basic repair to a complete in-frame overhaul. Kits come with a factory-backed, 1-year parts warranty covering Cat parts, including Cat parts damaged by a failure, and labor needed to correct the failure at an authorized Cat dealer.
CATERPILLAR, www.cat.com, (309) 675-1000
Work glove
Instinct Mako Mechanics Gloves are washable, made of synthetic materials and stretch spandex. The breathable fabric allows the user to feel and use tools easily, the glove maker says.
GARAGE EQUIPMENT SUPPLY, www.gesusa.com, (800) 261-7729
Trucking-specific GPS
Rand McNally's new trucking-specific GPS, the IntelliRoute TND, can guide trucks to legal routes according to the truck's specific dimensions and load. It comes with a logbook function; the ability to track and store mileage information for trip planning and IFTA reports; an address book; route optimization and a wide zoom on the touch-screen display. The software also provides and allows submission of reviews of businesses along the routes, which will automatically update when connected to the Internet.
RAND MCNALLY, www.randmcnally.com, (800) 275-7263
Foam jet kit
A new high-pressure foam jet kit projects foam up to 20 feet, the company says. The tool has a varied spray pattern, which can be converted from a straight stream and adjusted up to 50 degrees. The foam jet works on any pressure washer up to 5,000 PSI with a maximum flow rate of 5.6 US GPM and with either cold or hot pressure washers, at temperatures up to 140 degrees Fahrenheit.
WATER CANNON, www.watercannon.com, (800) 454-9274
Tandem air drying system
The newly redesigned Novabus air dryer includes a condenser and external governor. Two desiccant-type air dryers work in tandem to remove humidity, dirt particles and oil from the compressed air system. The tandem design meets 2010 cubic feet per minute capacity standards up to 80 cfm for high-capacity compressors. The air dryers have built-in drain ports with tubing to direct fluids away from the operating environment.
HALDEX, www.haldex.com, (800) 643-2374
Aluminum wheel

The new 24.5-in. LvL ONE aluminum wheel has a load rating of 7,850 pounds, 450 pounds more than steel alternatives. The wheel weighs 30 pounds less than an average steel wheel, the company says. It is designed for vocational, construction and over-the-road trailers. The LvL ONE can be mounted on any standard tractor or trailer axle position.
ALCOA, www.alcoa.com, (412) 553-4545
Glass mat battery
The PowerRush Platinum AGM battery from Carrier Transicold provides better performance than conventional 12-volt wet-cell batteries, the company says. Absorbed glass mat technology provides 1150 cold cranking amps and deep cycling ability, the company says. At minus 4 degrees Fahrenheit (minus 20 degrees Centigrade), the pure lead battery retains 75 percent more power than typical Group 31 wet cell batteries, the company says.
CARRIER, www.trucktrailer.carrier.com, (315) 432-6442
Stork pliers
A new line of stork pliers includes the mini (908ACP), mini ent nose (408ACP), duck bill (609ACP), stork plus needle nose (915CP), stork plus 35-degree bent needle nose (415CP), bent nose (411BCP), 90-degree bent needle nose (490BCP), long handle needle nose (911BCP), heavy duty diagonal cutters (312CP) and mini diagonal cutters (808ACP). The pliers feature long jaws with machined teeth, riveted joints, a steel finish and clear coating. The edges are induction-hardened and sharpened.
SNAP-ON, www.snapon.com, (877) 762-7662
Oil centrifuge

The OC-25 Cyclone Series oil centrifuge spins its rotor at up to 6,000 rpm to separate the solid contaminants from the main oil supply. The solids stick to the inside of the rotor. The kit has a universal mounting plate and comes with hose fittings and a spare rotor. Minimum requirements are any engine with a sump of at least 5 quarts and a 12-volt electrical system.
DIESELCRAFT, www.dieselcraft.com, (530) 823-7075
Battery-powered air conditioner
The NITE Day Cab No-Idle System uses one or two deep-cycle absorbed glass mat batteries to power the air conditioning system when the truck's engine is turned off. The starting batteries are protected from discharge by a separator. The compressor and evaporator are installed between the truck's seats, and the condenser is mounted on the cab's exterior. The NITE Day Cab No-Idle unit is approved by the California Air Resources Board.
BERGSTROM, www.berstrominc.com,(815) 874-7821 n