Relationships that pay off today and long term
Brokers play a Jekyll and Hyde role in today's trucking market. Many owner-operators at times depend on brokers, yet brokers appear to hold the upper hand when negotiating loads and rates.
Karen Albert and her husband Henry (Overdrive's 2007 Trucker of the Year) understand the challenges of working with brokers and have focused on building solid relationship with shippers for their independent business. Nevertheless, over the past year and a half, Mrs. Albert estimates she's "worked with brokers more than the entire first 13 years we've been in business."
"There are days I'm glad [brokers are] there," she says. "For instance, when I take a shipment for a customer that's not on one of our normal lanes. But then you've got these other brokers who are taking advantage of you, and it's frustrating."
Any owner-operator can learn what the Alberts have learned – how to negotiate with brokers in a positive, productive manner. Too many owner-operators approach the process in the opposite way, says Kevin Rutherford, ATBS Trucking Business & Beyond host. "They say, 'The brokers are just not going to negotiate. Every time I ask if I can get a better price, they say here's the price, take it or leave it.' "
But price haggling does not have to be the name of the game in broker negotiation. Rutherford distinguishes two types of negotiation. "One-time negotiation is really all about information and power," he says. "Long-term is about building relationships and problem-solving." The latter approach offers the most opportunity for less frantic negotiations and fair rates.
Here are some tips for negotiating with brokers.
1 Know your costs. "I've been on both sides of the fence, both as an owner-operator and as a broker," says Charlie Parfrey, who runs Parfrey Trucking Brokerage of Spokane, Wash., and is a board member of the Owner-Operator Independent Drivers Association. As an owner-operator, he says, "it was my responsibility to know what my operating costs were so that when I was contacting a broker and discussing a load and what it paid, I knew whether or not I could accept what the broker was willing to pay."
The load should pay enough to cover all fixed and variable costs, and include deadhead miles. Determining how much profit you want above that should be settled before you enter negotiations with brokers.
Paul Todd, operator of Augusta, Ga.-based T&G Dispatchers, which finds freight for 18 owner-operators, emphasizes the need to know fixed costs and variable costs on a per-mile and per-day basis. For a rough estimate of fixed costs per operating day, "Add up, if applicable, your truck payment, trailer payment and insurance costs per month and divide that number by 17," he says. Why 17? "There are typically 20 weekdays in a month and, with Murphy's Law always in effect, you need to leave three days for something to go wrong or not having a load" on the hook.
Also know your variable costs – primarily fuel, tires and maintenance. Apply those costs per mile to any load you're discussing with a broker, and include deadhead miles. In the choice to turn down a low-paying load, Rutherford says, "a lot of people say, 'I'll deadhead to wherever to get a better load.' Sometimes that may be the best bet. But if you don't know your variable costs, you have no way of making that decision intelligently."
2 Know your broker. "It was my responsibility to check out the broker's credit rating and pay history before I loaded the freight," Parfrey says of his time as an owner-operator. The basic packages of both RTS Credit Service (www.rtscredit.com, $35 monthly) and the RedBook service (www.redbooktrucking.com, $160 yearly) offer an owner-operator the ability to obtain reliable ratings for many brokers.
Some online load-matching services, like Internet Truckstop (www.truckstop.com) and Transcore DAT (www.truckersedge.net), also provide rating information.
For $70 monthly with Internet Truckstop, for instance, owner-operators can see average days to pay for brokers with a history in the IT system, says Director of Sales and Marketing Leigh Foxall.
The basic $34.95 monthly package from Transcore DAT's TruckerEdge.net online load matching service includes both days to pay and broker credit ratings, too.
CRST Logistics President Michael Fouts says membership in the Transportation Intermediaries Association is a good indicator of a brokerage's standing. In an industry of more than 12,000 brokers, he says, "there are only 1,200 TIA members." Within TIA is the P3 program that allows members to differentiate themselves, in part by carrying a bond level of $10,000 or higher, according to p3program.com website.
Karen Albert combines her gut-level sense of a broker's professionalism and experience with the broker's rating, which she gets from Internet Truckstop. "I won't use a broker unless they have an A rating," she says.
3 Know your market. Fouts says that in negotiating with brokers, customers can tap into a huge amount of information about markets. Today, he adds, "carriers have the ability to know what's going on in the market and are much smarter about pricing and supply and demand."
Rate indexing allows you to see average per-mile rates and compare them to rates over time on particular lanes. Using Transcore's Rate Index Pro tool, Rutherford gives the example of the lane between Cleveland and Seattle, which in late 2009 trended 20 cents a mile above the national average of around $1.40 for brokered freight.
"All of a sudden in this lane the average is $1.60," he says. "If you don't know this info, you're at a disadvantage. Because most owner-operators have been lazy [about researching this], it puts all of us at a disadvantage. The broker knows most of the owner-operators don't study this."
Rate indexing is available with truck posting and load search services, broker credit ratings and more for $105 monthly with Internet Truckstop. A package with limited indexing functionality with Transcore DAT's TruckersEdge.net load board service is available at $49.95 monthly. The company's full Rate Index Pro is $29 as a standalone product.
Other dynamic market information in the Transcore service includes current maximum and minimum rates, which give you "ballpark" guidelines, Rutherford says. The ratio of loads to trucks is also key in knowing the supply and demand situation in any given area. You can use this data in preplanning for your return trip or next leg.
In November, examining a load on Internet Truckstop from Tuscumbia, Ala., where the ratio was in favor of the owner-operator, to Jacksonville, Fla., where it was not, Foxall says, "when I get to Jacksonville, I'll have a heck of a time, so I might go ahead and try to negotiate with [brokers] to get back."
Preplanning gets you into some of the longer-term negotiation strategies that knowledge of freight markets will allow you to engage. Says Rutherford, "Instead of randomly saying, 'I'm in Cleveland – I'll just look for whatever's going out of Cleveland,' when you start studying you might be able to say, 'Hey, I know Seattle's a good lane out of Cleveland.' Then we might start studying to find what's a good lane out of Seattle."
4 Know how to ask questions. An owner-operator who demonstrates a desire to know load details is negotiating smartly by establishing confidence he or she can be counted on to move the freight.
"While price negotiations are part of business transactions in most environments, best-in-class brokers focus on clear communications, doing what they say they will do for the owner-operator," says Mark Christos, vice president of Matson Integrated Logistics, a large third-party logistics provider. "We often find our best relationships and confidence are with owner-operators who will ask us two to three more questions to assure they know they can perform on the load well."
CRST Logistics' Fouts concurs. "Clear communication and being honest and being on time trumps price," he says. "Carriers that communicate well, that are on time — they're going to get better offerings, better rates and good calls."
Karen Albert says she often asks questions about special requirements. "Does it need a tarp? What size tarp? If it does, well, we need to look at more money," she says. "So I start saying, 'This is what I need.' In good times, I was able to get all of it, but now it's tough." Still, she says, "Ninety percent of the time, I'm coming in $50 to $100 more than what they offered originally."
By asking questions, you're improving your conversational skills, which is key to negotiation. "You've got to listen more than you talk," says Rutherford. Don't ask yes or no questions. Leave the broker space to talk, to describe himself in detail, tell you what loads are available and assess whether you're a knowledgeable operator carefully considering a potential business relationship.
The final rate/contract must be a win-win for both parties for a long-term relationship to develop. It's why "driving a hard bargain" is not necessarily a good approach, says Rutherford. If your broker is always losing, "he's not going to want to do business with you." n
Will the real rates please stand up?
It's hard to know what to shoot for when negotiating rates. Studying real market averages can help, though services that provide such data vary in what they offer.
For current and past rates on particular lanes, Transcore DAT's Rate Index Pro ($29 monthly) is a powerful tool, says radio host and small-fleet owner Kevin Rutherford. The inclusion of maximum and minimum payments allows you to know a potential maximum rate in a given negotiation. The service also shows the ratio of loads to trucks posted in any given area. National average market data with historical comparisons are published at transcoretrendlines.com.
Internet Truckstop's Fuel Desk function in its load board services offers average rates, including historical trend data, on particular lanes and regions and likewise live loads-to-trucks ratios in areas. Its weekly ITS Trans4cast Letter ($59 yearly for IT subscribers) provides "market analysis of the industry fluctuations week to week," says IT user Karen Albert. "You can see freight demand this week versus last week. If demand is up, you might have more negotiating power with a broker."
In November, Fairtran.com began offering the free National FairTran Rate service, specifying in flatbed, dry van and reefer segments average short- and long-haul benchmark rates for what trucking companies should be making to maintain an appropriate level of profitability. FairTran (www.fairtran.com) also can provide customized rate and cost data to customers at $36 to $55 a month, updated daily.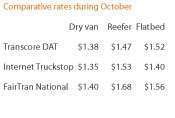 The broker says…

"People think that as brokers all we have to do is pick up the phone and call someone or e-mail someone and we have freight to move. It is not that easy."
– Charlie Parfrey of Parfrey Trucking Brokerage

"If I know I can call you and know that you're an owner-operator who will pick up and deliver on time, I'll be very, very fair, pay fast, try to keep you loaded fast, because I need you coming back."
– Michael Fouts, president of CRST Logistics
How to Succeed on the Call
Paul Todd of T&G Dispatchers likes to deal with brokers he knows, but he's learned how to get the best rate when he talks to someone he doesn't know. His tips:
• Never reveal your home location. Brokers seem to want "every load they dispatch to be a 'backhaul' because they can keep more money."
• Avoid sounding "desperate or excited about the load or the rate, regardless of whether it is a good rate or not." At the same time, use your conversational awareness to detect the same in the broker.
• Be aware of your background noise when you're on the phone. "If the broker can clearly hear that you are driving," he'll know you're not able to look up average rates, mileage and other information.
• Never answer the question "How much can you do the run for?" unless you know the maximum the broker will pay. "Do not be afraid to quote high and counter-quote high."
• Include deadhead in any quote, which Todd calls "making them wait. Even if you risk losing the load because the broker is 'rushy,' so what?"
• Try to load when rates are good, such as on Fridays or late in the day, as shippers' doors close and brokers get desperate on certain loads. You can see how long a load has been posted via most load boards.
• Be patient. "Too many owner-operators say things to themselves like, 'If I do not take the load now, I may not get it.' "
Questions to Build a Relationship
"Negotiating is really all about relationships," says ATBS Trucking Business & Beyond host Kevin Rutherford. "To be successful with your own authority, you need to find the right shippers. But if you'll be using brokers, you need to focus on a lane, or an area – maybe a triangular or round area – and keep it down to the minimum number of brokers you can use to keep the truck moving."
Work with brokers you have rapport with. Listen for problems, Rutherford says, "and become a problem-solver." Here are a few of his ideas to build a profitable relationship:
1"What is your worst load?" Everybody has the load "that is a thorn in their side," says Rutherford. "It either doesn't pay very well or is multiple stops or touch freight. Find out what makes it so bad, but then find out what might make it good enough for you to handle."
2"What can I do to bring more value to you and your customers?" "You have to start looking at the broker as your customer if you're going to rely on them."
3"Do you have regular freight you'd like to negotiate a long-term solution for?" Though this freight might not come at the best rate, it may provide access to an area important to you. "Look at it for the big picture," Rutherford says.
4"Would you be willing to work as my sales agent in an area?" This question takes advantage of the murky nature of the middleman's role to help ensure for the broker a consistent source for his shipper. "You negotiate maybe one time for a fixed percentage and let that broker go out and work for you," says Rutherford.

Learn more about negotiating
Log on to www.TruckerWebinars.com for a free download of "How to negotiate with brokers and shippers," Overdrive's recent webinar with trucking radio host Kevin Rutherford