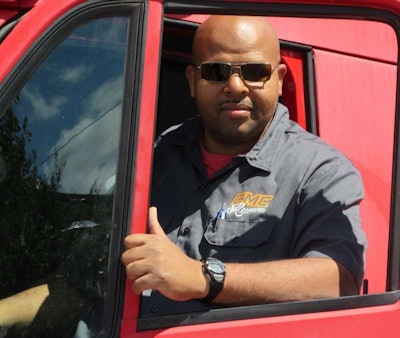 Crescent Carriers owner-operator Rico Muhammad, based in Atlanta, knows that when it comes to better rates, the old slogan "Say no to cheap freight" is all well and good, but it doesn't always cut it in the real world. One man's "cheap" freight can be another's gold if it gets him to a place where the demand is high and the potential for good rates is better.
The host of the relatively new "Rates and Lanes" podcast, Muhammad's on a mission to "really even the playing field" between owner-operators and brokers by smarter use of market data.
Muhammad says he might be something of a tortoise in his approach to using the data. He runs with a roughly $600 monthly subscription to DAT's premium 3Sixty load board. This includes the RateView product, offering real-time data in granularity far and above what's available at the lower-tier board subscriptions most used by owner-operators.
More than 60 percent of owner-operators who use online load-matching services most frequently use either Internet Truckstop or DAT, as evidenced above. Both boards provide data that can help in negotiation. In addition to the various demand/rate assessment tools packaged with board subscriptions, both services publish routine market fluctuation reports, delivered via email and in part available online. IT's Trans4Cast (Trans4Cast.com), says the company's Thayne Boren, is available for a $60 yearly subscription and delivered via email. A recent partnership with the FTR freight-forecasting firm will allow it to include spot market forecasts in addition to historical data. DAT's long-running Trendlines report is accessible via Dat.com/resources/trendlines.aspx.
"Instead of shooting from the hip, now you've got a sniper's rifle," Muhammad says of 3Sixty and RateView. "For someone that's new to the business who's not up on what the rates should be, it shortens your learning curve tremendously."
Muhammad's endgame is specialization in a few markets – primarily the Southeast running reefer freight – and direct shipper contracts. Growth also is key: He recently added a 2003 Freightliner Century Class powered by a 435-hp Detroit to complement his owned and operated 2002 Kenworth T2000 powered by a 500-hp Cummins.
Who's the hare? Lexington, Ky.-based van hauler Chad Boblett, a sometime "Rates & Lanes" cohost and the founder of the Rate Per Mile Masters Facebook group, isn't going after direct shippers. He likes working with brokers. His strength is in spot market broker negotiation, combined with a willingness to simply follow the demand wherever it takes him across the country.
While Muhammad, with four young children, wants to be in Atlanta every Friday and Saturday night, Boblett will go anywhere, anytime. At the same time, he's done well enough that he's comfortable working two weeks on, one week off, most of the time.
The first step in Boblett's approach might well be getting established with brokers whose credit check pans out. Just a few years into his independent business, he's set up with "well over 100 – small ones, big ones."
In contrast to Muhammad, Boblett operates only with a lower-tier TruckersEdge subscription from DAT, comparable to Internet Truckstop's basic carrier subscription.
Gathering data before the run
Assess the market at both origin and destination. Boblett and Muhammad both emphasize the importance of market demand data in any rate negotiation.
Aiming long term for shippers, Muhammad has used the "dumbbell theory" as a small carrier – say, "run back and forth between Atlanta and Dallas. … If you're leaving out Monday and you'll have a truck in Dallas on Wednesday – every other day you can have a truck in that market – to service those shippers, you can position yourself as a go-to person in that lane." It also works with brokerages that specialize there and are more likely to become familiar with you as a dependable service provider in the area.
"If we get offered a particular load, we want to know where's the load going," says Muhammad, who immediately finds that area's average rates on the return as well as the current real-time load-to-truck ratio, available via 3Sixty's tools down to a specific geographical area and in real terms. The more loads posted and the more trucks, the more confidence he has in the ratio's accuracy.
Muhammad gives the counterexample of Maine, which "always shows good load-to-truck, but it may be one truck in the area and there may be 20 loads, and you don't really know exactly where those loads are. Lower numbers that like skew things a little bit."
Before accepting a load, Boblett uses TruckersEdge to get a sense of the ratio of incoming and outgoing loads in the state to which he might be running, then analyzes the ratio.
In TruckersEdge, he says, it's a matter of clicking "search map," then selecting outbound loads for your trailer type. Click "update count," and hover the mouse over the state for the number; do the same for inbound. If you see a significantly higher amount of outbound, you're going into a potentially good situation. Internet Truckstop's Pintac mapping function gives similar information at user-specified regional distances.
Looking at just the state picture can burn you, Muhammad says, particularly in big states with a large variability by region or metropolitan area. Boblett will use TruckersEdge to burrow down into inbound/outbound or load-to-truck data by city to get a more refined picture.
Post your truck. As you move closer to deciding on whether to negotiate any load, both tortoise and hare agree that you're setting yourself up for the strongest negotiating position if the initial call is made by the broker, not you. The volume of broker calls can be a good indicator of demand, too, says Muhammad, perhaps the best one available to operators using lower-tier board subscriptions. "If the phone is absolutely melting and you can't ever hang it up from phone calls coming in – and sometimes it's really like that – you can name your price."
Negotiating the rate
Use rate averages as benchmarks, but aim higher. Muhammad, knowing lane market rates down to the minute, typically shoots for a small premium on the average rate. He took a broker training course and now is occasionally an agent for the brokerage that offered it, so in one sense he empathizes with brokers. Still, given the data Muhammad can access, if he knows he's the only truck in an area and is on the spot market, he's not afraid to push the broker to "pay the piper," he says.
The RateView tool "shows you the lower average and the top end. If I'm in a hot market, I'll go for the top end. If it's super-hot, I'll go for that and put something on top of it. When we go to the top end, we can always get more than what's indicated on the tool."
Internet Truckstop's RateMate add-on ($35) to the board's basic carrier subscription "allows the carrier to use any origin and destination in the U.S. and Canada" in different radiuses, says Paul Malone, IT director of sales. It also shows the paid rate to carriers "with various data points and information that can show what brokers and shippers are paying carriers. Last, we show them the paid shipper rates," useful in carrier pricing management.
Using Boblett's follow-the-demand approach, he emphasizes, you should strive toward beating the averages every chance you can and by as much as possible, particularly if you're not doing any shipper-direct freight but are relying solely on the spot freight market and brokers.
When you look at the per-mile national, regional or lane averages in your segment (van, flatbed, reefer), you ought to get a fair amount more than the spot average if you want to truly thrive.
Reflected in those averages as a matter of course are strategic "backhauls" that get a carrier back to home base, though at a significantly lower rate.
Boblett and Muhammad advise adjusting your negotiation on loads with a particular low-demand and low-rate destination to "take your backhaul with you," in Boblett's words. He gives the example of a load outbound to Atlanta.
"A couple months ago," he said in August, there was "a gold rush on produce. As soon as it ran out, brokers could get away with $1.25 a mile. It's like Florida with a two-week peak period. … That means, if you want me to go into Miami, I'm going to total up the miles – all the miles out of Miami I'll have to run to get all the way back to Knoxville, where you can at least get a decent rate. My rate will be based on all those miles."
DAT recently changed the nature of lane-rate data available in its basic TruckersEdge load board all the way up to its top-tier product. It now defaults to showing the spot market rate average for the past 90 days on the lane rather than the contract rate, which represents shipper-direct contracts and is typically higher. The contract rate, notes Harper, "is not very useful for anybody who's playing on the spot market" – the large majority of TruckersEdge users.