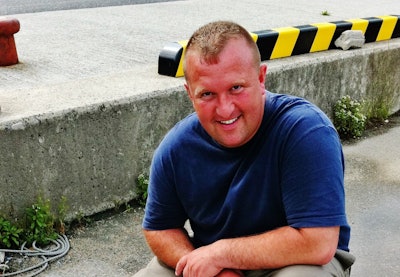 "I always wanted to be an owner-operator," says Chad Boblett, the gentleman pictured above and whom regular readers will remember from my recent coverage of this year's upward trend in the spot freight market and ways to utilize data to capitalize on it. As I've noted before, Boblett's an uncommonly strong negotiator on rates, but during my conversations with him in preparing the linked stories above, he also took the time to tell me his personal story. It's one of those classic tales of how belief in your abilities, combined with a big gulp of courage, can pan out for the best.
Boblett spent ten years in the Marine Corps before becoming a company driver, bringing in around $70K-$80K a year, he says. "I had an Infinity car, an SUV and I was living life pretty well."
During that time, "I always wanted my own truck. I wanted to run my own company," he says. "But anybody you would talk to said, 'You'll never make it, you'll be married to it and make less money.' I kept hearing these stories," and getting the courage up to do it while he was a company driver just wasn't in the cards. It would take a bigger life event to force him more strongly in that direction.
After those three-four years as a driver, he had a knee injury that plagues him to one extent or another to this day. "I had the knee surgery and knew I'd be living off short-term disability and couldn't afford the house and the car," he says, so his family packed off temporarily to his wife's original home in Japan. "I rented the house out, sold the car and moved into a cheap motel.
"Here am I: It doesn't get any worse than this – rent by the week in a drug-infested motel" in Lexinton, Ky., the kind of place you might see time to time in a crime blotter piece on the local TV news. Indeed, says Boblett, "It's not that far from where I live now – occasionally I do see it on the news and think, 'Hey, I used to live there.'
"I went from having everything in life – getting back from Iraq and having a good thing — to back to nothing. Only thing I did have was great credit. And when you have that, you get a lot of offers [for more]. A whole lot."
Boblett then did what no financial advisor or trucking-company consultant in his right mind would ever get behind. "I said, 'You know, it can't get any worse. I'm going to take advantage of it.'"
Having more or less recuperated from his surgery, he got approved for enough credit on several cards to "come up with $35,000. That was going to be my magic number to use and go buy a truck."
He approached the buy knowing little about the truck market other than that "like a car, the truck with the least amount of miles will likely last the longest," he says. Utilizing online truck-search engines, "with all the tens of thousands of trucks out there, I said, 'I don't want to see anything over $35,000, and the odometer has to be less than 500,000." He found a Volvo with 420,000 miles on it, and "I didn't care where it was — I was going to buy it."
He got a big surprise when he examined the truck's location: Lexington Truck Sales, right down the road, essentially, from the motel. He got his credit cards ready, he says, and "they took me back to the Parts Department — that was where the credit machine was – scanned four credit cards and — boom! — I drove that Volvo back to the hotel. From there, I went ahead and bought a dry van for $15K. I was $50,000 in debt and didn't know anything else about what I was doing."
He got his authority and set up the business along the way and went out trucking. That all happened in January of 2011. Three and a half years later, the rest of the story can be well implied from where he is today, comfortable enough (before his knee took him back off the road and into a dispatching/negotiation service for independent owner-operators) that he worked commonly two weeks on, one off. The family "just closed on our second house," he said in September.
As I've previously quoted him, talking about the opportunity for independents today in the spot market in particular: "The money is there…. You've just got to ask for it and know where to look for it and how to set yourself up for it."
Ultimately, it all goes to show that, sometimes, the big leap is landed.
Catch Boblett via his Rate Per Mile Masters Facebook group and the Brokers & Beyond (Thursday evenings, Boblett hosts, also available on-demand) and Rates and Lanes (Wednesdays, hosted by Rico Muhammad with Boblett occasionally on assist) podcasts.