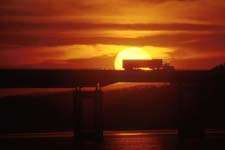 Spot market freight availability in December increased 11 percent over November and was more than double the amount for December 2008, based on the TransCore Freight Index.
December's index of 597, the highest number since September 2008, compared with November's 537 and 294 in December 2008.
An estimated 50 million loads and trucks are listed annually by intermediaries and carriers through services that feed into the TransCore DAT Network. Spot market freight trends are reflected in the index.
December's freight level was noteworthy because the month is typically weak for spot freight but it was the highest month in 2009, according to TransCore.
December also was the third consecutive month for a year-over-year increase in spot freight volume. The increasing numbers resulted from an improved second half of 2009 and extremely weak freight in 2008 fourth quarter, TransCore said.