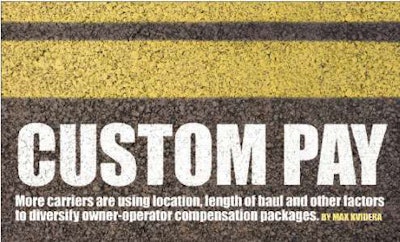 Bryant Coll believes he's finally achieving his goals in trucking. Over the last 13 months, Coll's been participating in Schneider National's percentage pay-based program for leased owner-operators. "You have a feeling of truly being an owner-operator running your business," says Indianapolis-based Coll. "You can pick and choose loads and control your own destiny a lot better."
Owner-operator Joe Haumann, after running independent from 2005 on, last July leased to Barr-Nunn Transportation. Haumann is quite content to take what dispatch gives him and get paid by the mile, along with earning additional compensation. "To be a dispatcher, driver and mechanic combined is too many responsibilities that I'm not willing to put in the time for," he says.
Coll and Haumann are enjoying the benefits of pay package changes that have been spreading through the industry. While a simple mileage-based pay remains the standard, a growing number of companies are either experimenting with different mileage plans or switching to revenue-share programs. Some carriers are adjusting mileage pay rates to emphasize regional or shorter hauls or adding perks such as pay for unloading, layovers and multiple-stop runs.
The growth of such pay plan variations has been rapid, says Gordon Klemp, principal of National Transportation Institute, publisher of the National Survey of Driver Wages. "Usually, we see changes for owner-operators occur fairly slowly. But the evolution of some of these has been more rapid than in the 15 years we've been around."
Most carriers trying new plans either are seeking to expand their owner-operator lineup in a depressed market or positioning themselves for a market rebound. Another motivation is retaining strong contractors.
"We can increase our fleet size a little bit by adding more owner-operators and not have to take on more new equipment," says Jeff Blank, Barr-Nunn's director of recruiting. "And we can provide more capacity to our customers as well."
Klemp says one national carrier has about 300 different pay plans for leased owner-operators that adjust according to routes and length of haul. (That carrier did not respond to requests for an interview.)
More carriers are offering percentage-pay plans. J.B. Hunt, for example, offers a 65 percent or 62 percent revenue share, depending on the operator's availability for loads, according to its website. A few carriers offer 75 percent or more if the contractor provides a trailer, Klemp says.
Once the economy rebounds, the move to percentage pay plans may lose steam because it's less advantageous for the carrier. In a strengthening market, "a carrier is giving a pay increase for every load," Klemp says. "Carriers went to percentage pay because freight that's marginal has weak margins. Carriers and owner-operators have been sharing in a weak freight market."
Percentage-pay programs offered in earlier years confused some owner-operators, who were accustomed to simple per-mile plans, says Todd Amen, president of owner-operator business services provider ATBS. The confusion hampered recruiting efforts, and some fleets reverted to mileage pay.
Despite these missteps, at least five "significant carriers have asked us who does it and how it works," Amen says. "They're thinking long-term. They want it (percentage pay) now because their rates from shippers have dropped and they're still having to pay drivers the same amount (per mile), which has hurt their margin. They'd rather have everything variable, so the driver made less."
Other carriers, however, have been forced to cut pay as business slowed. Amen says he's hearing of carriers "tweaking their packages – maybe taking a penny or two away from base-mile pay. They're going from a 5.5 mpg fuel surcharge average to 6.5 mpg, or they're not paying for base plates and licenses like they used to.
These are things that add up to probably 1 to 3 cents a mile, things the driver may not notice as blatantly as a huge pay change."
Another factor affecting compensation programs is the growing impact of intermodal transportation. Rail is taking away business from carriers that relied on coast-to-coast routes. Carriers have adjusted by shifting to more regional hauls. Klemp expects to see more pay plans adjusted for regional and length-of-haul factors.
"The good news is owner-operators have done a good job of compensating on the cost side," Klemp says. "That's how they're keeping their heads above water."
The expanding pay plan cafeteria
In their competition to attract and retain owner-operators, carriers have a broader menu of compensation programs to reflect the realities of different hauls. The National Survey of Driver Wages documents these changes as of the third quarter of 2009.
52%Carriers offering a single per-mile rate. Four years ago, it was 73 percent.
30%Carriers offering pay plans based on length of haul and/or regional factors.
19%Carriers offering percentage of revenue pay. Four years ago, it was 10 percent.
Amen says many carriers spent the early 2000s creating pay packages that were owner-operator-friendly. Although some companies have backed off that strategy, they may move back again to programs that appeal to owner-operators. "They don't want to be caught in a situation where they really want drivers and have to totally revamp their pay systems," he says.
REGIONAL/LENGTH OF HAUL HYBRID
Barr-Nunn runs a mileage-based program that takes into account length of haul and geographical differences. The carrier's "band pay" mileage program covers over-the-road and some regional pay packages.
Every operator receives extra pay based on length of haul on top of the base rate of up to 91 cents a mile, says Jeff Blank, director of recruiting. Band pay ranges from an extra $1 a mile for hauls up to 100 miles, or $1.91 a mile, down to 2 cents a mile extra for loads running from 551-1,000 miles, or 93 cents a mile. For the carrier's average length of haul of 450 miles, the band pay is an extra nickel a mile, or 96 cents a mile.
"We wanted to compensate owner-operators more for the length of haul coming down," Blank says. "If you're looking at a percentage plan, we're looking to share more with owner-operators."
The Iowa-based carrier passes along to owner-operators all of its fuel discounts and pays fuel surcharges on all miles, loaded or not. It also offers geographical pay differences, with higher pay in the Northeast, for instance.
Another attraction for Barr-Nunn's estimated 80 owner-operators is appreciation bonuses – $387.50 for every 30,000 miles during the first 120,000 paid miles and $562.50 every 30,000 miles thereafter. "And there are no safety qualifiers on them," Blank says. "Our owner-operators are consistently receiving additional pay."
Owner-operator Joe Haumann says his previous carrier's per-mile program had no additional pay for waiting time, layover and multiple stops. Now he earns compensation for all of those at Barr-Nunn, plus pay for all miles, computed as practical miles. "Per mile with the fuel surcharge, I'm averaging about $1.11 per mile," says Haumann, who runs about 130,000 miles annually. "It varies somewhat, depending on the length of haul. It adds up to about $80 a week more."
Other perks reduce Haumann's costs. Since he drives a 2005 Freightliner Columbia, he receives a company-arranged discount on parts and repairs at Freightliner dealers. He gets a fuel discount in the Barr-Nunn network of about 20 cents a gallon.
Rod Horton, another owner-operator leased to Barr-Nunn, likes the simplicity of a mileage plan versus percentage pay, plus the additional pay perks. His trips are short, ranging between 100 and 800 miles. He averaged about 2,250 weekly miles in 2009, similar to what he drove in 2008. "The average per mile comes out higher than previous plans," says the Granger, Iowa, resident, who's been with the carrier for two years. "Sometimes I don't get all the miles I want, but it comes out better in the end."
Blank says the pay plan is a big reason the company is attracting a higher caliber of owner-operator. "With failures at other companies, we've had owner-operators look at us and see what we offer," he says. "More and more of them are looking for stability."
VARIABLE PAY PLAN
In mid-2008, Knight Transportation changed a 15-year-old pay program by instituting a variable pay scale that tracks with market rates.
Each quarter, the company analyzes its average rate per loaded mile. If the rate is, say, 5 percent higher than the rate it charges customers, rates paid the company's owner-operators increase 5 percent above a base rate the next quarter. If rates decline by 5 percent, independents stay at the base rate. During 2009, "it's been at the bottom per-mile rate because freight rates are down," says Sarah Romanek, manager of Knight's owner-operator group. "In 2008 in the last two quarters, the rates were up."
Knight pays $1.20 a mile for loads running up to 275 miles, $1 a mile for loads between 276 and 550 miles and 90 cents a mile for trips beyond 550 miles. All hauls pay a fuel surcharge.
Blaine Callister, Knight's director of used equipment sales and the owner-operator group, says the quarterly rate adjustment is part of the company's strategy to attract more independent contractors. He hopes that by 2011 the owner-operator roster will increase to 500 from the current 330.
"Owner-operators are a stable and strong way for us to recruit," Callister says. "It gets us out of having to own more equipment, and they have access to more freight and to our bulk buying power for shop charges and fuel."
Romanek says the contractor pay program has drawn owner-operators with staying power. "I think they expect a lot more than owner-operators in the past," she says. "They're more business-oriented and know what they're doing. In the past an owner-operator could just own a truck and because there was good freight, they could do well."
John Willoughby leased to Knight two years ago after losing $6,000 to an unscrupulous broker on a couple of coast-to-coast hauls. "I concluded that, although I was getting $2 to $2.50 a mile, what it really came down to is not how much you're getting or what your rate is, but how much you are taking home," says the Fontana, Calif., owner-operator. "Miles is an old standard that was used when rates were good and trucking was healthy."
Instead of running 150,000 miles a year, like he did before signing on with Knight, he runs about 110,000-120,000 miles. He says he pays about $200 a month for truck insurance, compared with $800 in the past. A fuel surcharge lowers his fuel cost to about $1.25 a gallon, and a 3 cents-a-gallon set-aside helps him save for maintenance. He also earns $32 to $42 a stop for loads with multiple stops. A good relationship with a dispatcher yields a broad choice of loads.
"I wouldn't change this for the world," he says. "I've made more money in the last two years than I've ever hoped to."
PERCENTAGE OF REVENUE
Schneider National's percentage of revenue operation began as a pilot program in 2006 and has been in full operation for two years, says Mike Bethea, director of operations for van contractors. Depending on the freight market, the company opens and closes the program to contractors to maintain a balance between demand and supply of trucks. The company reopened it in late 2009, Bethea says.
Owner-operators get 65 percent of the line-haul rate. They also get 100 percent of "accessorial charges," including fuel surcharges and extra services such as unloading and multiple stops billed to the customer. "It varies by load, length of haul and by market," Bethea says.
Unlike percentage programs in place before trucking deregulation in the 1970s, Schneider's version allows contractors to choose the loads they want from the company's load board. They can choose the type freight, revenue amount and haul specifics they want.
As the freight market improves, Schneider will open more regions to contractors. The strongest recent market was in the Midwest. "We have a nationwide market, although freight primarily runs east of the Rockies," Bethea says. "If we lease guys onto it, they're going to be better off if they're domiciled in the Midwest."
Owner-operator Bryant Coll, with 18 years' experience behind the wheel, estimates he drove less than 100,000 miles for Schneider in 2009, while he logged 140,000 to 160,000 miles a year when leased to another big carrier.
Even with the big drop in miles, Coll's been able to improve his compensation by improving his productivity.
He had to adjust from a focus on number of miles and per-mile rates. "Here I look at revenue to the truck versus how many miles," says Coll, who loves to "crunch numbers" in the percentage-pay environment, even though he says it requires more attention to freight specifics and routing. "You can put yourself in trouble by ending up in a dead spot or slow freight area." He estimates he's reduced deadhead by 70 percent.
Bethea says the company requires a higher experience level from contractors who want the percentage-pay plan. "You have to be a more entrepreneurial, aggressive person with a good business mind," he says. "To run an individual business, we don't want to bring on people who aren't going to be successful. We want to retain those [good business] people."
Bethea says the percentage-pay model is "about as close to being a pure [independent owner-operator] without buying your own trailer and insurance." In an improved economy, "it will explode." n