Production to begin on new engine series
Paccar will begin building its MX Series of engines this summer at a $400 million factory in Columbus, Miss. The engines will be standard on Peterbilt and Kenworth trucks, which are produced by Paccar. The MX was developed by Paccar's European subsidiary DAF and was an early recipient of selective catalytic reduction emissions technology. The series features an in-line, six-cylinder design with four valves per cylinder. Five engines make up the MX Series, with power ratings ranging from 380 to 485 horsepower and 1,450 to 1,750 lb.-ft. of torque. The MX engines are designed with compacted graphite iron heads and blocks. Paccar is the only heavy-duty engine maker to construct both components from this lighter, yet stronger material. CGI gives MX engine components 75 percent greater strength and stiffness and a 200 percent increase in thermal fatigue resistance. In addition, CGI is quieter and transmits fewer engine vibrations to the cab of the truck. The MX engines come with a two-year/250,000-mile standard warranty. Each certified Paccar dealer will provide full service support for the new engines.
PACCAR www.paccar.com, (425) 468-7800, ENTER 150
Seat uses advanced vibration control
Bose Corp. introduced a futuristic driver's seat that senses cab vibrations and neutralizes them with high-speed adjustments to the seat's suspension. The Bose Ride was unveiled at the Massachusetts headquarters of a company better known for its high-end sound systems.
Packed in to the seat's base are sensors, a microprocessor, power amplifier, linear electromagnetic actuator and energy storage system. Together, these components reduce "whole body" vibration by 90 percent, the company says. To handle the system's power needs, engineers reduced the electrical demand by designing the system to be regenerative.
"When you hit a pothole, the unit draws energy to hold you in place," said Jim Parison, the project's principal engineer. "But then at the other side of that hole the upward impact does the pushing, and the system instantly becomes a generator and sends the excess energy to a local onboard storage device." This reduces the constant electrical draw to about 50 watts instead of 3,500.
Bose officials declined to discuss pricing except to say that it will be "well below five figures." The officials also declined to say which truck seat manufacturer is providing the seat back and bottom.
— Paul Hartley
BOSE CORP., www.bose.com, (800) 721-2673, ENTER 151

Paintable fenders
Minimizer poly fenders are available in a paintable model. Minimizer paintable fenders come with an adhesion promoter baked onto the fender. Body shop specialists can paint them to match almost any color. Minimizer poly fenders fit all makes and models of over-the-road trucks, construction vehicles or agriculture equipment.
MINIMIZER, www.minimizer.com, (800) 248-3855, ENTER 152
Visit www.overdrive.hotims.com and enter the reader service number.
On-board vacuum
The 110-volt TruckVac Pro on-board vacuum mounts under the sleeper bed. It delivers more than 450 air watts and uses 10.2 amps of power. It includes a 12.5-ft. hose, various attachments, an attachment storage bag and installation hardware. Drivers can move the vacuum from truck to truck.
TRUCKVAC PRO, www.truckvacpro.com, (888) 762-3822, ENTER 153
Conversion bulb
The Trilliant 36 LED WhiteLight conversion bulb converts PAR 36 incandescent lamps into white LED lamps. By changing the bulb, users can convert an existing incandescent or halogen lamp to a 900-lumen Grote LED WhiteLight lamp. The conversion bulb is rated for a service life of 40,000 hours, the company says. The bulbs come in a wide flood beam pattern or the new TractorPlus beam pattern. Bulbs are equipped with replaceable, hard-coated polycarbonate lenses.
GROTE, www.grote.com, (800) 628-0809, ENTER 154

Dashboard displays
Vehicular Instruments Systems' C-COM and NGI dashboard displays measure urea levels for selective catalytic reduction systems on 2010 engines. The C-COM 2G displays the current DEF fluid level in graphical chart format. A module compatible with the NGI dashboard instrumentation system 2-in-1 gauge is also available and combines both fuel level data in a standard needle gauge and DEF level in a bar graph. Both C-COM and NGI versions feature low DEF level warning lights.
AMETEK, www.ametekvis.com, (970) 242-8863, ENTER 155

Auxiliary power unit
Mantis Metalworks' Mantis-175 Auxiliary Power Unit is an approved product for financing through the EPA's SmartWay Finance program. The unit runs on a 3-cylinder Isuzu engine at 1,800 rpm and has a one-piece steel frame and a diamond plate exterior. The air conditioner has 32,000 BTUs and the heater has 35,000 BTUs.
MANTIS METALWORKS, www.mantismetalworks.com, (248) 853-1001, ENTER 156
Mechanic's gloves
These mechanic's gloves are made of washable synthetic materials and stretch spandex. The fabric is thin and breathable, allowing the user to feel and use tools more easily, the company says. Layers of fabric in the knuckle area provide added protection. Gloves are available in black or red in sizes medium, large and extra-large.
DANNMAR, www.dannmar.com, (800) 261-7729, ENTER 157

Work mat
The Maintenance Mat has a soft, stain-resistant surface comfortable while lying or kneeling. The machine-washable and dryable mat is durable, puncture-resistant and has a bonded waterproof backing. The company says it is ideal for wet ground and easy to store.
DRYMATE, www.drymate.com, (800) 872-8201, ENTER 158
Fuel injector cleaner
Schaeffer Manufacturing's CarbonTreat with EcoClean is designed to prevent the formation of carbon deposits and black sludge on fuel injectors. It reduces exhaust emissions, restores lost horsepower and improves and maintains both power and fuel economy even in biodiesel, the company says.
SCHAEFFER MANUFACTURING, www.schaefferoil.com, (800) 325-9962, ENTER 159

Hub covers
Big Iron ABS Chrome Hub Cover Kits are available for front and rear hubs. The chrome-plated covers resist heat, impact, wrinkling and peeling, the company says. The center cap is removable. The steer and drive axle kits fit most 22.5-in. and 24.5-in. 10-lug wheels. The kit includes 10-33 mm thread-on nut covers, wheel protector and center cap.
IOWA80, www.iowa80.com, (866) 446-9280, ENTER 160

LED indicators have long life
Superbright LED indicators are available in bright chrome, black chrome and satin gray bezel finishes. The indicators are sunlight readable, providing 1,400 to 10,000 mcd of light and a life expectancy of 100,000 hours, the company says. The indicators are available in sizes ranging from six to 19 mm and in prominent, recessed or flush bezel styles. Indicators are also offered with six power supply voltage options. LEDs are available in red, green, yellow, blue and white, as well as bicolor, tricolor and flashing. Superbright indicators can be supplied with solder lug/quick-connect terminals, PC pins or with 200-mm wires. Integral resistors are included. The Q series LED indicators are available with panel sealing to IP67, custom engraving and plastic bezels in 16 and 22 mm sizes.
APEM, www.apem.com, (978) 372-1602, ENTER 161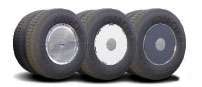 Aerodynamic wheel covers
An expanded line of aerodynamic wheel covers includes the AERO-Deluxe, a polished aluminum wheel cover that combines shine with aerodynamics; the AERO-Custom, made from textured UV protected high-impact plastic in black or white; the AERO-Clear, a clear wheel cover that allows for visual inspections at any time without wheel removal; and the AERO-Graphix, which can be printed with a company logo. The covers' secure mounting brackets are universal and allow for complete wheel removal without removing the mounting brackets. AERO Covers can be purchased with either a stainless steel braided air valve extension or the Tire-Guard remote pressure monitoring system.
REALWHEELS CORPORATION, www.realwheels.com, (800) 982-1180, ENTER 162
Grip light
MyGripLight is an organizational tool that can be attached to the dash and other places in the truck. Its polyester loops hold cell phones, pens, notepads, receipts and toll money. The tool features interchangeable red and white ball lights on an articulating arm. The lights are removable for portable light needs. Velcro is included for installation.
PENGRIP, www.mygriplight.com, (610) 838-2842, ENTER 163 n