Protect engine from overheating
You have a choice of two types of truck diesel engine coolant: extended life coolant (ELC), which is simpler to maintain, and fully formulated antifreeze, to which you add supplemental coolant additives (SCA) as needed.
To change the coolant, get a large drain pan and containers to store the old antifreeze for proper disposal as required where you live. Some areas consider antifreeze hazardous and require recycling or some form of reprocessing by a qualified company. Coolant capacity for a heavy-duty diesel is normally about 12 gallons.
Make sure you have a basic set of open-end or box wrenches, as well as sealer designed for cooling systems. Get a radiator cap pressure tester. And, unless you plan to use 50/50 pre-mixed coolant, get a refractometer or coolant strength test strips.
The Job
1. Allow the engine to cool to about 160 degrees and remove the radiator cap.
2. Set the parking brake, chock the wheels, put the transmission in neutral, open the two valves to the heater.
3. Place your drain pan under the drain cock and open it all the way. If your system has a drain plug, too, remove it.
4. Once the coolant drains, close the cock. Coat the drain plug with a little sealer and reinstall.

5. To flush the system, refill with water, leaving an inch or two at the top of the radiator top tank or overflow tank. Start the engine, set the throttle to idle at 1,300 rpm, leaving the radiator cap off. Refill until the level remains constant, then install the radiator cap. Idle for about 15 minutes to circulate the coolant, then shut off the engine.
6. Allow engine to cool to 160 degrees and repeat the draining process. If the coolant is still red or green from the old antifreeze, repeat Step 6 until it's almost clear. This is essential, especially if converting to ELC because leftover SCAs can interfere with ELC's corrosion protection.
7. Coat the drain plug with sealer and reinstall it, tightening until just snug. Close the drain cock finger tight.
8. Refill the system with 50 percent water or a 50/50 pre-mix. Never use undiluted antifreeze.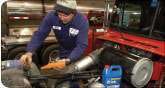 9. Check the freeze point with a refractometer or freeze point test strip. n