Pressure grows to settle border issue
A year after the United States ended its cross-border trucking program with Mexico, congressional leaders and trade groups are pressuring federal leaders to resolve the issue.
At a March 4 hearing of the Senate Transportation, Housing and Urban Development Appropriations Subcommittee, U.S. Senator Patty Murray (D-Wash.) asked Department of Transportation Secretary Ray LaHood for a timeline to resume cross-border trucking with Mexico.
Mexico imposed retaliatory tariffs of 10 percent to 45 percent on U.S. products soon after Congress voted to end its pilot program, hurting U.S. exports. Murray had also expressed these concerns to Ron Kirk, U.S. Trade Representative, she said. LaHood told her a plan was being finalized. Kirk and LaHood reportedly met in March to discuss the cross-border issue.
"We're very near a proposal that we think will meet all of the safety concerns that I heard when I talked to 25 members of Congress," LaHood said.
Rep. Rick Larsen, a Washington Democrat, had garnered 54 bipartisan congressional signatures for a March 1 letter to LaHood and Kirk, urging a quick resolution.
Trade groups have pushed to allow cross-border trucking beyond the border zone. The Teamsters and the Owner-Operator Independent Drivers Association oppose it.
Rep. Gene Taylor (D-Miss.) introduced a bill March 4 that would end the North American Free Trade Agreement. It was referred to the House Ways and Means committee that day.
— Jill Dunn
FMCSA opens driver screening website
The Federal Motor Carrier Safety Administration opened a website where carriers can register to access a safety database that will be set up for screening applicants for driving jobs.
Although data aren't available yet, carriers and third-party driver service providers can register for the Pre-Employment Screening Program FMCSA is developing at www.psp.fmcsa.dot.gov.
The program will give carriers access to five years of an applicant's accident history and three years of inspection history, with the driver's permission. The data will come from the Motor Carrier Management Information System and include the same information used by agency staff and state police for enforcement. Drivers also will have access to the information, and can include the report as part of their application.
There is a $10 fee for each driver's history a carrier requests. An annual subscription fee of $100 also will apply. Carriers with fewer than 100 power units will qualify for a discounted annual fee of $25 per year. Individuals will be able to request a personal driving history for $10. No subscription is necessary for individual drivers.
FMCSA says the system will adhere to all federal security and privacy requirements to ensure the privacy and security of drivers' personal information.
— Staff reports
Short Hauls
FREIGHT AVAILABILITY on the North American spot market in February more than tripled from a year earlier, based on the TransCore North America Freight Index, which measures truckload freight. February's increase of 215 percent marked the fifth consecutive month of improvement on a year-over-year basis. February, normally a weak month for spot freight, was within 5 percent of the record levels reached in 2004.
TENNESSEE TRUCK OWNERS are eligible to apply for up to $4,000 in grant rebates to install auxiliary power units. An estimated $1.73 million in federal funding will supplement state grant rebates to cover up to 50 percent of the cost of anti-idling technology, such as APUs. The state program targets owners with 30 or fewer tractors registered and operating in the state, with priority given to fleets with five or fewer tractors. For more information, go to www.state.tn.us/environment/, click on "Recovery Act" under Featured Sites and then "Diesel Emissions Reduction."
Indiana toll road bill to governor
A bill to authorize private groups to build and operate the Illiana Expressway in Indiana as a toll road is awaiting Gov. Mitch Daniels' signature.
In March, the state's Senate voted unanimously in favor of House changes to a bill that would authorize private investors to build and operate the Illiana Expressway for tolls. Daniels is expected to sign the bill, SB382, which would not require a privatized toll road. Illinois Gov. Pat Quinn supports considering a public-private partnership for the roadway.
If signed into law, SB382 would pave the way for tolling and privatization. It would authorize a public-private partnership to complete the proposed Illiana Expressway, which would provide a route to bypass the congested Chicago-Gary, Ind. corridor.
A 2009 study estimated the roadway cost at $1 billion through a combination of private and public funds. The study estimated heavy truck tolls could be as much as $16.80.
Indiana law prohibits tolling or privatizing the proposed roadway without approval of the state General Assembly. Planned as a 23-mile state highway meeting interstate standards, the roadway would link I-65 in northwest Indiana with I-57. About 10 miles of the roadway would be built in Indiana. Construction probably wouldn't begin before 2017.
The bill also contains a provision that would also allow a public-private partnership for Ohio River bridges connecting Indiana and Kentucky.
— Staff reports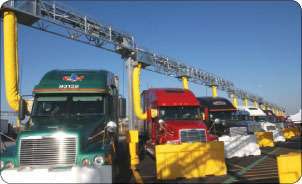 IdleAire could restart
Tennessee-based IdleAire made a brief announcement on its website that a new group is working to restart the truck shore power provider, but provided no details. A company official did not respond to requests for more information. IdleAire, the major provider of shore power, closed Jan. 29 after its investment owners of the previous 18 months did not find a buyer.
Truck-only toll lanes set for Florida
Workers are scheduled to begin building a series of ramps linking Florida's I-4 and Selmon Crosstown Expressway, which will include dedicated ramps for trucks working the Port of Tampa.
John McShaffrey, a spokesman with the Florida Department of Transportation, described the project as a one-mile elevated interchange between the two highways. "I am not sure if this will be the first truck-only toll lanes in the U.S.," McShaffrey said.
Truckers using dedicated truck lanes will pay $1.
The FDOT is managing construction of the project, which is expected to be built by summer 2013.
The $3.89 million project is funded through federal and state fuel tax revenues, future toll revenues and federal stimulus funds. Florida's Turnpike Enterprise will handle the tolling, which will be electronic open road tolling through SunPass and Toll-by-Plate tolling, the process in which a vehicle's license plate is photographed to identify the driver responsible for payment.
— Jill Dunn
Short Hauls
NAFTA TRADE using surface transportation was 10.5 percent higher in December 2009 than in December 2008, with a value of $58.5 billion, according to the Bureau of Transportation Statistics of the U.S. Department of Transportation. It was the first year-over-year increase since September 2008, though the value of trade in December still remained 4 percent below the value in December 2007.
FOR-HIRE TRUCKING jobs declined 4,300 in February from January, according to revised seasonally adjusted figures from the U.S. Department of Labor's Bureau of Labor Statistics. For-hire trucking employment in February was down nearly 81,000, or 6.2 percent, from February 2009.
FTR ASSOCIATES forecasts marginal gains at best for Class 8 truck demand in 2010. While demand for freight appears to be improving and expected GDP growth for 2010 is edging higher, the combination of excess capacity and the impact of the new emissions mandate will hold Class 8 equipment demand this year essentially flat compared to 2009, the transportation research firm said.
JANUARY NET ORDERS for Class 5-8 trucks dropped 18 percent from January 2009, after a December buying flurry ahead of the 2010 emissions mandate, according to ACT Research. January orders fell to 6,513 units, the firm announced. ACT said stronger orders at year-end to beat the 2010 deadline pushed production into January, so North American Class 8 production was only 3 percent below January 2009.
Driver status key to port suit
The Port of Los Angeles and the American Trucking Associations will face off in a civil suit in federal court beginning April 20 over driver classification aspects of the port's drayage emissions program.
The trial in U.S. District Court in Los Angeles will consider ATA's request for a permanent injunction to block the port program that would require all independent truckers to become employees of approved trucking companies. Under its Clean Trucks program, the port contends the concession plan is the only way to help drivers buy and maintain new lower-emissions trucks.
ATA counters the plan violates federal interstate transport laws and makes it easier for the Teamsters to organize the drivers. The association also contends the port's concession plan requirements don't act to clean the air of pollutants, which is the stated goal of the Clean Trucks program.
Last month, a three-judge federal panel expanded an ATA request for a temporary injunction against a port provision that required drayage trucks to display information on placards other than that required by the U.S. Department of Transportation.
Separately, a U.S. District Court judge ruled against an ATA request for a permanent injunction against most of the port's truck concession plan. The judge also ruled against a port request to dismiss the suit and dismiss the temporary injunction.
— Staff reports
Port starts clean truck program
The Port Authority of New York and New Jersey and the U.S. Environmental Protection Agency March 10 launched a program to replace up to 636 of the oldest, most polluting trucks serving the port with newer models that generate less pollution and greenhouse gas emissions.
The $28 million program is designed to encourage owners of pre-1994 drayage trucks that regularly serve the port to buy newer vehicles. The program is partly funded by a $7 million EPA grant, with the remainder coming from Port Authority funds.
The agency also announced a truck phase-out plan in which pre-1994 model trucks would no longer be able to call on Port Authority marine terminals beginning Jan. 1, 2011. Trucks not equipped with engines that meet or exceed 2007 federal emissions standards will no longer be able to call on the terminals beginning on Jan. 1, 2017.
Under the program, trucks drivers will be eligible for the following assistance:
• A 25 percent grant toward the total purchase price of a replacement truck – averaging between $20,000 and $60,000 – which must be model year 2004 to 2008, equipped with an engine model year 2004 to 2007.
• Low-interest financing (5.25 percent over five years) for up to 75 percent of the total purchase price of a replacement truck.
Information and pre-applications for grants and financial assistance to cover the cost of a new truck will be available at the Truck Replacement Center in Elizabeth, N.J., or online at www.replacemytruck.org or in Spanish at www.cambiamicamion.org.
The program is modeled after the Clean Trucks program under way at the ports of Los Angeles and Long Beach.
— Staff reports
Short Hauls
MACK TRUCKS FINISHED 2009 as the leading exporter of heavy-duty North American trucks, the company says. Mack had a 30.8 percent market share of total truck exports from the U.S., Canada and Mexico to countries outside North America.
"ICE ROAD TRUCKERS" from cable television's History Channel will premiere its fourth season this spring. Alex Debogorski and fellow drivers are featured as they battle the elements in Canada or Alaska.
CASCADE SIERRA SOLUTIONS was awarded over $1 million in Recovery Act / Clean Diesel funding from the U.S. Environmental Protection Agency New England Region to provide instant rebates for installing SmartWay-verified technology upgrades on diesel trucks registered in six New England states. Rebates of $100 to $1,000 are provided on a first-come basis for qualified projects.
A THIRD-PARTY commercial drivers' license examiner, Harold G. Stewart, pled guilty Feb. 23 in U.S. District Court in Baton Rouge, La., to one count of making a false statement in connection with his role in the falsification of 250 out of 320 CDL skills tests he conducted. Stewart worked for Zwolle-based Stewart Auto Sales & Salvage, a business authorized to perform CDL skills testing.
Traffic deaths plunge to record low
Traffic fatalities for 2009 are projected to reach the lowest level since 1954, the U.S. Department of Transportation announced March 11.
Projected fatality data for 2009 place the highway death count at 33,963, down 8.9 percent from 37,261 deaths reported in 2008. The fatality rate for 2009 declined to the lowest on record, to 1.16 fatalities per 100 million vehicle miles traveled.
— Staff reports
Highway Happenings
ARIZONA. The state would reopen some rest areas under a state House bill that would permit private operation of rest areas. Last year, the state closed 13 of 18 state-run facilities, citing the $300,000 annual cost to operate each location.
COLORADO. Speed is reduced and traffic is restricted to one lane in both directions of I-70 through Glenwood Canyon west of Denver after a rockslide closed 17 miles of the highway in March. The contractor estimates the repair will be completed in May.
LOUISIANA. Expect slower traffic much of the rest of this year on four miles of I-10 from the I-10/I-12 split to east of Siegen Lane. The project in Baton Rouge and Livingston parishes is widening the freeway to six lanes.
MISSOURI. Construction on nine bridge decks over I-70 in downtown Kansas City will restrict traffic through mid-November. Meanwhile, repair work will begin March 15 on eight miles of I-35 near Kearney. Work on southbound lanes will continue through late July, followed by northbound lane repairs through November.
NEBRASKA. I-80 in Lincoln will be closed occasionally at night for the removal and replacement of the North 84th Street bridge deck and girders. Completion is anticipated this fall.
NEW HAMPSHIRE. Several tollbooths are being removed on the Blue Star Turnpike (I-95) to make way for an Open Road Tolling facility that will allow motorists with E-ZPass to go through dedicated ORT lanes at highway speeds. Open Road Tolling at the Hampton Toll Plaza is projected to begin June 15.
NEW JERSEY. Add travel time to account for the state's three-year project to resurface eight miles of I-295 from Exit 24 to Exit 32. Work is expected to be completed by July 2012.
VIRGINIA. Gov. Bob McDonnell has signed a law that could increase speed limits on an estimated 1,300 miles of roadways to 70 mph from 65 mph. After engineers decide where it's safe to raise the limit, the higher speed could take effect as soon as July 1.
WYOMING. The Cowboy state is the 20th state to prohibit drivers from texting while behind the wheel. Beginning July 1, the ban will allow officials to ticket anyone caught texting while driving.
CCJ magazine wins award
Editors from Randall-Reilly's Commercial Carrier Journal, a sister publication of Overdrive, won the Jesse H. Neal Award for Best Technical Content.
The winning article, written by Jack Roberts, Randall-Reilly's executive editor, trucking, was entitled "The Main Event," and covered the two approaches engine makers are following to comply with 2010 U.S. Environmental Protection Agency standards. Avery Vise, editorial director of the Fleet/Dealer/Aftermarket Division, and Dean Smallwood, CCJ's managing editor, also contributed to the article. In total, CCJ editors have won 14 Neal awards and numerous Neal certificates. This is Roberts' second Neal award.
— Staff reports
Mark Your Calendar
APRIL 9-10: SMOKY MOUNTAIN CHAPTER 3rd Annual Truck Show, American Truck Historical Society, Chilhowee Park, Knoxville, Tenn., (865) 789-7771.
APRIL 10: YELLOW ROSE CHAPTER Antique Truck Show, American Truck Historical Society, City Park, Highway 71, Smithville, Texas, (830) 743-3179.
APRIL 16-17: EAST TEXAS ANTIQUE TRACTOR & ENGINE ASSOCIATION, American Truck Historical Society, Rusk County Youth Expo Center, Henderson, Texas, (903) 889-2671.
APRIL 19-22: COMMERCIAL VEHICLE SAFETY ALLIANCE 2010 Workshop, Hyatt Regency, San Antonio, Texas, www.cvsa.org.
APRIL 23-25: CENTRAL CALIFORNIA CHAPTER Kirkland Show, American Truck Historical Society, Kirkland Ranch, Plymouth, Calif., (916) 381-6063.
APRIL 24: NORTHWEST CHAPTER Antique Trucks Show, American Truck Historical Society, Harold E. LeMay Marymount Museum, Spanaway, Wash., (360) 866-7716.
APRIL 24-25: CUSTOM RIGS PRIDE & POLISH 75 CHROME SHOP, Wildwood, Fla., (888) 349-4287, www.prideandpolish.com.
May 11-12: SLEEP APNEA & TRUCKING CONFERENCE, Westin hotel in Baltimore, www.satc2010.org or [email protected].
JUNE 17-19: THE GREAT WEST TRUCK SHOW, Las Vegas, (888) 349-4287, www.greatwesttruckshow.com.
AUG. 26-28: THE GREAT AMERICAN TRUCKING SHOW, Dallas, (888) 349-4287, www.gatsonline.com.
Senate approves highway bill
The Senate approved and sent to President Obama a jobs bill with funds for highway construction and extension of the Highway Trust Fund tucked inside.
Approved 68-29 on March 16, HR 2847 provides $20 billion for road and bridge construction and extends the federal highway program through year-end.
Earlier, the Senate had voted to pass a $10 billion stopgap measure to fund highway projects and extend unemployment benefits for 30 days after Republican Sen. Jim Bunning of Kentucky agreed to end his filibuster demanding a way to pay for it first.
The Senate's failure to overcome Bunning's objections meant funding for federal highway, transit and highway safety programs ran out at midnight Feb. 28. The current surface transportation authorization act – the Safe, Accountable, Flexible, Efficient, Transportation Equity Act: A Legacy for Users (SAFETEA-LU) – was due to expire Sept. 30, 2009, but had been kept alive by extensions while Congress considered a replacement authorization bill.
The expiration forced 2,000 employee layoffs at the U.S. Department of Transportation, including the Federal Motor Carrier Safety Administration, Federal Highway Administration and National Highway Traffic Safety Administration.
— Staff reports
Navistar to work on natural gas engine
Navistar will work with Clean Air Power to develop a Navistar 2010 MaxxForce 13 big-bore engine to run on natural gas and diesel for the North American market.
Clean Air Power developed the Dual-Fuel combustion technology for heavy-duty diesel engines.
The new product initially will be aimed at the regional haul market, with a goal of achieving a 400-mile range.
— Jill Dunn n