Durable by design
When planning its medium-duty Model 348, Peterbilt started with a heavy-duty platform and engineered it down.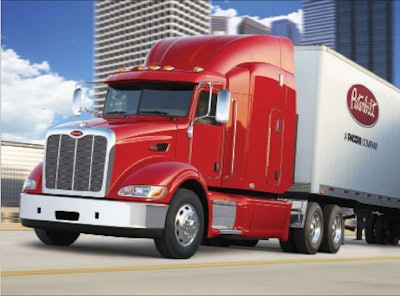 Peterbilt's Model 348 is the latest in the manufacturer's line of medium-duty vehicles that, as a design concept, started on a heavy-duty platform and were engineered down. You probably won't need to run it for 2 million miles, but its design pedigree and aluminum and steel construction features could keep it on the road for a long time.
What sets the model apart from the competition is cab construction and overall quality, says Dave Kirwan, Peterbilt medium-duty national sales manager. In the aluminum cab's lap seam construction, two pieces of aluminum are overlapped and bolted together using aircraft-quality huck bolts. This process provides strength, durability and resistance to leaks and corrosion.
An example of the construction quality is 3⁄8-in. stainless steel, piano-style door hinges. "I've always said to customers you could hang 10 grab handles on a truck and the drivers are still going to grab the door," Kirwan says. "Particularly in a medium-duty application, where you've got the driver up and down numerous times each day, those doors really take a beating."
Additional external features include a durable, impact-resistant Metton hood, a stainless steel grille to provide protection against road debris and Lexan headlamp lenses.
On the inside is an all-new interior with additional insulation for improved sound and temperature control, a multiplexed dashboard, an enhanced HVAC system with better defroster performance and driver control of in-cab temperatures.
"We lowered the sight line of the dash and lowered belt lines of the doors to increase visibility by 17 percent," Kirwan says.
He contends the heavy-duty construction and quality pay off in lower maintenance costs and vehicle longevity. "If you have guy who's going to keep a truck in service for 10 years, it's in years 7, 8, 9 and 10 where we really shine," he says.
The Model 348 covers GVW of 35,000-66,000 pounds and comes in straight truck and tractor versions. While it can be used for pick-up and delivery, its sturdiness works well in applications that include some off-road duty. Kirwan says it's well-suited for tankers, dump trucks, cranes and other severe service applications.
Dave Wood, owner and president of Maplewood Ice Co., says his 14-year experience with Peterbilts convinced him to buy a Model 348 last December to add to his fleet of delivery trucks. They haul packaged ice to about 1,750 retail accounts in eastern New York, Massachusetts and Vermont. The truck is outfitted with a Paccar PX-8 330-hp engine, a 10-speed manual transmission and AirLeaf suspension.
The 348 is mounted with a 26-foot refrigerated box and rated at 52,000 pounds GVW. He says the truck should have no trouble lasting the 10 years or more he expects from his vehicles. He estimates the truck will run about 100,000 miles annually.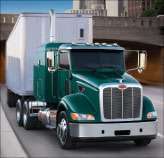 Wood says his Peterbilts, especially the 348, are driver-friendly. When he drove the 348 back to his Whitehall, N.Y., base from the Peterbilt dealer in New Hampshire, Wood says, the new cab interior, improved A/C and air filtration system impressed him. "You can figure everything out on the dash," he says. "It provides you with information like fuel mileage and everything else you want to know about the truck. It's got the best cab you could ever want."
The enhanced visibility, Wood says, is important because the driver is often backing up to retail store docks. "It's a very forgiving truck," he says.
While all the Peterbilts have been quiet, Wood says the 348 is the best yet at muffling road and engine noise and vibrations. He credits the vertical smoke stacks for contributing to the quieter ride. n
Peterbilt 348
CHASSIS
• 108-in. bumper to back of cab
ENGINE
• Paccar PX-8 engine with ratings from 240-380 hp.
TRANSMISSION
• Eaton Fuller – 6-, 10- or 11-speed manual; Eaton Fuller 10-speed AutoShift; Allison 4-, 5- or 6-speed automatic
AXLE: FRONT
• Dana Spicer – 12,000-20,000 lb.
AXLE: REAR, SINGLE
• Dana Spicer – 21,000 lb., 23,000 lb., 25,000 lb., 26,000 lb., 30,000 lb.; Meritor – 21,000 lb, 23,000 lb.
AXLE: REAR, TANDEM
• Dana Spicer – 40,000-46,000 lb.; Meritor – 40,000-44,000 lb.
SUSPENSION: FRONT
• Taper Leaf
SUSPENSION: REAR
• Front Taper Leaf
• Peterbilt AirTrac
• Reyco 79KB, 102 or 102AR
SUSPENSION: TANDEM
• Front Taper Leaf
• Peterbilt AirTrac
• Low Air Leaf
• Hendrickson HMX, RT
• Reyco 102
• Chalmers 854
DESIGN FEATURES
• Lap seam aluminum construction
• Metton impact-resistant hood
• Steel painted or chrome, aluminum polished or stainless steel clad bumpers
• Lexan headlamp lenses
• Stainless steel grille
• Schwalbe or Weldon crew conversion package