Fine-tuned
Driver satisfaction is key as Freightliner uses customers' experience to improve the 2010 version of its aero leader.
Aerodynamics and driver comfort have been at the forefront of the Cascadia's evolution since its 2007 launch. With customer feedback, these features have been enhanced even more with the 2010 model, says Ben Smith, Freightliner Trucks' product strategy manager of on-highway heavy-duty vehicles.
"The Cascadia really shines in driver satisfaction and cost of operations," Smith says, noting that drivers "want uptime and, second, they want the best fuel economy."
To get better mileage, engineers lowered the optimum power range where the torque and horsepower intersect to between 1325 and 1375 rpm. "We're at a lower rpm for the best sweet spot," Smith says. That range has been easier to achieve with an improved rear-axle ratio and the truck maker's choice of powertrain, the Detroit Diesel DD15 and its BlueTec selective catalytic reduction technology, he notes.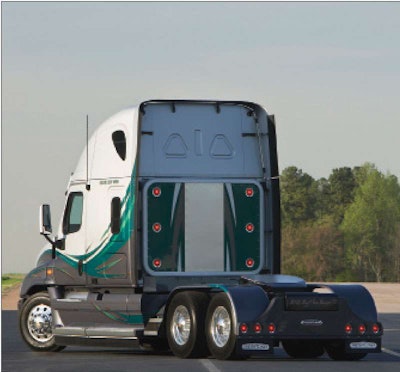 More than 2,500 hours of wind-tunnel tests resulted in further aerodynamic improvements, Smith says. New anti-drag features include: a windshield with a 28-degree slant; mirrors that can be folded flat during parking; and an improvement in the tractor's overall shape. "On the whole cab, bumper and grille, the airflow is managed to get it out and away from the front of the trailer and pushed to the outside," he says.
Since 2007, roof deflectors to guide air up and over the top of the trailer, side skirts that are extensions to the fuel tank and a bumper block have been added to improve aerodynamics.
To address driver demands for interior comfort, designers further isolated the cab from the engine to reduce noise and added room to the sleeper and cab. The 2010 model has a driver's seat that is 2 inches wider, with a seat cushion 2 inches longer and a seat back 2 inches higher than competitors, and the seat is farther from the steering wheel, which now tilts, to accommodate larger drivers, Smith says. For easier operation, the engine compression brake, cruise control and marker light switch have been moved to the steering wheel.
The Cascadia's rack-and-pinion steering gear has been popular with drivers. The system is designed to provide quicker and more precise steering response. It stops bump steer and reduces roll steer, situations where the driver typically would turn the wheel to compensate for road conditions, Smith says: "After eight hours of driving, they aren't tired."
Owner-operator Kurt Grote, 51, enjoys the tractor's comfort benefits for his 310 days on the road annually, hauling refrigerated cargo in the West. "When they built this truck, they did it for the owner-operator, and they did a very good job of it," says Grote, a blogger in Freightliner's Slice-of-Life Cascadia test-drive program.
He likes the insulated cab's privacy at night and the roomy cab and sleeper. "It's like going into an auditorium it's so open in the back."
The engine's power also appeals to him. "I run a lot of mountains, and the truck seems to go to work effortlessly," Grote says. He averages 6.25 miles per gallon, even at 70 to 72 miles per hour with 80,000-pound loads. "I'm a big-power kind of guy, and I want to be done with the hills," he adds, noting that before he test drove the Freightliner, he had used only Caterpillar engines, no longer made in the Class 8 market. "This Detroit Diesel, it goes to work. You'll be in a major pull, and before you know, you're at the top." n
Freightliner Cascadia
CHASSIS
• 113-in. and 125-in. bumper to back of cab
ENGINE
• Detroit Diesel DD16, 475-550 hp; DD15, 455-560 hp, including multi-torque options; DD13, 350-450 hp
• Cummins ISX, 440-550 hp
ELECTRICAL
• Inverter/charger system
• 120-volt cab wiring and air-conditioning outlet with shore power and Xantrex inverter
• Auxiliary battery boxes mounted on rail behind cab
TRANSMISSION
• Eaton Fuller FRO-16210C; FRO-15210C
AXLES
• Front: AF-13.3, 13,300 lb., FF1 71.5 KPI/3.74 drop single
• Rear: RT-40-145, 40,000 lb., R-Series tandem
SUSPENSION: FRONT
• Taperleaf – 13,000 lb.
SUSPENSION: REAR
• Airliner – 40,000 lb.
SLEEPER DIMENSIONS
• Mid-roof available in 48-, 60- and 72-in.; Raised-roof available in 60- and 72-in.