Smart decisions on where you park, what you say and how you operate will help prevent theft.
David P. Gaibis Sr. thought he had done the right things to protect his load. The owner-operator parked under a flood light at the truck stop in Weatherford, Texas, and locked his truck before heading into the restaurant. When he returned, his tractor and flatbed with 44,000 pounds of copper blocks were gone. The truck stop's security guard called local police.
Gaibis lost not only his 2000 Western Star and 2006 48-foot flatbed, but his tarps, straps, chains, wallet with $200, CB radio, GPS unit and cell phone. Without his ID, his wife had to wire him money to ride the bus home to New Castle, Pa.
"I feel violated," says Gaibis, 72, who's leased to Packer Transport. "I'm bitter and upset. I'm always looking around now."
The Oct. 24, 2009, theft was the first in Gaibis' 51 years as a trucker. On Nov. 30, his tractor was recovered in Louisiana. The trailer and copper haven't been recovered.
As Gaibis learned, owner-operators need to stay alert, be aware of their surroundings and practice a few tricks of the trade to keep thieves at bay. Here are a few pointers to reduce the odds of becoming a cargo theft victim.
Be careful where you park
At a truck stop, seek out spaces in front rows, close to fuel islands and the restaurant, and directly under lights. "If you're in the back row, no one is watching the back of your trailer," says Dale French, a driver instructor at Schneider National.
Avoid truck stops that are in remote areas or don't appear to be busy – you want many sets of eyes watching out for you and your cargo. Frequent truck stops where you can back up your trailer against another trailer, says Rusty Wade, an owner-operator leased to M&M American. "Maybe you can back up against the back door of a moving van and tell the driver to wake you up when they're leaving," he says.
Use of a security patrol at a truck stop is by no means a guarantee of safety. "To me it's a red flag," says Bob Caffee, who with his wife Linda is leased to FedEx Custom Critical.
Wade says parking at casinos, whose security departments often will train a camera at the back of your trailer while you rest, can be a smart move. Other potential parking places are against buildings where you can back up your trailer for protection. "It might be an industrial park where you've been before," he says. "When the workers come to work in the morning, the most that will happen is they'll tell you to move."
Dick McCorkle, who's leased to Perkins Specialized Transportation, often hauls trade show equipment to convention centers and store fixtures to retail malls. He suggests calling the receiver where you're delivering to see if parking is permitted. "They'll usually say if they advise against it, or if they have security," he says.
Avoid long-term parking at rest areas and highway shoulders and ramps. Also, taking your load home is a no-no because of the lack of security, says Walt Fountain, Schneider's director of enterprise security.
Watch what you say and do
The less you say about what you're hauling and where you're going, the better. That includes "on the CB or in casual conversation at a truck stop," French says. For years, Wade says, he always said he hauled used office furniture or toilet paper if anyone asked.
Be careful on websites like Facebook and Twitter, says Linda Caffee. Her advice is to make comments that might identify your location only after you've left those places. She also post-dates things she says on her blogs by a day or two.
Cargo theft experts say one tactic used by thieves is to tail trucks from a warehouse or drop yard. For any high-value load, a key Schneider procedure is to leave a terminal or truck stop with a full tank and be able to drive at least 200 miles before stopping, Fountain says. Linda Caffee advises taking a bathroom break and buying food for the cab before starting. Driver teams should make sure one of them is always visible in the cab.
Keeping an eye on other traffic is essential to avoiding theft. Wade says if you suspect someone is following you, slow down and let the vehicle pass you. Or take the next exit and see if the trailing vehicle does likewise. He also advises calling a trusted colleague who might be in the area or heading for a secure location.
"One time, as a last resort, I drove to a police station and parked outside," he says. "Whoever was following me never showed up and I never went inside to bother the police."
Whenever possible, avoid stops, such as for apparent breakdowns on the shoulder. Calling for help can be the more prudent response.
Drivers should carry with them a 3×5 card with truck and trailer license tag numbers, truck vehicle identification number and insurance information, recommends Doug Morris, director of safety and security operations for the Owner-Operator Independent Drivers Association. In case of theft, that information is more important to law enforcement than the truck make, model and color, he says.
Because some thefts are not immediately noticed, it's important to pay close attention to your equipment and load during your trip. Fountain estimates that if a theft is reported within two hours, the recovery rate is "better than 50-50." If the report is four hours after the act, the recovery chances fall to 25 percent. After six hours, recovery is less than 5 percent.
French says trailer integrity verification checks should be done even if you have an empty trailer. McCorkle always puts a plastic security seal on his trailer doors, even when the trailer is empty. If he sees the seal's been broken, he'll look inside to see if something has been placed there.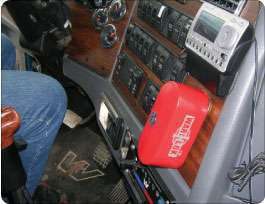 Consider security devices
Security equipment varies from a high-quality padlock or fifth wheel trailer locking mechanism costing around $20 (www.gladhandlock.com) to elaborate security systems costing $2,000 or more.
A locking device that fits over the air valve buttons on the dashboard, costing about $80, keeps the brakes from being released. Fountain recommends the Air Cuff Lock (www.transportsecurity.com), while Gaibis has installed War-Lok brake locks for his truck and trailer. Kingpin locks range from $30 to $90 and provide theft protection for dropped trailers.
The Caffees have installed a panic button (about $175 through Qualcomm) in their truck and on their key chains to contact officials if they detect trouble with a sensitive load. The panic button saves time and directly alerts federal marshals in an emergency.
"Once, when a driver was following us in Texas, I could not shake him and we drove pretty slow," Linda says. "Turns out the driver was sleepy and using our truck as something to follow. That's as close as we've come to using the button."
They also spent about $100 to have the 2005 Freightliner's door hinges and hinge pins welded so they can't be removed.
Both the Caffees and Wade have security cameras on their trucks. About four years ago, Wade paid about $600 for a four-camera system, which he declined to name for security reasons, that gives him photos every 30 seconds. The Caffees paid about double that for a four-camera system with microphones that gives views on the right side of their straight truck with 22-foot box, on the back of the box and inside the box. "They have more than paid for themselves" by avoiding accidents, Linda says.
Tracking systems using GPS can be installed inside trailers. For example, GPSit (www.gpsit.com), costing $500 to $600, uses a battery-powered GPS device for tracking. Add another $20 to $50 for monthly service based on the number of "locates" that you want to pay for, says Netzer Ruperto, president.
LoJack, well-known for its passenger car security devices, also offers trucking-related security services. For owner-operators, the company has tracking devices for truck and trailer that are activated upon theft. Prices range from $300 to $2,500, plus monthly fees of $20 to $50 for airtime.
The company is developing an early warning system that might appeal to owner-operators, says Bob Furtado, president and CEO of LoJack Supply Chain Integrity. "If the driver has a key fob, and the truck starts moving when it's not supposed to, it sends an early warning signal and the driver is contacted to see if it's a theft or something else," he says. n
Secure trailer parking lots
A year ago, John Glavin launched Secure Trailer Depot and opened its first facility in El Paso, Texas. "Quickly we had as many as 350 trailers a night in there," says Glavin, formerly a private investigator."
STD and other such operators offer gated, 24-hour trailer lots equipped with security lighting and surveillance cameras. At the entrance to Glavin's facilities, trailers are photographed on all four sides. When the trailer departs, it is photographed again and the pictures are compared with the entry shots to verify it's the same trailer. A bar code is affixed to each trailer to facilitate billing and monitoring by STD and the customer, which tracks trailer departures via the internet.
Most customers are charged a monthly fee per parking space of $115 to $275, depending upon the facility's location. Infrequent customers can pay a daily fee.
Glavin says Schneider National, Knight Transportation and Dart Transit are among carriers signing up for STD locations. He adds that some smaller carriers are inquiring about using STD locations as mini-terminals.
STD also has facilities in Dallas, West Memphis, Ark., and Jackson, Miss. Glavin says locations in Fontana, Calif.; Pennsauken, N.J.; Chicago; and Atlanta are planned for this year.
Where to report a heist
If you become a cargo theft victim, call 911 for help immediately. Local or state police can rapidly report the incident to area law enforcement.
Those who subscribe to a cargo theft reporting service should call it next.
TRACER: Alert to report stolen rigs
When Owner-Operator Independent Drivers Association members discover their tractor-trailer or cargo is missing, many report their loss to OOIDA's TRACER Alert, which goes out to members who've signed up for the service – as well as other truckers – and is posted on the association's TRACER website www.tracersystem.us. There is no cost for the service other than the organization's regular annual membership fee of $45.
In place since early 2009, the system had sent out 152 alerts as of late April. This has resulted in a 38 percent recovery rate for equipment within 10 days, though no cargo has been recovered from the TRACER alerts, says OOIDA's Doug Morris.
CargoNet: Crime reporting and victim assistance
CargoNet is a new way to report cargo thefts and to be protected from them, says the service's managing director, Maurizio Scrofani.
The network makes use of databases from the National Insurance Crime Bureau and the Insurance Services Office, among others. This adds a more intense level of secure reporting and analysis for sharing information among victims, their insurers and law enforcement, thereby improving chances for solving the crimes, Scrofani says.
If an owner-operator reports a theft, money for food, shelter and a ride home will be wired to him. Owner-operators with one truck can pay $50 to $100 for annual service. – Lucinda Coulter
SPECIAL CARGO THEFT UNITS
Here are some groups that specialize in cargo theft:
• Auto Theft Unit, Special Investigations Division, Dallas, Texas. (214) 671-3522
• Marion County Sheriff, Ocala, Fla. (352) 732-8181
• Major Theft Unit, Georgia Bureau of Investigation, Atlanta, Ga. (800) 282-8746
• Midwest Cargo Theft Initiative, Joliet, Ill. (815) 726-6377
• Cargo Theft Unit, Edison, N.J. (732) 548-7153
• Miami-Dade TOMCATS, Doral, Fla. (305) 471-3400