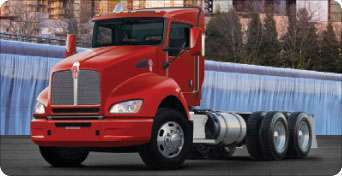 Class 7 and 8 Kenworth T440
The Model T440 tractor ranges in GVW from 33,000 pounds to 68,000 pounds. Options include the Kenworth extended day cab, which has an additional 6 inches of length and 5 inches of cab height compared to the day cab, and the 38-in. Kenworth AeroCab sleeper. The 2010 Paccar PX-8 engine is standard with ratings to 350 hp and 1,000 lb.-ft. of torque. The optional 9-liter, 2010 Cummins ISL engine is rated to 380 hp and 1,300 lb.-ft. of torque. The T440 offers 6-, 9-, 10-, 11-, and 13-speed manual and 5- and 6-speed automatic transmissions, 12,000 to 22,000 lb. front axles, 21,000 to 30,000 lb. single rear axles, and 40,000 to 46,000 lb. tandem rear axles.
KENWORTH, www.kenworth.com, (425) 828-5000
Heavy-haul trailer
The Magnitude 55MX is an extendable heavy-haul trailer that features a modular design. The trailer is fabricated with 100,000-lb. minimum yield steel flanges and extends from 29 to 50 feet. The loaded deck height is 20 inches with a 6-in. ground clearance. Ride-height adjustments mechanically lock, and the ramped bogie features a modular connection. The trailer also has a built-in tool box and storage compartments.
FONTAINE TRAILER,
www.fontainetrailer.com, (423) 893-8998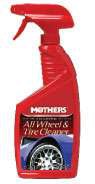 Non-acidic wheel and tire cleaner
Foaming All Wheel & Tire Cleaner spray foam can be hosed-off wheels and tires. The cleaner is non-acidic and safe for all aluminum, alloy and steel wheels and hubcaps. It can be used with chrome and clear-coated wheels and whitewall tires.
MOTHERS,
www.mothers.com, (714) 891-3364

Engine and transmission flush
The detergent-based Engine and Transmission Flush cleans sludge, varnish and deposit build-up and can be disposed of with waste oil. Available in 16-oz. bottles, the flush prepares engines and transmissions for the installation of new motor oil or transmission fluid and is recommended for both diesel and gasoline engines and for automatic transmissions. It is not recommended for CVT transmissions or differentials.
AMSOIL, www.amsoil.com, (800) 777-8491

Bluetooth-enabled CB radio
The 29 LTD BT uses Bluetooth wireless technology to pair a driver's cell phone to the radio to make and receive phone calls while driving. The radio features a microphone that minimizes background noise, one-touch redialing of the last number called, and audio routed through the radio's 5-watt speaker. The 29 LTD BT has all the functions of the standard Cobra 29 Series CB radio. The radio also provides instant access to emergency Channel 9.
COBRA, www.cobra.com, (773) 889-3087
In-cab refrigerator uses minimal power
Front-open in-cab refrigerator models are available in 42- and 60-quart capacities. The spring-mounted swing motor compressor, which has just one moving part, draws minimal power, the company says. The motor is in a fully sealed chamber to isolate it from vibration. The cooling unit uses a CFC-free refrigerant gas. Engel units will automatically switch from 12/24 volt DC to 110 volt AC, depending upon power availability, with a current draw of 3 amps or less.
ENGEL, www.engelusa.com, (888) 272-9839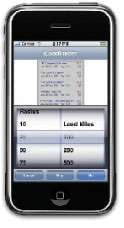 Trucking-specific iPhone app
iLoadFinder reads the iPhone's GPS location and retrieves available loads within a radius of the iPhone. Drivers can specify the radius to search and the distance they want the load to travel. The application also allows drivers to search by origin and destination city, state and shipper. Once a load is found, the driver can touch the screen to either phone or email the shipper. The iLoadFinder is available at the App Store.
PCS SOFTWARE,
www.pcssoft.com, (281) 419-9500
System protects trailer wiring
The Defender modular harness/wiring system is an integrated moisture and corrosion protection system that features Peterson's Piranha LED lights, sealed through Maxi-Seal's Power-Seal Technology.
MAXI SEAL, www.maxisealharness.com, (816) 841-6700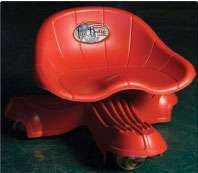 Shop seat rolls over bumps
The Tailbone creeper seat is ergonomically designed and features a custom-molded bucket seat. This seat features polymer casters that can roll over air hoses and uneven surfaces.
GARAGE EQUPMENT SUPPLY, www.gesusa.com, (800) 261-7729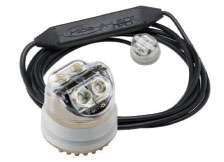 Warning light has 16 patterns
The 9031 concealed warning light is designed for vehicle headlight and taillight applications. The light features four single-watt LEDs, wide-angle light and plug-in mounting. Optic design produces wide light dispersion and maximized secondary light output reflected off the vehicle light casing, the company says. Sixteen flash patterns are included and multiple units can be synchronized to flash alternately or simultaneously. The LEDs are colorless when not illuminated and come with a 5-year warranty.
ECCO, www.eccolink.com, (800) 635-5900
Onboard scales
The handheld TruckWeight onboard scale can read the weight of your trailer from up to 100 feet away from your rig, according to the company. A wireless sensor is attached to every axle group and is accurate to within 1 percent of gross vehicle weight, the company says.
SMARTSCALE TECHNOLOGIES INC. (877) 757-7888
Drivetrain treatment
Nanomaxx Drive Train Treatment works in engines, transmissions, rear ends and bearings and is designed to improve fuel efficiency and extend the service life of drivetrain parts. The product requires no added appliances or filters. The treatment reduces hydrocarbon, nitrous oxide and other emissions, the company says.
FUSION-TECH, INC.,
www.fusion-tech.com, (919) 212-2245
Shock absorbers
Designed for Class 8 trucks, the 2 5/16-in. big bore mono tube shock absorbers have a 4.2-square-in.piston area, spherical rod bearing mountings, two urethane shaft oil seals and a chrome shaft. The shocks are built to last 350,000 to 400,000 miles and can be factory re-built, the company says.
ROADKING SHOCKS,
www.class8truckshocks.com, (619)766-9207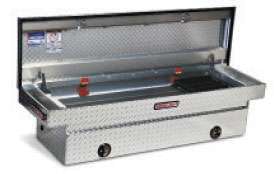 Saddle box has adjustable tray
Weather Guard saddle box Models 126, 117 and 116 have the same enhancements as the Model 127. New attachment points are used for securing tools and materials in the truck bed while new Easy Find organization includes an adjustable metal tray, removable parts bin and level holder. All Weather Guard saddle boxes have limited lifetime warranties.
EMERSON, www.emersonprofessionaltools.com, (800) 456-7865
Pre-filter enhances air cleaner
Designed to fit over externally mounted air cleaners, pre-filters are water-resistant and filter road debris down to 0.005 inch. Test results show no significant loss of air flow, and horsepower levels are maintained longer due to a cleaner, drier air filter, the company says. Pre-filters can be cleaned with soap and water for re-use and are available in 13- and 15-in. sizes.
FREEDOM AIR FILTERS, www.freedomairfilters.com, (877) 454-6565,

Trailer skirts offer aero benefits
The Hybrid trailer skirt and seven-panel Classic trailer skirt comply with U.S. Environmental Protection Agency and California Air Resources Board requirements for aero devices. The skirts are available in gray or white. Full-flex struts are made from Exxon Santoprene and allow up to 90-degree bending of the panels over obstructions, the company says.
LAYDON COMPOSITES, www.laydoncomp.com, (905) 829-9200 n