Older reefers require routine servicing every 1,000 hours, but newer ones can go much longer. This SB series Thermo King reefer, for example, worked on here by Technicians at the CSTK dealership in Vineland, N.J., needs service only every 3,000 hours. Newer reefers typically use combination full-flow and bypass oil filters and CJ-4 oil, allowing the longer interval. This SB is powered by a 4-cylinder Yanmar direct injection diesel.
In addition to the process detailed below, be sure to inspect wiring ties and drain water from the fuel tank; check coolant; clean out blocked tank vents; and change gear fluid. Techs recommend having the refrigerant charge and operating pressure checked by a licensed technician every six months.
The job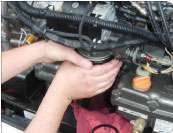 1. While the engine is hot, slide a hose onto the brass oil drain valve, placing a drain pan underneath. Rotate the valve a quarter turn, spin off the oil filter and be sure the gasket comes off. Lube the new filter's gasket with clean engine oil and install the filter.
2. Close the drain valve. Fill the crankcase with oil by removing either the yellow filler cap or orange dipstick cap. Start the engine to circulate the oil. Monitor the system for leaks and to ensure full pressure.

3. Change the spin-on fuel filter and prime it with clean fuel, pouring fuel down the outside holes so it will be filtered before entering the system. Clean the strainer by the fuel pump.

4. Change the air cleaner by loosening the clamp and disconnecting the intake hose before twisting the filter counterclockwise. Twist new filter on, install hose and tighten clamp. Record the date and engine hours on the marking area.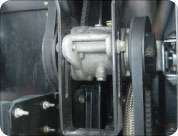 5. Inspect drive belts for condition and tension. Replace if glazed (smooth) or cracked. If necessary, tighten the generator and water pump belt by loosening the mounting bolts, pulling the generator and tightening when tension is correct. Check the two condenser-radiator fan drive belts for tension. To adjust, loosen the two bolts at both the rear and front of the gearbox, pull the gearbox into position and tighten.
6. Run unit on high-speed cool. Check oil level on the front of the view port in the compressor crankcase. The oil level should be at least one-fourth from the bottom of the sight glass. n