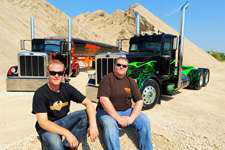 Andy Zary's '59 Purple Mack was on the road hauling loads 48 years before Jake Lindamood's two-tone 379 Peterbilt ever set tire to pavement.
Mitch Larson's black-and-green, 2010 daycab 389 Peterbilt is a stark contrast to Kevin McIntyre's white-and-orange 1984 359.
And Jonathan Eilen's 2010 Peterbilt 389 dump combo is way different from Lindamood's.
But what all five of these customized big rigs have in common is they hauled away the Best of Show trophies at the end of the annual Custom Rigs Pride & Polish truck beauty show held in conjunction with the Great American Trucking Show (GATS) in Dallas.
This year's GATS Pride & Polish show drew 53 customized bobtails and combos to the Dallas Convention Center, coming from as far away as California.
"This year's truck show was one of the best we've had," said Neil Holsomback, the on-site manager of the Pride & Polish events. "The judges really had their work cut out for them because there were a lot of very nice trucks competing against one another in multiple categories."
• Best of Show  – Builder's Class: Kevin McIntyre, 1984 Peterbilt 359
• Best of Show – Limited Mileage Bobtail: Andy Zary, 1959 Mack B-61
• Best of Show – Limited Mileage Combo: Jake Lindamood, 2007 Peterbilt 379/CPS Dump
• Best of Show -Working Bobtail: Mitch Larson/Pat Eilen Trucking, 2010 Peterbilt 389
• Best of Show – Working Combo: Jonathan Eilen, 2010 Peterbilt 389/Mac Dump