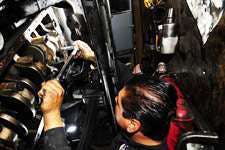 Problem rates for heavy-duty truck engines manufactured with emissions controls implemented in 2004 and 2007 are nearly twice as high, on average, as rates for engines built prior to these emission changes, J.D. Power and Associates announced Sept. 2.
 
The firm's 2010 U.S. Heavy-Duty Truck Engine and Transmission Study finds that 51 percent of owners of 1-year-old heavy-duty truck engines in 2010 report experiencing a problem. However, prior to the changes in emissions standards mandated by the U.S. Environmental Protection Agency, only 26 percent of owners of 2-year-old truck engines experienced a problem.
 
"Clearly, the emissions requirements have put a burden on engine manufacturers, and the result is that today's engines—although environmentally improved—are more problematic," said Todd Markusic, senior director of the commercial vehicle practice at J.D. Power and Associates. "Given the quality issues that arose from the last emission standards redesign in 2007, the new emissions standards in 2010 will no doubt create another challenge for engine manufacturers, but those that best handle the integration of these new standards will have a competitive advantage."
 
The study also finds that the number of engine problems increases by 55 percent, on average, after 50,000 miles of usage—up to 80.5 problems per 100 vehicles (PP100) from 51.9 PP100. As a result, satisfaction with engines decreases by nearly 40 points (on a 1,000-point scale) after 50,000 miles.
 
Now in its 14th year, the study measures customer satisfaction with engines and transmissions in 1-year-old heavy-duty (Class 8) trucks. Engines from Detroit Diesel and Navistar perform particularly well, J.D. Power said in a release.
 
The most-commonly reported engine problems are issues with electronic control module calibration (cited by 14 percent of owners) and exhaust gas recirculation valve (13 percent).
 
The study is based on the responses of 1,682 primary maintainers of one model-year-old heavy-duty trucks. The study was conducted in February and March.