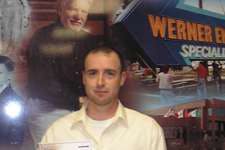 Jason Tolliver, a driver for Werner Enterprises of Omaha, Neb., has been named a Truckload Carriers Association Highway Angel for helping a fellow truck driver survive a medical emergency.
On May 29, Tolliver saw a man lying on the ground and security guards hovering over him. Apparently, William Hoage, a truck driver for Baylor Trucking of Milan, Ind., had been walking toward the rear of his trailer when he collapsed.
Tolliver found the driver to be unresponsive and immediately began administering CPR. He asked a security guard to call 911 and continued to provide CPR until medical personnel took over.
"I took an EMT course after high school, before I got into trucking," said Tolliver. "It definitely came in handy that day."
Hoage was treated for a heart attack at a hospital. He remained in the intensive care unit for several days before being released.
For helping Hoage survive his heart attack, Tolliver received a Highway Angel lapel pin, certificate, and patch. Werner Enterprises also received a certificate acknowledging that one of its drivers is a Highway Angel.