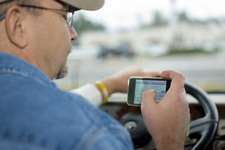 In kicking off the 2010 national Distracted Driving Summit this today, Sept. 21, U.S. Transportation Secretary Ray LaHood announced he is initiating a new rulemaking to prohibit commercial truck drivers from texting and using cell phones while transporting hazardous materials.
In addition, LaHood announced that two rules proposed at last year's summit have now become law. Rules banning commercial bus and truck drivers from texting on the job and restricting train operators from using cell phones and other electronic devices while in the driver's seat have been posted today.
The rule governing cell phone use while transporting hazmat closed a loophole in the ban on truck and bus drivers. The Federal Motor Carrier Safety Administration doesn't have jurisdiction over most intrastate carriers, but hazmat haulers are regulated by DOT's Pipeline and Hazardous Materials Safety Administration. It will take effect 30 days after posting in the Federal Register.
"We are taking action on a number of fronts to address the epidemic of distracted driving in America," said LaHood at the distracted drivng summit.  "With the help of the experts, policymakers, and safety advocates we've assembled here, we are going to do everything we can to put an end to distracted driving and save lives."
DOT has also been working with the Network of Employers for Traffic Safety (NETS) to engage the private sector to promote anti-distracted driving policies in the workplace. NETS, which was created by the National Highway Traffic Safety Administration (NHTSA), is an employer-led public-private partnership dedicated to improving the safety and health of employees by preventing traffic crashes.
DOT and NETS today announced that almost 1,600 U.S. companies and organizations have adopted distracted driving policies to date, covering approximately 10.5 million workers nationwide. An additional 550 organizations have committed to adopting policies that will cover another 1.5 million employees within the next 12 months.