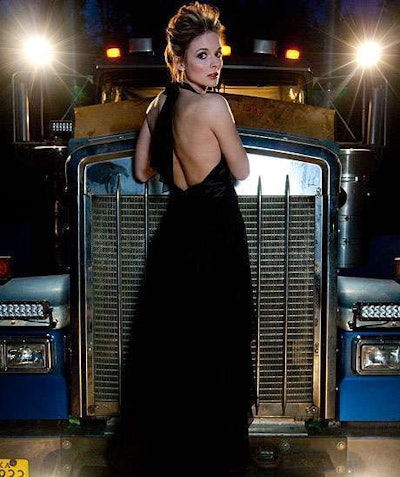 They were speaking truth over at Esquire mag when, as I wrote here in June, they noted that their annointed "Sexiest Trucker Alive," Ice Road Truckers star and Alaskan Dalton Highway hauler Lisa Kelly (pictured), was in the Himalayas filming a television show. It was announced today that the new History Channel series "IRT: Deadliest Roads," in which Kelly and other IRT notables — Alex Deborgorski and Rick Yemm among them — tackle "the world's highest mountain ranges, where the rules of the road don't apply," the producers say, would be premiering October 3 on History.
Filmed on historic trade routes in the Himalayas, between western India and lower-lying Asia Minor, the IRT veterans delivered cargo ranging from water to sheep from village to village, encountering all manner of obstacles along the way. In the December 2009 issue of Truckers News, Deirdra Drinkard wrote about this region through the eyes of U.S. hauler Ed Main, who'd gotten the opportunity to drive there a bit himself.
An excellent film trailer-style promo for the new series is up on Facebook. Go give it a whirl, and hang on to your hats… and CBs. You might well need both.