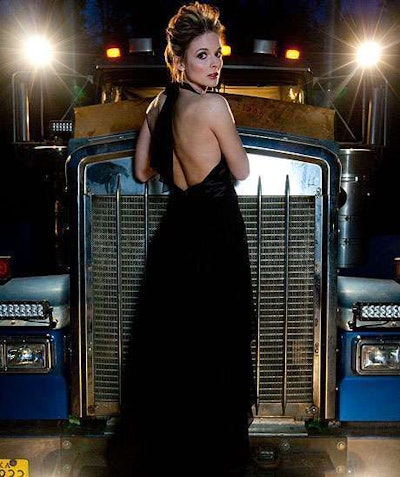 According to an interview published at the website of Esquire magazine, Ice Road Truckers star and Alaskan Dalton Highway hauler Lisa Kelly (pictured; photo by Rick Gershon of the History Channel) is not only the "sexiest trucker alive." What's more, she was speaking w/ Esquire writer Erik Price on sat phone from the Himalayas in Southeast Asia. "I'm shooting for another trucking show. We're hauling cement, water… sheep one time — just anything we can find," she said.
Word has been leaking out about the next installment of the History Channel's reality-show trucking franchise, and if we are to take cues from casting calls posted online, such as this one, it may be a departure to one degree or another from the "Ice Road" brand to the less specific but no less descriptive "Extreme Trucking."
Whatever the case, many trucking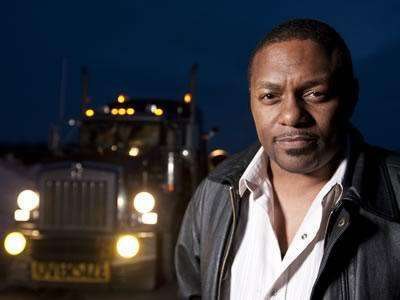 stories seem to be coming out of Alaska this summer season; I talked with Jim Dobbs yesterday — no more close encounters of the bear kind for him, recently. But he did alert me to another interesting tale in Chaunti Hall, 16-year-old daughter of Haul Road trucker Carey Hall (pictured), who won a boat and more after finishing first place for her catch of a 40-plus-pounder salmon in the fund-raising Downtown Soup Kitchen's Slam'n Salm'n derby at Ship Creek near downtown Anchorage. You can read more about that here.
The Derby's end happened to coincide with a recent holiday some of you may know well, Dobbs said, and Chaunti apparently "gave the boat to her dad for Father's day."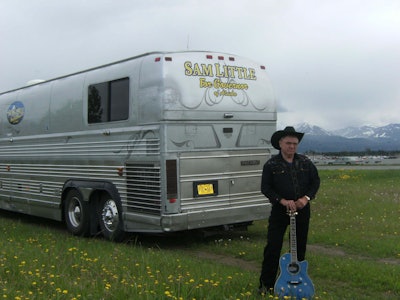 Finally, since I wrote about my visit with Singin' Sam Little, the truck driver currently running for Alaska governor on the Republican ticket, he's gotten that Prevost he picked up in Nashville all done up right (pictured) and is currently hitting the campaign trail hard. He participated in this forum in Sarah Palin's hometown of Wasilla, and for more from him, check out my expansive interview with him from when we met in April, below.
[kaltura-widget wid="ug6o5anmfk" width="400″ height="365″ addpermission="" editpermission="" /]