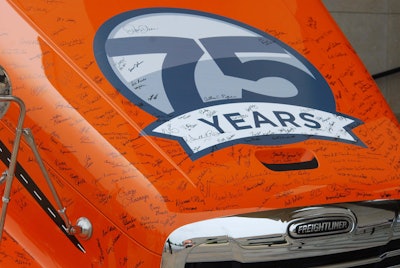 Next time you ask if I've driven before, I can at least say "yes" before the qualifiers (well, "at 40 mph, if that," "with an automatic transmission," "no trailer on") begin. A visit to Schneider National headquarters in Green Bay, Wis., to bear witness to the truckload carrier's 75th Anniversary celebration June 10 yielded unexpected delights, let's say.
First, though, I got to try out one of the company's simulators. At the the Schneider Driver Training Center,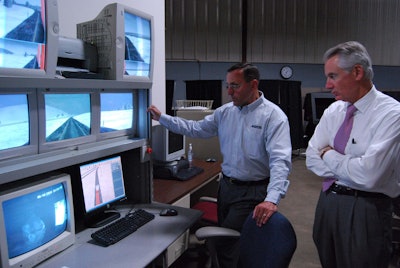 company safety VP Don Osterberg and driver-trainer Dale French showed myself and several others on hand for the event, including ATA president and former Kansas gov. Bill Graves (pictured, right, with Osterberg), the state-of-the-art simulators the company uses to test new-driver reaction skills. Graves, the first to jump behind the simulator's wheel, got on the brakes hard when the simulator's pilots blew his right steer tire — a common error, as any longtime driver will tell you.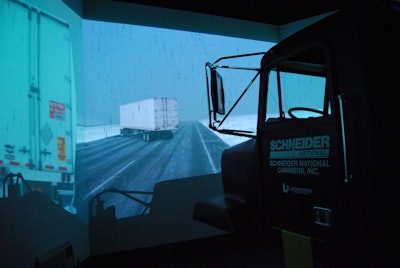 I didn't get near that hardcore treatment on the simulator, the only full-cab simulator at the training center (pictured), complete with motion simulation. Though, of course, I made some typical errors of my own — as you'll see in the video that follows, in my rural-road situation, I drifted off the road to the right as cars approached in the oncoming lane. As the simulator's Freightliner cab (pictured) rocked with the drift, I took the movement for heavy crosswinds — Nope, said French. Typical new-driver error.
The actual driving that followed was something of an easy way out for my virgin Class 8 experience, too, considering that the Freightliner Century I piloted was outfitted with an Eaton UltraShift automatic and we didn't have a trailer on (makes slaloming through those barriers, as you'll see in the vid, quite simple). In any case, I thought I'd share to prove to you all that, at least, I've felt the diesel power firsthand, from the driver's seat rather than the passenger's. Enjoy.
[kaltura-widget wid="q3lkidt0iw" width="400″ height="365″ addpermission="" editpermission="" /]